While the global pandemic has essentially derailed every wine event since early March, it couldn't stop a small, yet determined group of rosé-loving Sommeliers in South Florida on a recent Friday in June.
While initially scheduled for April, the judging portion of The Rosé Competition had been postponed…and then postponed again. As a judge, I had pretty much resigned myself to the fact that it probably wasn't going to be rescheduled anytime soon. But thankfully our fearless leader, the fabulous Shari Gherman, co-founder of The American Fine Wine Competition and all around vinous badass, made a very gutsy decision.
During the reopening phase here in South Florida, Shari gave us the option of participating in a scaled down version of judging process. She assured us it would take place in a highly sanitized, masked, properly socially-distanced environment in a venue where access, sanitization and logistics could be absolutely guaranteed. She made it clear there was no pressure to participate, and while I initially hesitated, knowing Shari like I do and having worked with her and been the beneficiary of her incredible professionalism for many years, I trusted her implicitly.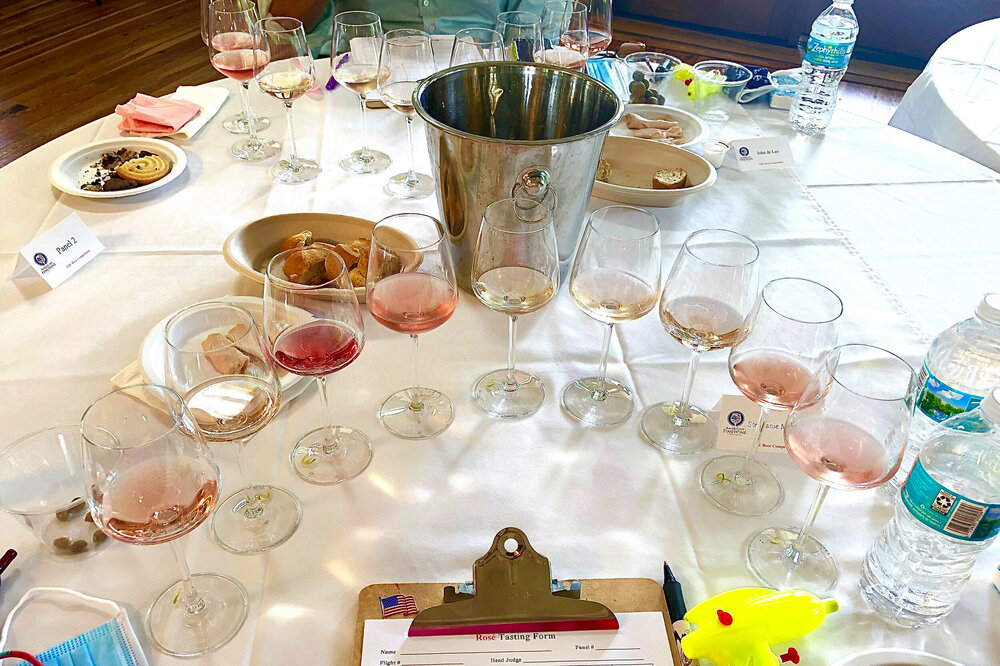 And I'm really glad I did!
The judging experience proceeded as promised and, over the course of a day with the help of our indispensable, fully gloved and masked Wine Angels, we worked our way through the numerous flights of rosé until we pared the selections down to our winners in both the still and sparkling categories.
As a huge fan of all things sparkling I was elated to hear California's Domaine Carneros Brut Rosé ($44) took the top spot for the second year in a row. This is truly a testament to founding winemaker Eileen Crane's 40+ years of experience making beautiful, classic Méthode Traditionelle sparklers inspired by its founder, Champagne Taittinger. Even as she retires this year, her wines continue to set the bar for sparkling wine in the US and undoubtedly will for years to come. (For more on Eileen's fascinating career, please check out my podcast interview with her here)
Runners up in the sparkling category include Syltbar "Il Concerto" Rosé ($23), an organic wine made from Merlot grapes from Friuli, Italy; the Brengman Brothers Ca'del Borgo Extra Dry Rosé ($18) from Michigan; and the final double gold medal winner in the sparkling wine category was Domaine Carneros Cuvée de la Pompadour ($44) - one of my all time favorites!
In the still rosé category, I was surprised to discover the winner didn't hail from Provence as many might expect given the recent #RoseRevolution that's largely attributed to the popularity of Provençal rosé. And it didn't come from California either. No, the winner of the still rosé category came from the Leelanau Peninsula of Michigan! The Brengman Brother's Block 7 Rosé ($25), crafted entirely from Pinot Noir grapes, captivated the judges and nabbed the top spot this year.
Runners up in the still category include the BACA Rosé ($24), made from organically farmed, Lodi Zinfandel grapes (and conveniently available in a three-pack of cans) and from Russian River Vineyards two selections earned double gold medals, the Giana May Rosé ($30) made from Pinot Noir grapes and their Petite Sirah Rosé ($30) from the Wedge Family Vineyard.
Rounding out the Double Gold medal winners in the still category were, the Ravoire & Fils Costeval Rosé ($15) from Coteaux d'Aix en Provence; Château des Garcinières Cotes du Provence Rosé ($26); the SMAK "Summer" Rosé from Walla Walla and the Bricoleur Vineyards Estate Grown Rosé of Pinot Noir ($32).
Cheers to Shari Gherman and Bob Ecker for their enduring dedication to this competition and for making the judging component of the 2020 Rosé Competition possible this year. As a judge, I'm thrilled to see so many exciting rosé-producing regions represented, from Provence, France to the Leelanau Peninsula of Michigan!
Please feel free to share this post with your fellow rosé lovers and help spread the word about all of these amazing wines. People need to know about them now more than ever! And for the full list of results including additional gold and silver medal winners, please visit The Rosé Competition website by clicking here. xo
---
---