Ah Summer! The intoxicating season that inspires feelings of carefree bliss and joyful abandon and is usually spent frolicking on a white sandy beach or other equally relaxing locale. And, as with all seasons, Summer has its own unique coterie of flavors and signature dishes that are an intrinsic part of the seasonal experience. During these warmer months, we usually seek out lighter fare with bright, lively flavors that takes full advantage of the abundant seasonal produce Mother Nature provides.
Below is a breakdown of some classic Summer flavors - just looking at it makes my mouth water and inspires me to combine these elements in oodles of delicious ways! And since my goal is to help you Empower your Palate, please take a minute to study it and jot down some combinations that sound especially appealing to you.
For instance, I love to combine crispy prosciutto, basil and burrata cheese for a delicious and easy Summer dinner. In addition to the ingredients, be sure to keep in mind the method of preparation as well, instead of braising and roasting, Summer is the perfect season for grilling and even using citrus juices to do the cooking for you (aka denaturation).
The wines we gravitate to in the Summer share many of the same characteristics as our favorite foods, they're usually lighter-bodied with bright flavors ranging from tangy, tart citrus to juicy red berries that are usually complemented by a lively acidity.
In light of the global pandemic, however, this typically carefree season is going to play out a little differently for most of us this year. We may forego our Summer travels and social outings, and opt to stick closer to home instead. For that reason, this Summer is the perfect time for creating seasonally-inspired pairings in the comfort and safety of your own kitchen.
For many of us, our kitchens have already provided much needed respite from all the pandemic stress and become a sanctuary where we nourish ourselves and our families (for 5 Ways to Find Joy in your Kitchen this year, please click here). This post is intended to inspire and awaken your senses to the flavors of Summer and encourage you to indulge and enjoy them in your own home. Below are three of my favorite Summer-inspired food and wine pairings (all wines are $25 or less), please feel free to prepare them "as is" or use them as inspiration for creating pairings of your own: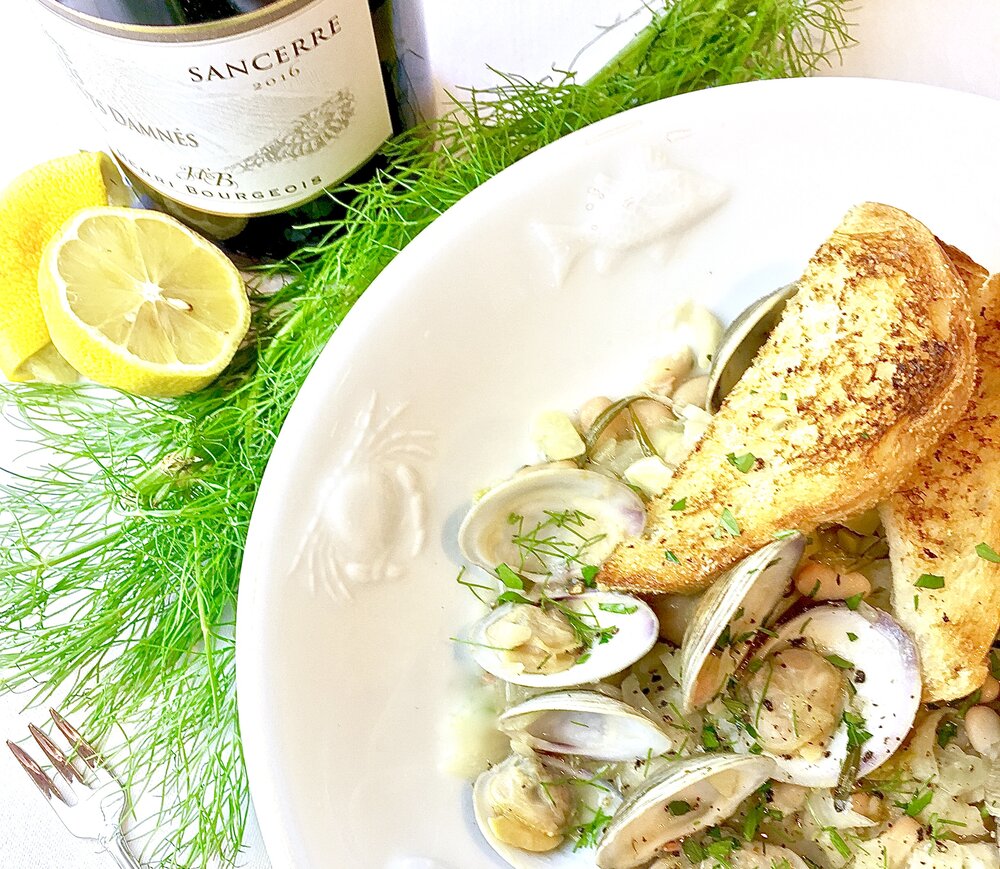 WINE #1: Loimer Grüner Veltliner Langenlois Kamptal, Austria ($16): I couldn't think of a better place to start than with the delightful, signature white grape of Austria, Grüner Veltliner. This grape produces charming, lively white wines known for possessing aromas and flavors of green apple, citrus and stone fruit accompanied by an endearing peppery, spicy note. This wine is also perfect for Summer enjoyment because it's generally fermented in stainless steel tanks. These large, neutral containers preserve the fresh, fruity characteristics of the grape itself without imparting any secondary aromas or flavors like oak barrels do. So, when shopping for Summer whites, gravitate towards those that are "stainless steel fermented" and you'll be rewarded with crisp, refreshing wines that will delight your palate and pair with a variety of Summery dishes.
FOOD PAIRING #1: Clams with Fennel + White Bean Sauce: This pairing works for a few different reasons, (1) the weight of the wine matches weight of the food, and by that I mean neither one overwhelms the other; (2) the flavors complement each other beautifully, the citrus of the wine acts like a squeeze of lemon on the clams, and (3) the textures create great synergy as well, the creaminess of the wine harmonizes nicely with the creaminess of the white beans.
WINE #2: Château Minuty "M" Cotes de Provence Rosé, Provence, France ($18): Established in the 1930's, Château Minuty has been making rosé for over 80 years - long before the relatively recent #RoseRevolution! Located on the breathtaking St. Tropez peninsula with vineyards a stone's throw from the ocean, Château Minuty is the best selling rosé in Cannes, Nice and St. Tropez. Their classic Provençal, rose petal pink rosés are crafted from predominantly Grenache, the superior rosé-making grape, as well as additional regional grapes including Cinsault and Syrah. This wine has beautiful aromas of soft red berries, minerals and lavender while on the palate wild strawberry, cherry and spice predominate along with a cleansing, refreshing minerality. For more on the fascinating Château Minuty, please check out my interview with owner Francois Matton by clicking here.
FOOD PAIRING #2: Grilled Swordfish with Rosé Aioli + Fennel, Olive + Spinach Salad: This pairing follows one of my favorite pairing principles of ALL time, "If it grows together, it goes together." Who can argue with centuries of culinary research found in these Old World regions? Aioli is a mayonnaise-like mixture of garlic, olive oil and salt that originated in the South of France and I must say, something truly magical happens when you combine rosé with garlic! And then add the combination of Mediterranean flavors including the olives and fennel and the glorious texture of the swordfish and you've got INSTANT synergy!
WINE #3: Maison Joseph Drouhin Hospices de Belleville Fleurie, Beaujolais, France ($25): Beaujolais is the southernmost part of France's world renowned Burgundy wine region. But unlike Burgundy's famous, yet notoriously pricey Pinot Noir-based red wines, the red wine of Beaujolais, which are made from the Gamay grape, represent one of the best values in the wine world today. Gamay produces wines with a lovely translucent red color, high acidity and minimal tannins. And since they are usually fermented entirely in stainless steel (remember that?) the wine's fruity characteristics are allowed to shine which, in this case, include enticing notes of rose petal, black cherry, plum and a hint of spice. It's important to note that when shopping for Beaujolais, avoid the mass-produced, insipid Beajolais Nouveau wines. Instead, you want to seek out "cru" Beaujolais wines that will have the name of one of ten unique villages on the bottle. These villages produce the best examples of these wonderful wines and are still a phenomenal value, these are the names to look for: Fleurie, Chénas, Brouilly, Côte de Brouilly, Moulin-à-Vent, Morgon, St. Amour, Chiroubles, Régnié or Juliénas.
FOOD PAIRING #3: Quick Coq au Vin: If you're looking to get your French on this Summer but don't want to slave over a hot stove for hours, try this positively deeelicious "Fast + Fabulous" version of this classic French dish that's ready in about 30 minutes. Once again, this pairing features a wine and a dish from the same geographical region so just go with the flow! And while Coq au Vin is typically made with a heavier, Pinot Noir-based Burgundy, using a lighter-bodied Gamay makes the dish perfect for Summer. Incorporating thyme also gives the dish some lemony lightness and lift and feel free to substitute white meat chicken if you like but the chicken thighs are ooooh soooo gooood!
***An important thing to keep in mind when shopping for these or any wines and a key step to "Empowering your Palate" is developing a good relationship with your local wine store. Because, as you may have already discovered, all wines are unfortunately not available in all places at all times. So when you visit your local shop, ask for the featured wines and if they don't currently have them in stock, and this part is KEY, simply ask for something similar!
For instance, if you're looking for the aforementioned Drouhin Fleurie Beaujolais and they're out or don't currently stock it, ask if they have a Fleurie from another producer. And if they don't have a Fleurie, ask if they have any Cru Beaujolais that's similar - it's really that easy! Sometimes the shop will even order the wine for you, it's always worth asking. Once you develop a good rapport with a sales person you'll also feel more comfortable "talking the talk" of wine and you'll also have someone who can anticipate which wines you might like based on the wines you've already purchased.
I hope this post inspires you to go forth and celebrate the flavors of Summer, even if this year it means doing it in a slightly different way in the unexpected comfort of your own home. And instead of it being the Summer you missed out on your favorite trip to the beach because of the pandemic, it could be the Summer you discovered your new favorite wine. xo
---
---