One of my favorite food and wine pairings during the Summer months is a Tuna Niçoise Salad paired with a dry, Provençal rosé - it is sheer Summer deliciousness! But why limit the wonderful Niçoise flavors to just ONE dish? That just doesn't seem fair. So when a friend kindly offered us some fresh swordfish steaks, these delicious flavors immediately sprang to mind as we happily accepted his oh so generous offer.
Niçoise (pronounced nee-SWAZ) essentially means "in the style of Nice," the fabulous French city located in the luxurious Côte d'Azur. Dishes labeled as such typically include a combination of traditional, local ingredients such as black olives, capers, garlic, tomatoes and anchovies. This recipe for Swordfish Niçoise includes a delicious mixture of black olives, tomatoes, capers, garlic, shallots and a little Herbes de Provence which beautifully complements the flavor and texture of the succulent fish.
Herbes de Provence is a delightful mixture of dried herbs typically found in the Provence region including savory, marjoram, rosemary, thyme, oregano and lavender. It is usually sold in a traditional clay pot and greatly enhances the flavor of dishes ranging from grilled fish to savory stews.
We served the Swordfish Niçoise with my husband's favorite Summer staple - corn on the cob! We cooked the sweet, yellow corn on the grill, allowing for a little "char" for added flavor and then slathered it with butter and a healthy dusting of Kosher salt and freshly ground black pepper before greedily consuming. Talk about simple but oh so very perfect!
To wash everything down and round out our Perfect Pairing, I stuck with one of my favorite pairing principles, if it grows together, it goes together! A refreshing glass of dry, Provencal rosé accentuates the dish's flavors beautifully. On this particular evening we enjoyed the Miraval Rosé, the well-known Provençal winechild of Brad and Angelina, but any tasty dry rosé will do. Our favorite Provençal producers include Chateau Minuty and Chateau D'Esclans.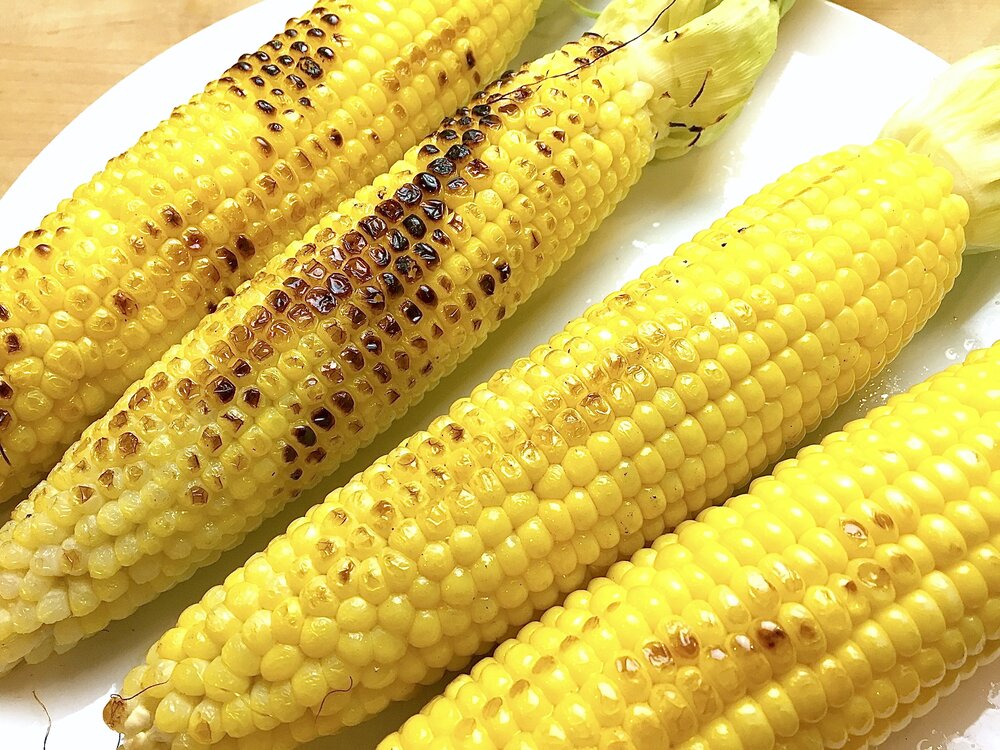 Before Summer draws to a close, I hope you have the chance to enjoy our Perfect Pairing of Swordfish Niçoise and a Provençal Rosé. In fact, why not invite a few friends over for an al fresco dinner and have everyone bring a bottle of their favorite rosé wine? What a great way to share your favorite and possibly discover a new one! What's your favorite Summer food and wine pairing? I'd love to hear about it in the comments section below!
Print Recipe
"PERFECT PAIRINGS: SWORDFISH NIÇOISE + A PROVENCAL ROSÉ"
Stephanie Miskew | The Glamorous Gourmet
Serves: 2
Ingredients
2 Swordfish steaks

4 Tablespoons olive oil

1 teaspoon Herbes de Provence

1 teaspoon fresh thyme, chopped

1 teaspoon fresh rosemary, chopped

2 shallots, chopped

2 cloves of garlic, chopped

1/2 cup pitted oil-cured, black or Niçoise olives, roughly chopped

2 Tablespoons capers, drained and roughly chopped

3 ripe red tomatoes, chopped

1/2 cup dry rosé wine

Kosher salt & freshly ground black pepper
Instructions
) Combine 2 Tablespoons olive oil, thyme and rosemary in a glass baking dish. Place the swordfish steaks in the mixture and turn to coat on both sides. Marinate the steaks in the olive oil and herb mixture at room temperature for one hour.

) Heat remaining 2 Tablespoons of olive oil in a frying pan over medium heat. Add shallots and garlic and saute until softened but not browned, 5 minutes. Add tomatoes, olives, capers, Herbes de Provence and wine and stir to combine. Bring to a boil, then cover and reduce heat and simmer for approximately 10-15 minutes. Season sauce to taste with Kosher salt and black pepper.

) Heat grill pan or outdoor grill over medium-high heat. Season swordfish steaks on both sides with Kosher salt and black pepper and grill until medium-rare, approximately 4-5 minutes a side depending on the thickness of the steaks.

) Plate steaks and top with Niçoise sauce. Serve immediately with a glass of chilled Provençal Rosé.
---
---