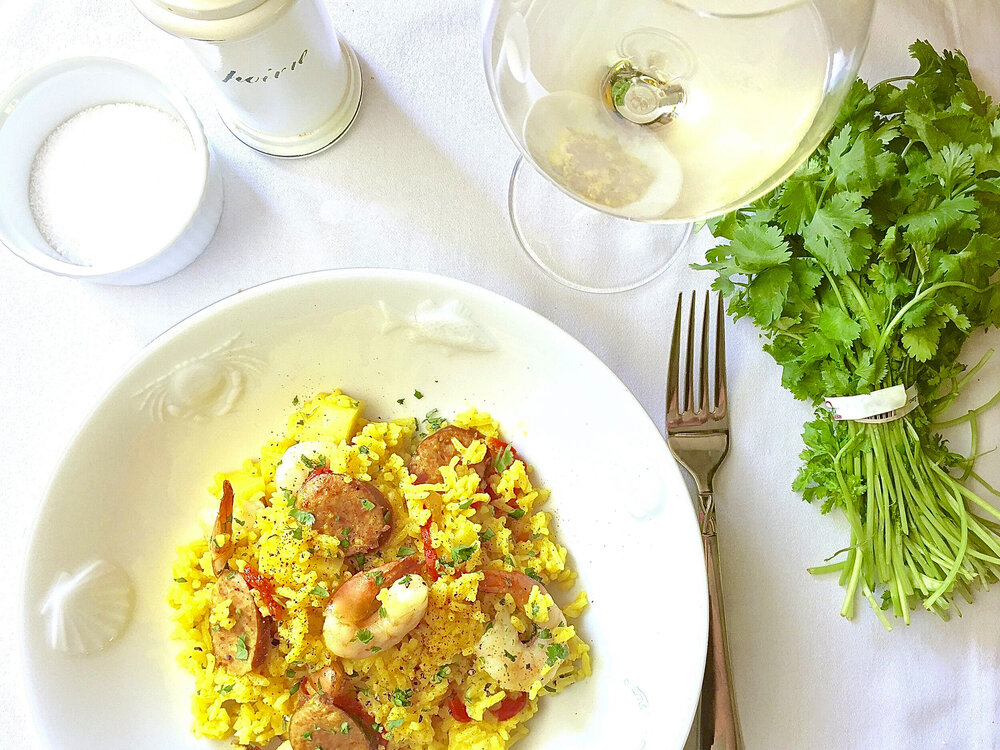 When you're first learning to cook, there are recipes that are so delicious and mouthwatering they instantly fuel the desire for further culinary exploration. You usually know when you've found them because your initial reaction is, "did I just make that?" I think most of us who love to cook remember these milestones that inspired our continued quest for deliciousness. This recipe for Florida Jambalaya is one such recipe.
I discovered this recipe in Bon Appétit magazine over twenty years ago, when I was first learning to cook. I would go to the grocery store, pick up the latest issue of BA, flip through the index and choose something that sounded good to me. And after making this recipe for the first time, I honestly couldn't believe something so delicious came out of my small rental apartment kitchen. I was totally smitten with how the flavors of onion, garlic, sausage, shrimp and cilantro came together to create a synergy that was so superior to any of the ingredients on their own.
Florida Jambalaya quickly became one of my signature recipes and as I moved around the country in pursuit of grad school and a new career I had the pleasure of sharing it with friends from Denver, Colorado to New York, New York. As a native Floridian it was like taking a little bit of home with me and it has always, I repeat, always garnered rave reviews. One dinner party guest even ate the shrimp tails he enjoyed it so much!
The word jambalaya originated in Southern France as part of the Occitan language. Eventually it found its way to the US and today, the two traditional styles of jambalaya are Creole and Cajun.
Creole jambalaya hails from New Orleans' French Quarter and began as an attempt to make Spanish paella in the New World. Saffron, an intrinsic component of paella, was not readily available so tomatoes were substituted. Creole jambalaya also incorporates "The Trinity," a mixture of celery, onion and green pepper considered to be a hallmark of Louisiana cooking. It also calls for a combination of meats including chicken and/or andouille sausage as well as seafood.
Cajun jambalaya, on the other hand, originated in the rural, low lying swamp country of Louisiana where crayfish, oysters and turtles were plentiful. It is smokier and spicier than Creole jambalaya and does not call for tomatoes. The meat in the dish was usually browned to give the dish its color which is why it is often referred to as "Brown Jambalaya."
Florida jambalaya is an easy-to-make, Florida-inspired take on this Louisiana classic that's only loosely based on these traditional preparations. It calls for sausage, seafood, rice and kielbasa instead of andouille sausage. And to give it a distinctly Florida flavor, I love using Key West pink shrimp but feel free to make it your own using whatever type of shrimp you like. For those allergic to shellfish, shredded or chopped boneless, skinless dark meat chicken also works very well - just be sure to allow enough time for the chicken to cook through.
Otherwise, the recipe itself is pretty straightforward and only takes about an hour to make.
For you wine lovers, a crisp, unoaked white wine is the best match for Florida Jambalaya, given the dish's overall "weight" and bright flavors of shrimp, cilantro and turmeric. A Sauvignon Blanc-based wine like Michel Redde's Sancerre "Les Tuilieres" from the Loire Valley would be a fabulous choice as would the juicy, tangy The Paring Sauvignon Blanc from Santa Barbara, California.
An unoaked Chardonnay like the Maison Joseph Drouhin Vaudon Chablis from Burgundy would also work extremely well, the key is to avoid wines with too much oak or heavy, astringent tannins that will clash with the flavors of the dish. I would also recommend using whatever wine you plan on enjoying with it, to make the recipe itself.
I hope you enjoy this delicious recipe for Florida Jambalaya as much as we do. It's perfect for an al fresco Summer meal or for a Florida-inspired Mardis Gras celebration - laissez les bons temps rouler!
Print Recipe
"FLORIDA JAMBALAYA WITH SHRIMP + SAUSAGE"
Author: Bon Appétit Magazine
Serves: 4
Ingredients
3 Tablespoons salted butter

3 garlic cloves, chopped

1/2 cup chopped onion

1/2 lb. Polska Kielbasa or other smoked sausage cut into 1/2" pieces

1 cup long grain white rice

1/2 cup dry white wine

2 medium potatoes peeled and cut into 1" cubes

2 1/4 cups canned chicken broth

1 4 ounce jar of sliced pimientos with juices

1/2 teaspoon turmeric

Cayenne pepper to taste

1/2 lb. uncooked shrimp, peeled & deveined

1/2 cup chopped fresh cilantro
Instructions
) Melt butter in a heavy large saucepan over medium heat. Add onion and garlic and sauté until just soft, 3-5 minutes (be careful not to let the garlic burn).

) Add the kielbasa and cook until it begins to brown, approximately 5 minutes. Add rice and stir to coat. Mix in potatoes, broth, wine , pimientos and turmeric. Season with salt, pepper and cayenne to taste. Bring to a boil and stir well. Reduce heat to medium-low and cover and cook until the rice and potatoes are tender and liquid is absorbed, approximately 20 minutes.

) Mix in shrimp and cilantro. Cover and cook until shrimp are cooked, 5 minutes. Serve on a large platter, garnished with more chopped fresh cilantro.
---
---