For those of you who enjoy traveling with your dogs, have I got a find for you! This edition of Glamorous Getaways features The Park On Main in Highlands, North Carolina, a hotel that not only allows guests to bring their dogs but was designed with man's best friend in mind. Our two dachshunds, Louis and Coco, joined us on this adventure which entailed a twelve-hour drive from South Florida, but it was well worth the trek to discover this wonderfully stylish respite from the sweltering South Florida Summer heat!
But first and foremost, if you're not familiar with Highlands, let me introduce you! This gem of a town is located in western North Carolina, a mere 2 hours drive from Atlanta. It's perched atop a plateau at approximately 4,000 feet elevation and surrounded by the lush, verdant Nantahala National Rain Forest. In addition to being immersed in breathtaking natural beauty, this quaint, country town also offers some seriously sophisticated retail and fine dining opportunities, most of which are located along Main Street, the town's charming main drag.
The Park on Main is located at the western end of Highland's tony Main Street and was originally built in the 1980's. The hotel operated as the Highlands Suites Hotel until it was purchased in 2013 and closed for a year long renovation. Luckily, it was purchased and renovated by animal lovers so when it reopened in July 2014 as The Park on Main, the end result was a casually elegant, 24-suite hotel that was completely pet-centric with rooms surrounding a beautifully landscaped garden terrace, inspired by New York City's Central Park.
The hotel entrance is flanked by Mackenzie-Childs Courtly Check water bowls and stone statues of a dachshund and the hotel's mascot, Mr. Pickles, a spunky black Scottish terrier, which made our pups feel right at home! The beautiful black and white lobby features a gorgeous crystal chandelier, sumptuous drapery, and beadboard paneling adorned with floor to ceiling canine oil paintings. The hotel staff was also extremely helpful and welcoming and General Manager, John Woods joined the hotel's team in 2017.
The Park on Main is the second hotel in the nation to join forces with a rescue organization to help shelter animals get adopted. The hotel has partnered up with the Cashiers-Highlands Humane Society for the past six years and features a dog on-site every month that's available for adoption. It's nice to know a hotel that caters to pets also goes the extra mile to help shelter pets in their community find loving, forever homes.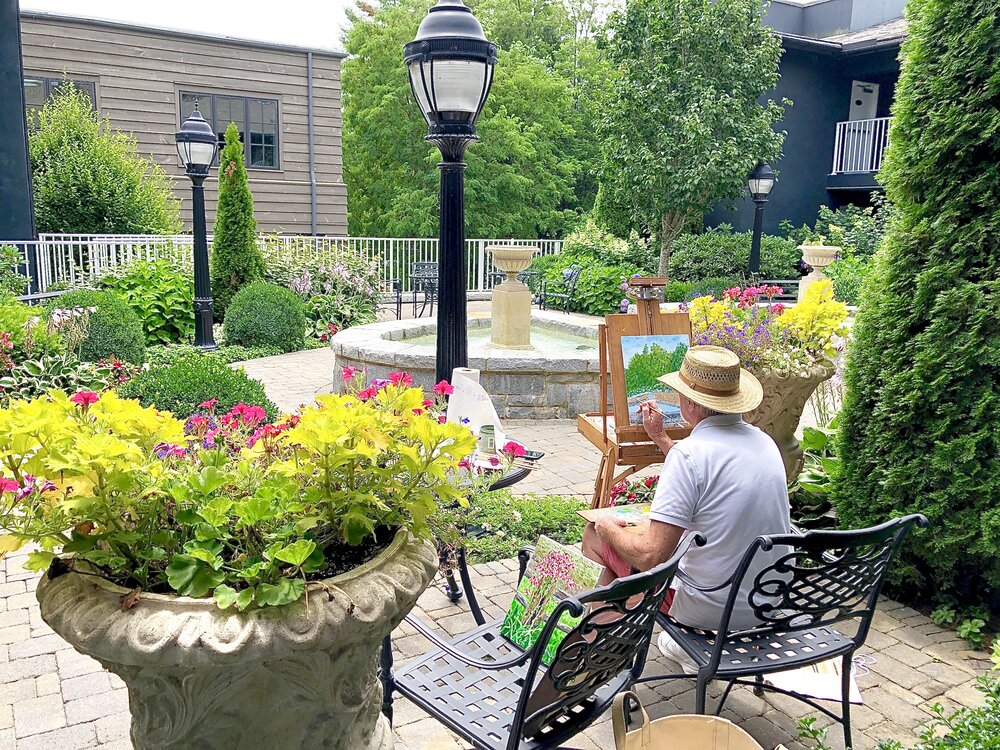 Having visited Park on Main for many years now, Louis and Coco bound into the beautifully appointed room as soon as we open the door - they are so excited! They love to check out their amenities which include glamorous Mackenzie-Childs dog bowls, a cozy, oversize Orvis dog bed and a special puppy welcome pack complete with a note from the manager, treats and a toy.
The Hubs and I get a little more excited about other things, like the lovely white marble bathroom, cozy couches, stylish decor and gas fireplace. Steve also loves to read the paper on the bedroom balcony and every room we've stayed in has an extremely comfortable bed which Lou has to personally approve by performing his rigorous quality check (click here to see him in action). In every hotel suite at Park on Main are a refrigerator, Keurig coffee maker and generously sized flat screen TVs in both the living area and bedroom.
Our Superior King Suite had plenty of room for the pups to run around and fit all of our "gear" comfortably. While the hotel does not have an onsite restaurant, they do offer a selection of breakfast items in the morning (yogurt, croissants, English muffins, milk and cereal etc) and there are plenty of dining options available on Main Street literally just steps outside the front door. And if you do decide to go and bring your pups, below are five things you might want to do during your stay:
5 Things To Do with Your Dog in Highlands
1.) Stroll down Main Street: A daily, afternoon stroll down Main Street with your pups is a must - there's so much for them to sniff and savor + you'll really enjoy it as well! There's plenty of boutiques + specialty shops to peruse at your leisure + virtually every one is dog friendly as well. You'll notice many water dishes out + every store has a stash of treats to spoil your pup. Some of our favorite shops on Main street include C. Orrico, Spartina, TJ Bailey for Men, Dutchmans Designs + Highlands Mountain Paws.
2.) Ice Cream at Kilwin's: An afternoon scoop of ice cream at Kilwin's is always part of our daily routine during our stay in Highlands where the most difficult decision you'll make is "cake" or "waffle" cone. The courtyard out front is a gathering place for people and their pets to socialize and enjoy the day - not to mention the ice cream! In addition to their delicious "Original Recipe" ice cream, Kilwin's chocolates, fudge, caramels + other sweet treats are definitely worth exploring as well.
3.) Dine al fresco…ANYWHERE: Especially with the advent of COVID-19, being able to enjoy meals outside is a real plus! Summer daytime temps seldom break 75 degrees and evenings are in the low 60's, making the conditions perfect for relaxing and enjoying a perspiration-free meal. Some of our favorite places include Wild Thyme Gourmet, The Wine Garden at Old Edwards Inn, Bistro on Main, Highlands Smokehouse, Wolfgang's Restaurant + Wine Bistro + On the Verandah. Most places are also delightfully dog friendly so you enjoy your lunch or dinner outside with your pup(s) as well.
4.) Do a Waterfall Tour: Highlands is home to quite a few beautiful waterfalls so if you want to immerse yourself in nature this is a fabulous option. Many of the waterfalls are visible from the comfort of your car but you can also hike the surrounding area as well. You can also see multiple falls in one day so do your research according to your desired level of physical activity + make a fun plan. Some of our favorites waterfalls include Bridal Veil Falls (pictured above), Dry Falls, Satulah Falls, Secret Falls + Bust your Butt Falls.
5.) Enjoy a glass of wine at the Mountaintop Wine Shoppe: And last but not least…WINE! We absolutely fell in love with this adorable wine shop located directly across the street from The Park on Main in one of the oldest historical buildings in Highlands. They offer over 50 wines by the glass in addition to a well-curated selection of bottles from around the globe. To pair with your wine, they also offer a delicious selection of cheeses, crackers + meats so leash up your hounds and trot them over for a delicious glass of wine on the front terrace under the oak trees. Be sure to check their fun calendar of events + wine tastings as well!
The Park on Main | 205 Main Street | Highlands, NC 28741 | 800.221.5078 | www.theparkonmain.com


---
---