It's amazing how time flies.
It seems like yesterday I was excitedly announcing our first food and wine group trip to Provence and before you know it, we've been back and six months have passed!
If you've been reading my blog over the past few years, you may know we've been spending more time in the South of France. Specifically, cooking at Julia Child's former Summer home, La Pitchoune; tasting our way through Provençal wine country; and exploring nearby towns like Cannes, which has become a real favorite.
And after a busy week of hosting cooking classes, wine tastings and excursions during our aforementioned group trip (if you'd like to learn more about our bespoke trips, please click here), we decided Cannes would be the perfect place to relax for a few days. And since our dear friends we usually stay with were not in town, we decided on the InterContinental Carlton Hotel.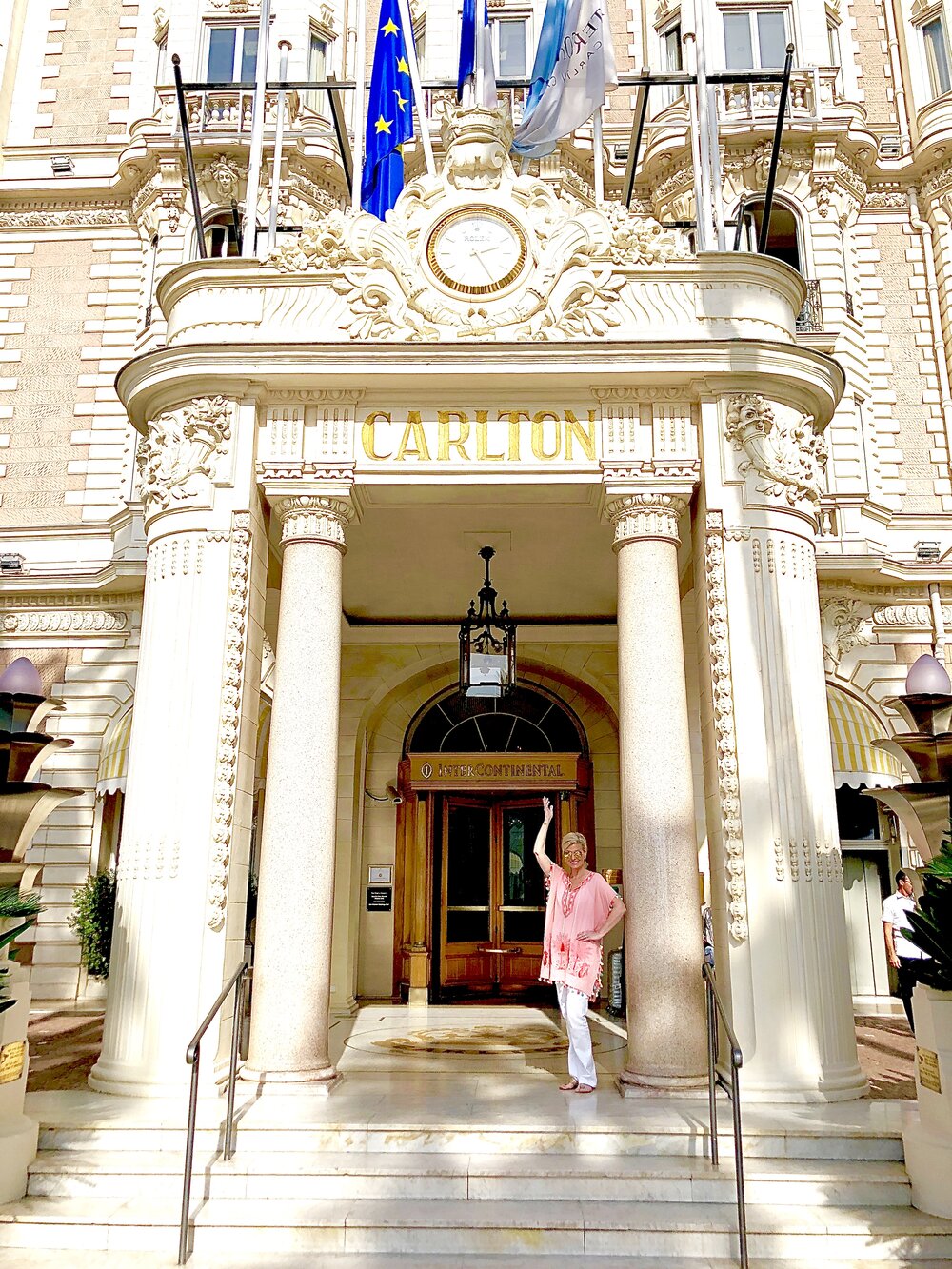 The storied, century-old Intercontinental Carlton Hotel is truly an icon of old Hollywood glamour. And its majestic facade is essentially the crowned jewel of La Croisette, the famed stretch of road that hugs the Mediterranean coastline and features haute couture shops including Chanel, Gucci and Louis Vuitton. On our first trip to Cannes years ago, our dear friends Kaki and Phil picked us up from the Nice airport and whisked us off to a decadent lunch at the Carlton Beach Club. We savored succulent lobster rolls and oodles of rosé as we enjoyed the magnificent view complete with mega yachts bobbing about in the glistening Mediterranean.
Halfway through my lobster roll, I was smitten!
The Carlton Hotel, as it was first known, was originally the dream of Londoner Henry Ruhl. He partnered with architect and Nice native Charles Dalmas on its design and construction which commenced in 1911. Since its opening in 1913, the hotel has been a magnet for glamorous celebrity guests and political figures alike including Beyoncé, Eva Longoria, Clint Eastwood and Sharon Stone. It has also played a starring role in the famed Cannes Film Festival which launched in 1939. Soon after word of its grandeur spread, it quickly became a coveted location for shooting films as well.
Master of Suspense, Alfred Hitchcock, filmed portions of his classic "To Catch a Thief" at The Carlton. The film featured two of Hollywood's brightest stars of the time, Grace Kelly and Cary Grant. One of the film's most memorable scenes features Kelly in a magnificent blue evening gown in the hotel's Grand Salon.
During the 1955 Cannes Film Festival, Kelly and Prince Rainier III of Monaco had an arranged meeting and photo shoot at the hotel which is believed to have inspired their marriage a year later. Kelly's time spent at the Carlton will forever link her to the hotel and one of its most prestigious suites bears her name to this day.
After bidding adieu to our last guest at La Pitchoune, we packed up the car and headed South towards Cannes. As we pulled down the Croisette about twenty minutes later, the InterContinental Carlton Hotel beckoned in the distance as the gorgeous afternoon sun glistened and danced across its regal facade.
We were greeted warmly at the hotel and thankfully, our room was ready and waiting. As we rode up in the elevator I couldn't wait to get settled and tuck into a big, comfy bed for a looong nap after our busy week. As the Concierge opened the door, the room was illuminated by a beautiful, golden glow. As she proceeded to swing open the balcony doors and step back, we were met with the most glorious view!
The sun was setting on the azure Mediterranean as palm trees swayed gently in the breeze. There were two chairs situated on either side of the balcony doors and a table in between set with snacks and a bottle of Henriot Champagne! Our oceanfront room was absolutely dreamy and every bit as glamorous as I had hoped. After a few sips of Champagne and a couple lemony Madeleines I dozed off into a blissful sleep.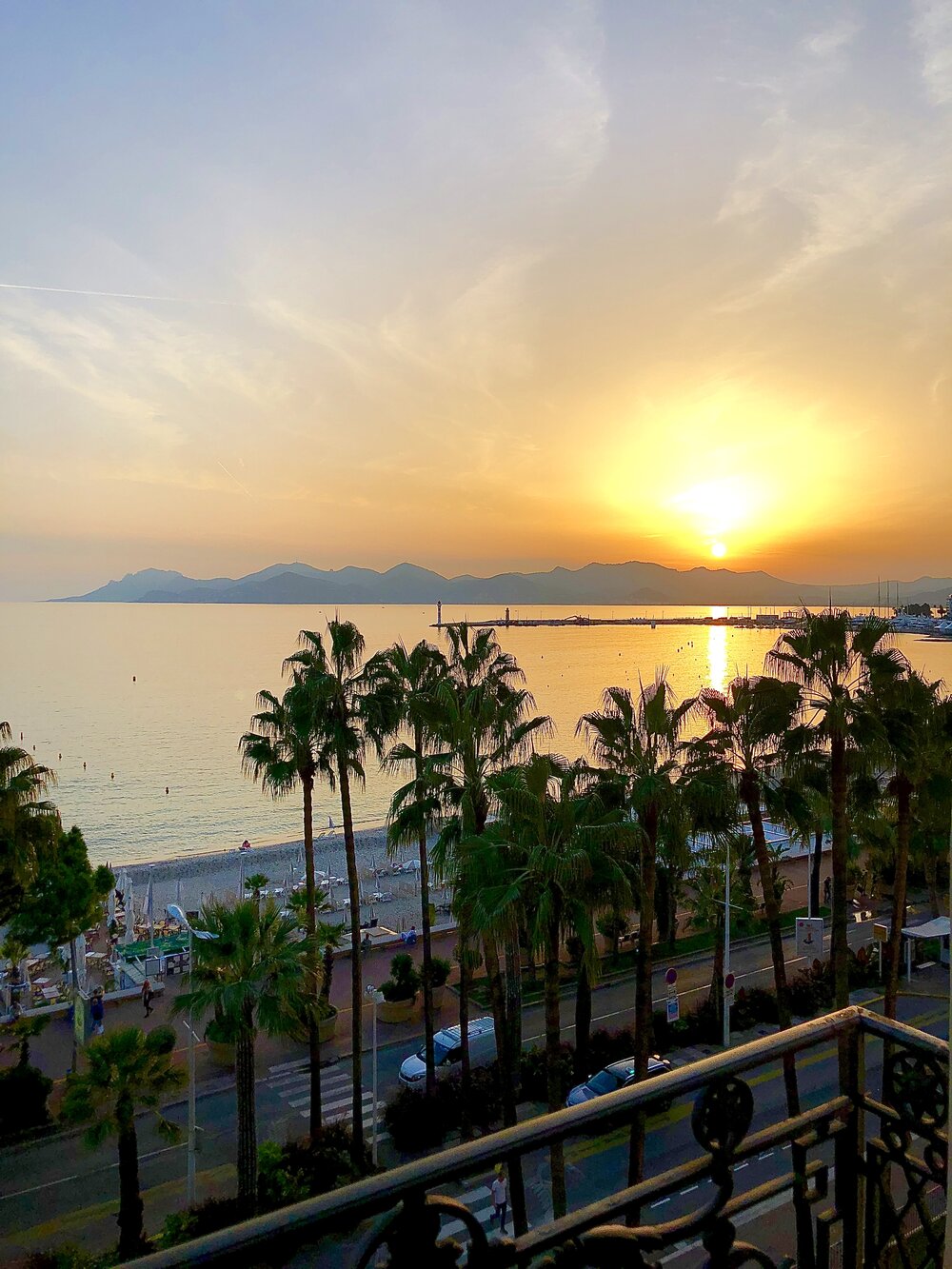 We spent the next 72 hours relaxing in the hotel, strolling La Croisette and savoring our remaining days in the South of France. We visited some of our favorite shops in Cannes including LaDurée, Chanel, Harmont & Blaine and our favorite wine shop, 1862 Wine & Spirits. We also enjoyed a leisurely dinner at the nearby French bistro, Pastis (thanks, Kaki & Phil!).
The hotel's Carlton Bar with its fabulous Belle Epoque atmosphere was also a favorite for enjoying Cocktails on the Croisette. I thoroughly enjoyed the Lady Carlton Cocktail (26 €) featuring Champagne and fresh strawberry coulis while Steve opted for the deliciously classic Negroni (25 €). Our drinks were the perfect accompaniment for the delicious dishes such as Steak Tartare (32 €) and decadent Foie Gras Crostini (28 €). In addition to the delightful cocktails and food, the Carlton Bar is a wonderful place for people watching as well!
Our stay at the InterContinental Carlton Cannes was truly the perfect ending to an amazing trip and I couldn't recommend the hotel highly enough. While a true icon of glamour, we thoroughly enjoyed the hotel's sense of relaxed elegance that kept it from feeling too stuffy and formal.
And while the hotel is a wonderful place to stay all year round, it's a hot spot for national conferences. Of course, the best known is the Cannes Film Festival which takes place in mid-May, but here is a calendar of others to keep in mind when making your plans. Rooms tend to book up quickly and the town is really busy during these times.
Even if you're not a guest of the hotel, if you ever find yourself in Cannes you should definitely pop into The Carlton Bar for Cocktails by the Croisette or lunch at the Carlton Beach Club. In addition to the delicious food and drinks and decadent atmosphere, you never know who you'll run into!
InterContinental Carlton Cannes | 58 Boulevard de la Croisette, 06414 | Cannes, France | +33 4 93 06 40 06
---
---