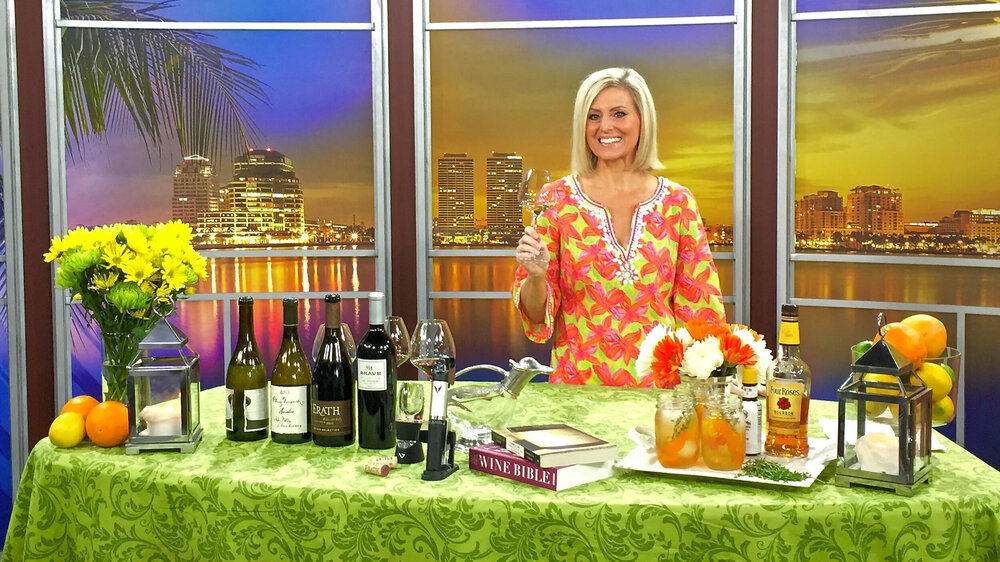 Father's Day is this weekend and you know what that means. It's time to show Dad just how much you love him and appreciate ALL he's done for you.Yep, no pressure at all.
And if Dad happens to be a wine lover, shopping for a special gift can be extra intimidating - but never fear! I've got some wonderful Father's Day gift ideas for you that I also recently shared on WPTV with one of Palm Beach Counties favorite Dads, John Favole! These selections are guaranteed to cinch you the coveted title of The Favorite Child.
When it comes to shopping for wine, remember to keep it simple. This is not the time to be delving into the climats of Burgundy and paying hundreds of dollars for a bottle of wine.
Instead, stick with familiar grape names and wine regions that are similar to those you know your Dad already enjoys. And if there's one thing children usually know, it's what Dad likes to drink, right? So whether he reaches for Chardonnay, Pinot Noir or something a little stronger, simply spending a few dollars more for a special bottle can sure make Dad's day and make him feel appreciated.
Father's Day Wine Recommendations: These classic bottle are surefire palate pleasers and are also pretty widely available:
1.) The Prisoner Wine Company "The Snitch" Chardonnay, Napa Valley, California ($35): This wine is the latest, limited-edition release from this uber-popular producer. It features Chardonnay blended with a touch of Roussanne for an extra Summery wine with delightfully lively notes of tropical fruit, peach and citrus.
2.) Palmaz Vineyards Amalia Chardonnay, Napa Valley, California ($70): Perfect for the collector, this gorgeous, hand-crafted Napa Valley Chardonnay from the Palmaz family will surely make Dad smile! It's also a fabulous place to visit next time he's traveling out to wine country.
3.) Erath Estate Selection Pinot Noir, Willamette Valley, Oregon ($35): For the Pinot-loving Pop, this wine from one of the Willamette's Valley's most notable producers is a wonderful choice. This Pinot delivers classic notes of cherry, earth and spice crafted solely from estate grown fruit.
4.) Mt. Brave Cabernet Sauvignon Mt. Veeder, Napa Valley, California ($70): If Dad prefers big, bold red wines, this classic Cabernet from renowned winemaker Chris Carpenter is definitely the way to go! Crafted solely from estate, mountain grown fruit, this well-structured Cab features luscious notes of dark fruit, tobacco and spice accompanied by ample, age-worthy tannins.
And if Pop has all the Pinot he can handle at the moment, opt for a wine-related accessory or book instead. Or to zhuzh up a bottle of wine, pair it with one of these vinous essentials:
"The Wine Bible" by Karen MacNeil ($17): This book is a must for anyone interested in learning about wine! The completely revised and updated Second Edition was recently released making it the perfect time to snatch this up for Dad.
"Judgement of Paris" by George Taber ($20): The hardcover edition of this book which depicts the legendary wine tasting that pitted California and French wines against one another is a true classic! And who better to tell the story than Taber who was the only reporter there documenting this monumental event that would change the wine world forever...
The Vinturi Essential Red Wine Aerator ($20): Dad can tame those tannins in his next glass of red wine without having to decant the entire bottle with this handy gadget. It transforms wines from tart and astringent to smooth and supple in seconds!
Riedel Magnum Wine Decanter ($67 - marked down from $80 on Amazon!): Perfect for decanting both full-bodied white AND red wines, this beautiful crystal decanter is as practical as it is beautiful. It's ideal for decanting an entire bottle of wine and will have Dad looking like one sophisticated oenophile when entertaining at home!
Coravin Model One Wine Preservation System ($199): This innovative gadget has revolutionized the way we now enjoy and collect wine. A super thin needle inserted through the cork of any wine bottle allows the user to siphon out a glass of wine without disturbing the wine. It's perfect for keeping tabs on that bottle of Bordeaux you've been aging so no more guessing whether a wine is at its prime or not.
But if Dad's more of a Cocktail Connoisseur, why not surprise him with his own Signature Cocktail? The "Summer Citrus Old Fashioned" is my Summer-infused take on a true classic that is sure to delight him on Father's Day, and quite possibly ALL Summer long.
This delicious cocktail features easy to find ingredients including Bourbon (I like Four Roses Yellow Label Bourbon ($20)), Angostura bitters, sparkling water and oodles of fresh citrus and thyme for garnish. It also calls for lemon thyme simple syrup that is super easy to make (and can conveniently be made a day ahead) that will make you look like a true mixologist!
Please click here to watch the full WPTV segment and simply scroll down for the recipe for the Summer Citrus Old Fashioned. Cheers to all you fabulous Dads out there and I hope you have a very Happy Father's Day!!!
Print Recipe
"FATHER'S DAY SUMMER CITRUS OLD FASHIONED"
Author: Stephanie Miskew | The Glamorous Gourmet
Makes: 3-4 drinks
Dad is sure to enjoy this Signature Cocktail on his special day and ALL Summer long!
Ingredients
For Lemon Thyme Simple Syrup:
1 cup sugar

1 cup still water

6-7 sprigs of fresh lemon thyme (if you can't find lemon thyme regular thyme is fine!)

For Cocktail:

1 cup Four Roses Yellow Label Bourbon

2 cups sparkling water

1/4 cup (or to taste) Lemon Thyme Simple Syrup

6-7 dashes Angostura bitters

1 orange, zested into 1" wide x 2-3" long strips for garnish, and then sectioned

1 grapefruit, sectioned

Thyme sprigs for garnish

Cocktail cherries for garnish (optional)
Instructions
To make the lemon thyme simple syrup, add the still water and sugar to a small saucepan. Bring to a boil over medium heat, stirring constantly to dissolve the sugar.

Once sugar is dissolved, remove pan from heat and add the thyme springs. Let steep for about 1 hour. Remove thyme sprigs from the cooled syrup and discard them. Strain the mixture into an airtight container and refrigerate until ready to use.

To make the cocktail, cut orange and grapefruit sections into bite-sized chunks.

Combine the bourbon, bitters, and lemon thyme simple syrup (to taste) in a pitcher. Adjust flavors to taste and then top with sparkling water just before serving.

Add ice cubes to serving glasses and divide chopped citrus among them. Add an orange twist and a few thyme sprigs to each glass and then pour prepared cocktail over ice and serve immediately!
---
---