Pssst. I have a secret to tell you. A secret...de fromage! And if you love cheese as much as I do, I hope you can join me for this special episode of "Wines of the Week" on Facebook LIVE featuring fabulous Cheeses of Europe. Entitled, 'Secrets de Fromage,' this show features an exceptional selection of tantalizing cheeses, as well as a wonderful lineup of wines from around the world to pair with them.
And let's face it, from George and Amal to Beyoncé and Jay-Z, some pairings are truly special. They have a sizzling synergy and are simply greater than the sum of their parts. In this episode, I'm also going to share some tips and tricks to help you create exceptional, 1+1=3 wine and cheese pairings at home. Just be ready for your friends and family to start stopping by on a much more regular basis.
So are you ready to dive in?
Please scroll down for the list of featured wines and cheeses mentioned in this episode, but you simply must watch the video below for ALL the juicy details! Also, as promised, links to all the resources mentioned in the show can be found directly below the list of wines and cheeses.
FEATURED CHEESE + WINE PAIRINGS
1.) Brie & Palmaz Amalia Chardonnay, Napa Valley, California 2015 ($70)
PAIRING PRINCIPLE #1: Pair Cheeses and Wines of Similar Weight & #2: Pair White Wines with Cheese.
GG SERVING TIP: I also love to serve Brie with Braswell's Red Pepper Jelly ($6.95). This delightfully spicy jelly is positively DELICIOUS and the fat in the cheese keeps its heat in check.
PAIRING PRINCIPLE #3: Pair Sparkling Wine with Rich, Salty Cheeses & #4: Pair Wines and Cheeses with Similar Flavors.
GG SERVING TIP: Due to Comté's delightful flavor profile, I love to serve it with Marcona almonds and dried apricots.
3.) Parmigiano-Reggiano & Fattoria Felsina Chianti Classico Riserva, Tuscany, Italy, 2008 ($30)
PAIRING PRINCIPLE #5: If it Grows Together, it Goes Together!
GG SERVING TIP: Serve this delectable Italian cheese with a drizzle of balsamic glaze and meaty Castelvetrano olives for maximum deliciousness.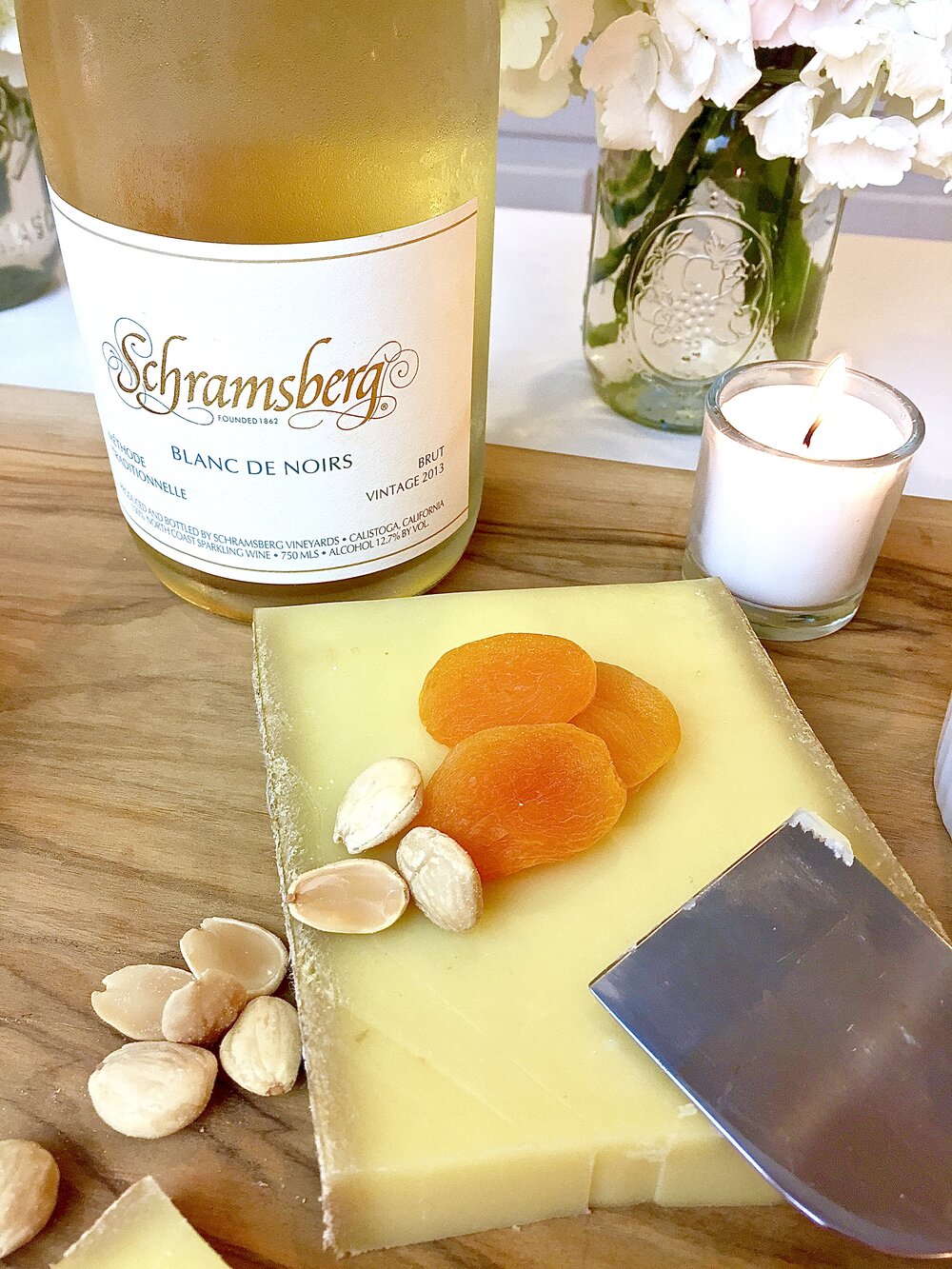 4.) Mimolette & Bodegas Muga Rioja Reserva Unfiltered, Rioja, Spain, 2011 ($25)
PAIRING PRINCIPLE #6: Pair Red Wines with Hard Cheeses!
GG SERVING TIP: This gorgeous, bright orange hard cheese is complemented by a variety of dried fruit such as apricots, cranberries and figs.
5.) Saint Agur Blue Cheese & Chateau Guiraud Sauternes, Bordeaux, France, 2011 ($35 for 375mL bottle)
PAIRING PRINCIPLE #7: Pair Cheese and Wine with Opposite Flavors!
GG SERVING TIP: Serve creamy, salty blue cheeses with a generous drizzle of honey for an over the top sweet and salty experience - YUM!
RESOURCES MENTIONED IN TODAY'S SHOW
- Learn more about the wine making term, "Sur Lie"
- Click here to go to my Facebook LIVE "Wines of the Week" playlist where you can search for my Italian Wine Month episodes (why can we STILL not share a playlist URL from Facebook, Mark Zuckerbeg?!?)
- Learn more about the wine term "Terroir" I hope you enjoyed this episode of "Wines of the Week" featuring 'Secrets de Fromage' from Cheeses of Europe.
I sure enjoyed sharing these delightful cheeses and wines with you, and I hope you find these pairing principles helpful next time you're entertaining at home. And I'd really love to know what YOUR favorite wine and cheese combinations are so please let me know in the Comments section below.
To view previous episodes of "Wines of the Week," please click here and enjoy!
---
---