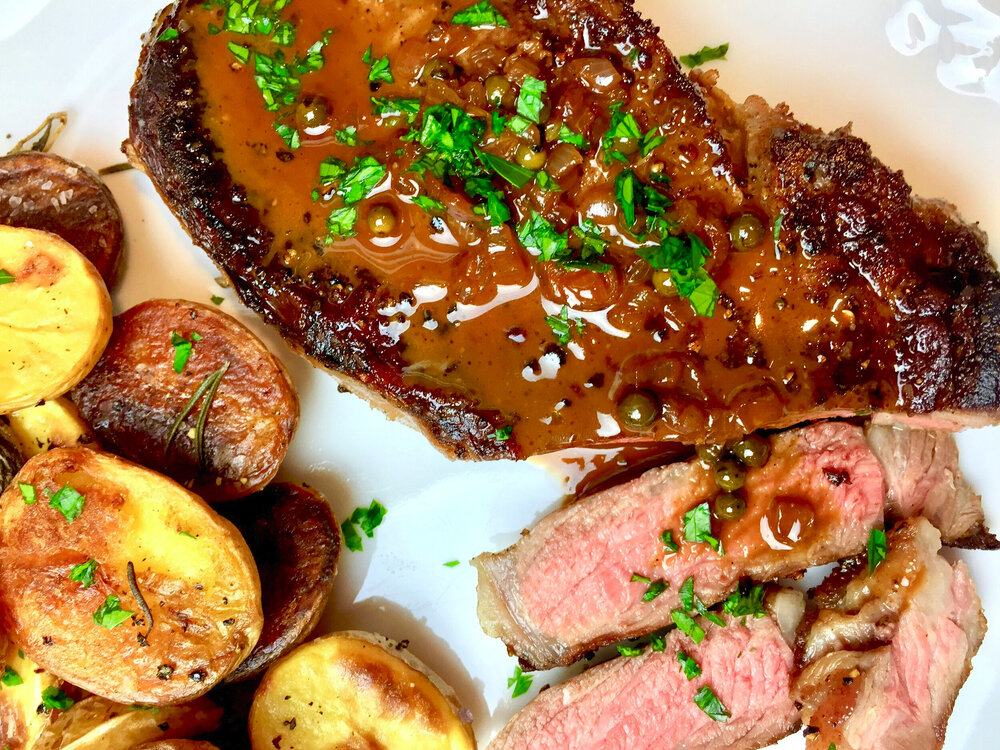 If you're looking for the perfect dish to seduce your Valentine this year - look no further! My recipe for spicy, succulent Steak au Poivre and savory Roasted Rosemary Garlic Potatoes paired with a sensual, seductive red wine ensures a Valentine's Day filled with endless possibilities
Steak au Poivre is a classic French dish that consists of flavorful pan roasted steak, usually filet mignon, seasoned with peppercorns and then topped with a delightfully creamy, peppercorn-Cognac sauce. The traditional accompaniment is pommes frites, crispy thin french fries, which are essential for mopping up all the mouth-watering pan sauce. I've made a few small tweaks to this classic recipe that have upped the deliciousness factor and made it perfect for satisfying your ravenous Valentine.
While you can use filet mignon in this recipe, I prefer the decadent flavor and superior texture of a juicy, well-marbled New York strip. But feel free to use whatever cut of steak you prefer in this recipe for Steak au Poivre à Deux, which is specifically tailored for two.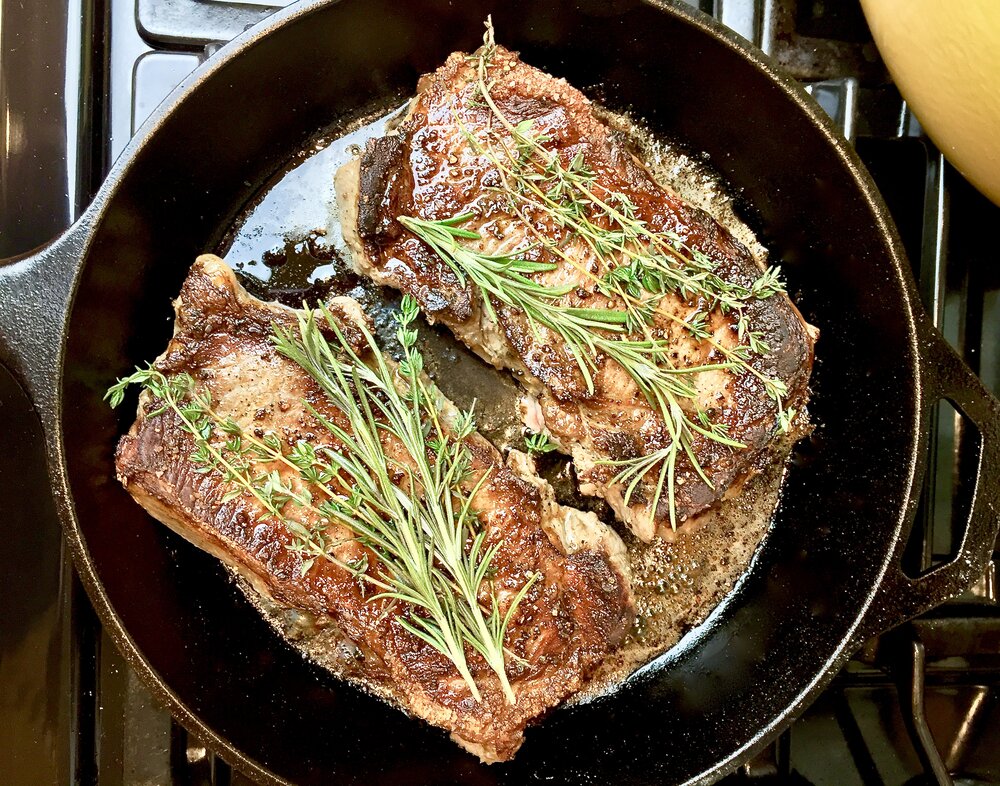 You can also adjust the amount of black pepper to suit your tastes but the sauce also calls for green peppercorns in brine - PLEASE don't skip this ingredient! You might have to make a trip to the gourmet grocery store (I found them at Fresh Market) but it IS Valentine's Day after all and it really adds such amazing flavor to the sauce.
Instead of pommes frites, I've substituted Roasted Rosemary Garlic Potatoes which are incredibly flavorful, easier to make and healthier than fried frites. More importantly though, they are even more effective at mopping up the mouth-watering sauce. Can you tell I'm obsessed with the sauce?!?
And a word of caution when making this recipe, please be sure to remove the pan from the heat when adding the Cognac and immediately after flaming it. The flames may shoot up pretty high (see photo above) but don't panic, they subside quickly. So while you're dazzling your lover with your pyrotechnic skills, just take a few deep yoga breaths as the Cognac quickly burns off.
And be sure to taste the sauce towards the end of cooking and adjust the seasoning if necessary. If you find it too salty, just add a bit of water and/or more cream (yes!) to thin it out which should do the trick.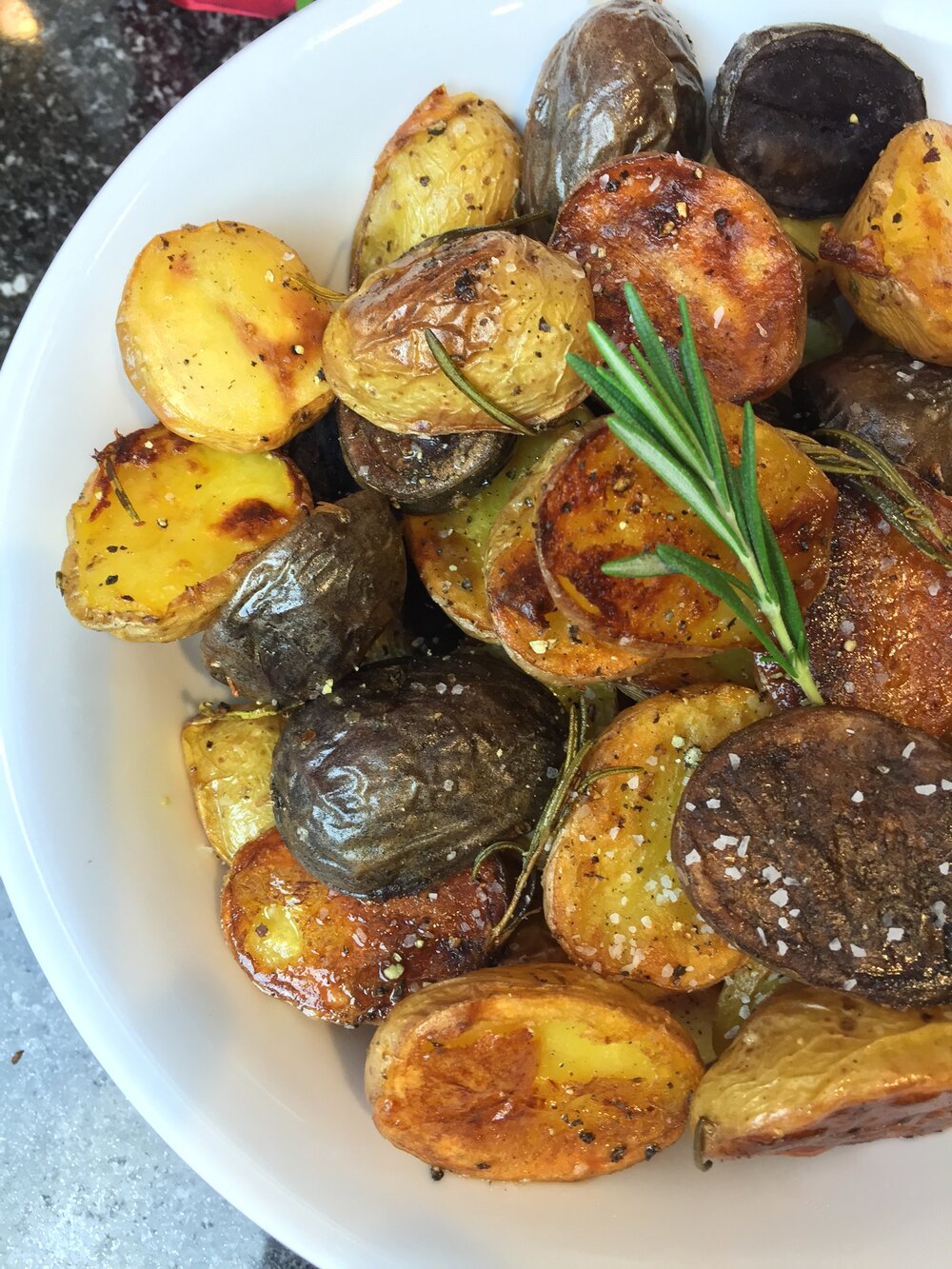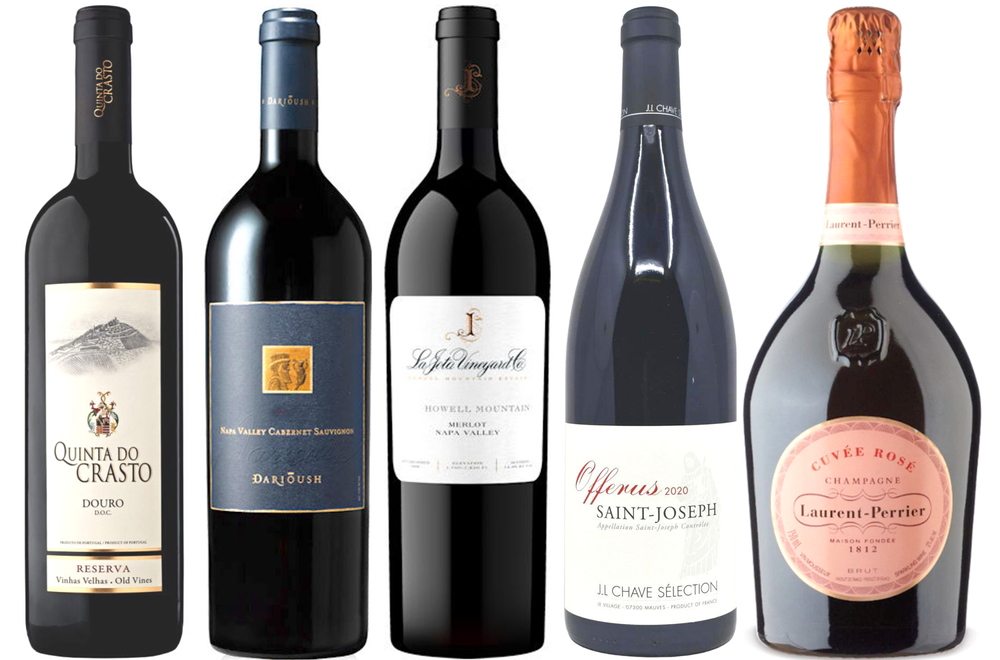 And as far as a wine pairing goes, a big, bold California Cabernet Sauvignon is perfect with this dish! The bold flavors + firm tannins found in Cabernet will stand up nicely to the steak and enhance its flavors perfectly. Some of my favorites include:
Quinta do Crasto Reserva Old Vines, Douro, Portugal ($60): A full-bodied field blend of 25-30 indigenous Portuguese grape varieties (think Touriga Nacional, Tinta Roriz, Touriga Franca, etc.) crafted from 70 year old vines + aged in a combination of French + American oak. The result is an inky, deep purple red with notes of roasted plum, violet, blackberry, cassis + spice with a peppery finish.

Darioush Signature Napa Valley Cabernet Sauvignon ($75): This hedonistic incarnation of 100% Cabernet Sauvignon from Darioush Khaledi is sure to make your Valentine swoon with its lush, mouth-filling flavor including layers of black currant, blackberry, cassis, graphite + cocoa accompanied by polished tannins + a truly savor worthy, spice tinged finish.

La Jota Howell Mountain Merlot, Napa Valley ($100): Vinous mountain man + winemaker Chris Carpenter specializes in crafting red wines from glorious mountain grown fruit + this delightful Merlot (YES Merlot is BACK!) features lush notes of plum, black cherry, cocoa + spice accompanied by supple tannins + a delightful minerality.
But if Cabernet Sauvignon isn't your jam, opt for a full-bodied Syrah or a delightful Rosé Champagne or sparkling wine. While very different, both of these options actually have enough heft to stand up to the richness of the Steak au Poivre and complement its decadent flavors.
Wishing you + your love a very Happy Valentine's Day!
print recipe
"STEAK AU POIVRE A DEUX"
Serves 2 hungry Valentines
INGREDIENTS
2 boneless NY Strip Steaks

1 Tablespoon good olive oil

3 Tablespoons unsalted butter, room temperature

10 fresh thyme sprigs

6 fresh rosemary springs

1 large shallot, finely chopped

1/3 cup Cognac

1/3 cup demi-glace

1/4 cup heavy cream

1/2 Tablespoon Dijon mustard

1 Tablespoon jarred green peppercorns, drained + rinsed

1/4 cup chopped fresh, Italian flat-leaf parsley

Kosher salt + freshly ground black pepper
Preheat oven to 400 degrees.

Pat the steaks dry with paper towels +, just prior to cooking, generously season all sides with Kosher salt + freshly ground black pepper + press seasonings into steak.

Using a paper towel, wipe the inside of a large, preferably cast iron, skillet with the Tablespoon of olive oil. Place oiled skillet over a high flame +, as pan is heating, spread half the butter on one side of both steaks. When pan starts to smoke, place steaks butter side down in the skillet. Cook for 4-5 minutes, spooning out any excess liquid that accumulates in the pan.

While steaks are cooking, slather the remaining butter on the other side of the steaks. When ready, flip steaks over + top each steak with half of the rosemary + thyme + then slide the pan into the preheated oven + cook an additional 5 minutes for medium-rare. Remove steaks to a cutting board and allow them to rest for 5-10 minutes.

Pour excess fat from the pan (do not wipe it out) + place it back on the stove over med-high heat.

Add shallots to the pan + saute until translucent + tender, scraping up any delicious bits off the bottom of the pan, about 3-5 minutes.

Remove pan from heat + add Cognac (never pour directly from the bottle). If you have a gas stove, return pan to burner, lean back + tilt the pan to ignite the Cognac. If you don't have a gas stove, use a kitchen lighter. The Cognac will flame for a few minutes + then die down at which point you stir in the demi-glace and cream and simmer for 1-2 minutes until sauce thickens slightly.

Finish the sauce by stirring in the mustard + peppercorns until well mixed. Season to taste + serve drizzled over steaks + garnish with chopped fresh parsley.
"ROSEMARY ROASTED GARLIC POTATOES"
Feeds 2-4 hungry people
INGREDIENTS
2 lbs. small potatoes, rinsed with skins on (we used a mix of yellow and purple potatoes)

Good olive oil

3/4 teaspoon Kosher salt

8-10 twists of freshly ground black pepper

3 sprigs of fresh rosemary

2-3 large garlic cloves, smashed + chopped

2 Tablespoons chopped fresh, Italian flat leaf parsley
Preheat oven to 400 degrees.

Cut potatoes in half lengthwise + place them in a single layer on a large baking sheet lined with foil. Scatter rosemary (leaves only) + chopped garlic over sliced potatoes. Drizzle generously with olive oil + season with the salt + pepper. Using your hands, mix potatoes, garlic, rosemary leaves + seasonings until well combined.

Roast potatoes in the oven for 45-60 minutes, until they are crispy + brown. Flip them at least twice during that time so that they cook evenly.

Remove potatoes from oven + toss with fresh parsley + season to taste with additional salt + pepper.
---
---