The brilliant and hilarious movie It's Complicated is one of my favorite foodie movies of all time. Yep, you heard me, I said foodie movie. Because despite all the juicy drama of the dysfunctional Adler family and the titillating love triangle between Meryl Streep, Alec Baldwin, and Steve Martin, the underlying theme of the movie is French-inspired cuisine. It's also where I discovered Honey Lavender Ice Cream which is one of my favorite Summer sweet treats. I like to imagine it was inspired by Meryl Streep's character's time in France and the lush lavender fields of Provence which is one of our favorite places.
Streep plays Jane Adler, a divorced, middle-aged, French culinary school graduate who owns a beautiful bakery and café in Santa Barbara, California. Her typically balanced, bordering on boring, post-divorce life is turned upside down following a steamy, one night liasion with her ex in New York City.
She then spends the remainder of the film manifesting her emotions through food. She bakes gorgeous pies for her girlfriends (played by the hilarious Rita Wilson, Ali Wenworth + Mary Kay Place) as she gleefully reveals the details of her affair, whips up pain au chocolat and croque-monsieur for her architect (Steve Martin) who she ends up dating, roasts chicken and bakes chocolate cake for her ex-husband and current lover (Alec Bladwin) and cooks elaborate feasts for her three, college age children who are in various stages of leaving the nest all while trying to navigate her tumultuous, yet hilarious, love life.
And while I absolutely loved ALL of the above mentioned dishes, for some reason Jane's Honey Lavender Ice Cream sounded particularly good to me. Apparently, making this delicious recipe was her favorite remedy for insomia which did not go unnoticed by her ex (see quote above). She and ex-husband Jake share a very emotionally intimate scene in the movie while enjoying honey lavender ice cream together and reflecting on their lives post-divorce. The scene really reinforced to me the undeniable link between food and our emotions, something I write about more in depth here.
So on a hot Summer day I attempted to make Honey Lavender Ice Cream myself and after testing a few different recipes, I came up with one that combines the best elements of each.
The texture is rich and luxurious but not too heavy, the flavors are nicely balanced and the ice cream is sweet, but not cloyingly so. It is creamy and dreamy and I love the fact that no additional sugar is added to the recipe, the sweetness is determined solely by the honey and cream. Keep in mind, the type of honey you decide to use in this recipe makes a big difference.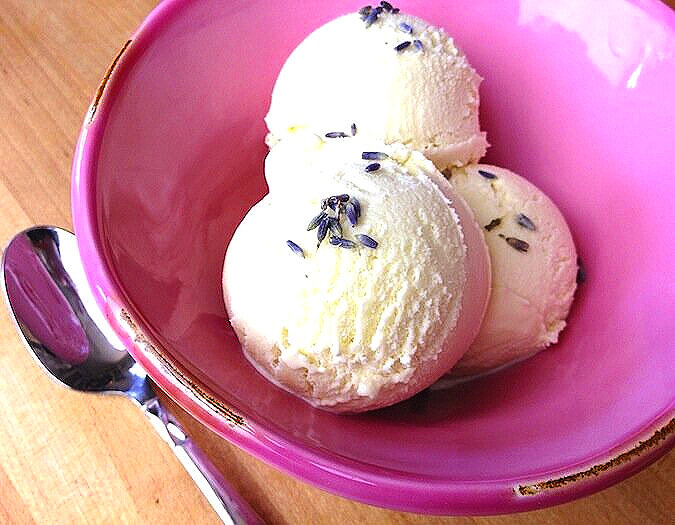 Ideally, you want to use a honey with a mild flavor such as acacia honey which has a low acid content and is very light in color. I love the Langnese Acacia Honey from Germany ($14) which works perfectly in this recipe. Acacia honey comes from the black locust or false acacia tree and is light-colored with a mild taste and hints of vanilla. It is considered "raw" because it is cold-pressed and has natural antibacterial and antibiotic properties. And the only special equipment you'll need is a candy thermometer and an ice cream maker (I really love this one) and you are good to go!
A few things to remember:
Be sure to put the freezer bowl for the ice cream maker in the freezer the night before you make the ice cream.

Be sure to use culinary grade lavender like the Lavande sur Terre from France ($10)

The ice cream comes out white (see above photo) but if you want to make it a light lavender color, you can add a few drops of purple food coloring.

Make the Honey Lavender Ice Cream the day before you plan to serve it in order to allow enough time for it to set up in the freezer.

And most importantly - ENJOY!
PRINT RECIPE
"HONEY LAVENDER ICE CREAM"
Author: Stephanie Miskew | The Glamorous Gourmet
Makes approximately: 1 quart
INGREDIENTS
1 1/2 cups heavy cream

1 1/2 cups half and half

2/3 cup mild honey such as acacia

2 Tablespoons dried edible lavender flowers plus extra for garnish

2 large eggs

1/8 teaspoon Kosher salt
INSTRUCTIONS
Bring cream, half and half, lavender and honey just to a boil in a saucepan over medium heat, stirring frequently to prevent mixture from burning, then remove pan from heat. Cover and let steep for 30 minutes.

Pour mixture through a sieve into a bowl and discard lavender. Clean saucepan and return mixture to it and heat over medium heat until hot.

Whisk eggs and salt together in a large bowl, then gradually add one cup of the hot cream mixture to it in a slow stream whisking constantly to prevent eggs from cooking. Once mixed, add to remaining mixture in saucepan and cook over medium-low heat, stirring constantly with a wooden spoon until the mixture is thick enough to coat the back of the spoon and reaches 175 degrees on the thermometer, about 5 minutes - be careful not to let mixture boil!

Pour mixture through sieve again and into a clean bowl and allow to cool completely, stirring regularly to prevent a skin from forming on the top of the mixture. Once cooled, cover with plastic wrap and chill in refrigerator for at least 4 hours.

Freeze mixture in ice cream maker according to machine directions, transfer to container and chill in the freezer to harden, preferably overnight. Garnish with dried lavender flowers and enjoy!
---
---