The sun is shining warmly on your face as you float, weightlessly in the azure blue pool, toes lazily dipping into the water every so often to cool you off. You're relaxed and happy as you reach for a chilled glass of something delicious to quench your thirst, but you suddenly realize…for the first time in awhile…you don't want to #roseallday, you want #whitewineallthetime?
Well…I tried.
But even the most dedicated rosé lovers (myself included) need a break every now and then, and when that happens, there's nothing like a crisp, lively white wine to cleanse and refresh your palate. So if you're in need of a change of pace right about now, you're in the right place! In this post I've got some lively, refreshing white wines that are the perfect alternative to drinking pink.
But before we dive in, here are a few tips for selecting white wines for Summer:
Opt for white wines that are stainless steel fermented. This method preserves a wine's fruity flavors and bright acidity which is ideal for Summer.

Avoid heavily oaked white wines. French oak imparts notes of baking spices such as clove, cinnamon and allspice that are usually associated with Fall. Oak treatment also gives wine a richer, more viscous texture which is also more of a #Fallthang.

Look for light to medium-bodied wines that won't weigh you down with heavy tannins or get you drunk too quickly with oodles of alcohol.
Refreshing White Wines to Enjoy this Summer
1.) Loimer Grüner Veltliner, Kamptal, Austria ($18): This dry white wine is made from 100% Grüner Veltliner, the signature white grape of Austria. Fred Loimer produces some of the best examples of Austrian Grüner and is a big proponent of biodynamic farming as well. He harnesses all the charming qualities of this grape that's known for its hallmark notes of citrus and white pepper. This wine is fermented entirely in stainless steel with glorious notes of green apple, lime, white peach and limestone with a dry, racy acidity. It also has the hint of "spritz," a slight sign of effervescece often found in quality Grüners that aren't overly processed.
2.) A.A. Badenhorst Secateurs Chenin Blanc, Swartland, South Africa ($17): This gem hails from South Africa's Swartland wine region located about 30 miles north of Cape Town. Cousins Hein & Adi Badenhorst have been making their mark on the the wine scene over the past decade, crafting unique wines using traditional methods. Chenin Blanc is a white grape variety which originated in France's Loire Valley and today, is the most widely planted grape variety in South Africa, where it is also known as "Steen." This wine is fermented predominantly in stainless steel tanks and left on the lees for 7 months to enhance its richness and body. The result is a delightful wine with aromas of honey, orange blossom and white peach, followed on the palate by juicy flavors of ripe peach, citrus and pear accompanied by a lively, food-friendly acidity.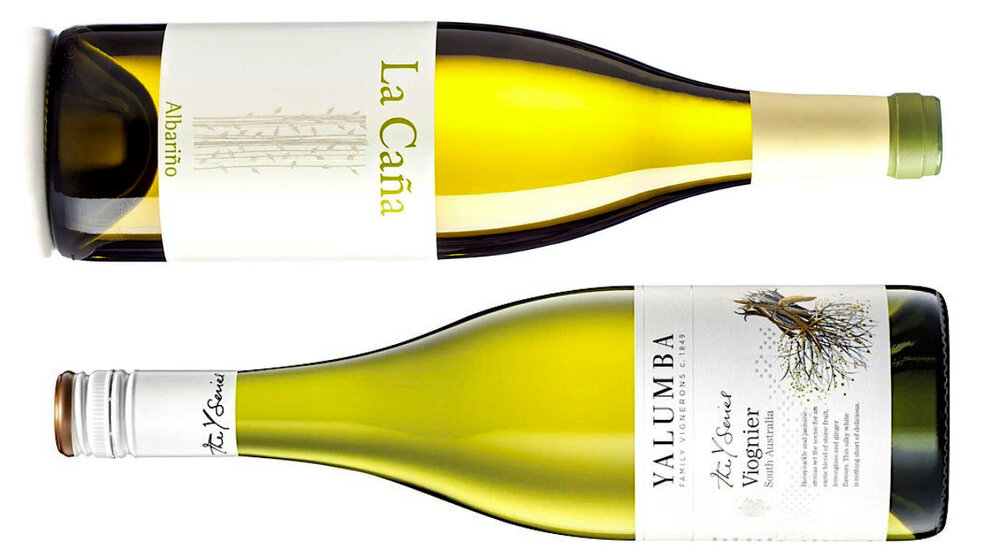 3.) Bodegas La Caña Albariño, Rias Baixas, Spain: After introducing the Albariño grape to the US in 1991 and promoting it for many years, Jorge Ordoñez founded Bodegas La Caña in 2008. Today, this boutique winery is dedicated to preserving and producing native grape varieties from very old vines, which produce fruit of much higher quality and concentration. This wine is 100% Albariño crafted by winemaker Nacho Alvarez. 75% was fermented in stainless steel while the remaining 25% was fermented in large, neutral French oak barrels. It then spent 8 months sur lie with regular battonage to enhance the wine's texture and mouthfeel. This wine has expressive fruity, floral aromas while on the palate its refreshing minerality and crisp acidity are accompanied by delightful notes of citrus, apricot and honey.
4.) Yalumba "Y Series" Viogner, South Australia, Australia ($12): If you're craving a white wine with a little more heft, this stunner is definitely the way to go! Viognier is a white grape known for it's opulent qualities but in certain incarnations (like this one), it expresses all of its unique characteristics without being too rich on the palate. Fermented entirely in stainless steel using native yeasts, the wine was allowed to remain on the lees for three months which added creaminess to the finished product. The final wine delights with fragrant aromas of orange blossom, ginger and honeysuckle while on the palate, notes of fresh pineapple, citrus, peach preserves and spice culminate in a lovely, lingering finish.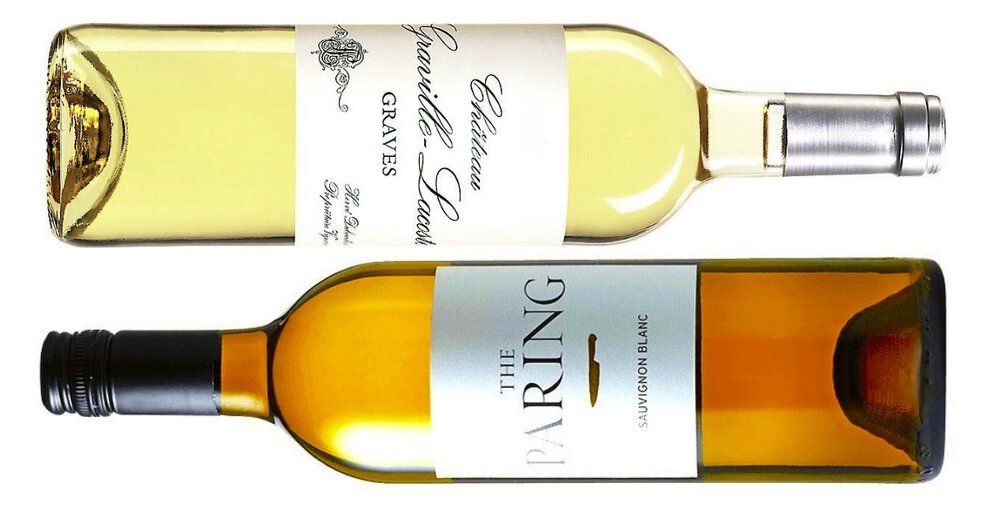 5.) Château Graville-Lacoste Graves Blanc, Bordeaux, France ($22): Think that only uber-expensive, posh, collectible wines come from France's Bordeaux region? Think again! Bordeaux Blanc is probably one of best kept secrets in the wine world - and one of the best values too! These wines are a blend of three grape varieties: Sauvignon Blanc, Sémillon and Muscadelle and if you're a fan of lighter white wines like Sauvignon Blanc and/or Pinot Grigio, they are right up your alley. This particular beauty is a blend of 75% Sémillon, 20% Sauvignon Blanc and 5% Muscadelle from 50 year old vines grown on the clay and limestone soils. Winemaker Hervé Dubourdieu fermented this wine entirely in stainless steel and the end result is a pure and expressive wine with sublime notes of lemon verbena, white peach and lime blossom with a hint of fennel. It is crisp and lively and sure to become a Summer favorite!
6.) The Paring Sauvignon Blanc, California ($25): If you prefer a bolder, more fruit forward expression of Sauvignon Blanc, this is definitely the wine for you! The Paring wines are a new offering from the acclaimed Jonata winery, and explore different blending opportunities where experimentations with site and varieties are key. Winemaker Matt Dees aged this wine in a combination of 1/3 new French oak, 1/3 neutral French, 1/3 stainless steel for 10 months to created layers of texture and flavor. This wine is defined by powerful fruit and balanced by mouthwatering freshness; an exotic, decadently textured and electrically framed bottle of 100% Sauvignon Blanc. Classic lemon curd and lime zest aromas. Notes of grilled white peach and agave nectar. Dense and complete on the palate with a beautiful crisp pear-like texture. So satisfying. Finishes fresh with herbal complexity and hints of ripe green melon. Perfect white for the summer months.
---
---