"The ocean is everything I want to be. Beautiful, mysterious, wild, and free." ~ Unknown
The day after the glamour and indulgence of "Chefs & Champagne," the James Beard Foundation's Summer fundraiser that I cover every year, Steve and I love spending a relaxed, unplanned day discovering the Hamptons. Last year's meandering led us to afternoon cocktails at Topping Rose House followed by a delightful, casual dinner at EMP Summer House and we were hoping for similarly fabulous results this year.
From our home base in Southampton, we hopped into our rental car and set our sights on Montauk. Luckily, we were armed with some helpful recommendations we procured the night before from some fellow food and wine lovers, so we were feeling very optimistic. And we were in the Hamptons, after all - it's kinda hard to go wrong!
We wound our way up Route 27 with the windows down, enjoying the delightful feel of the cool Summer breeze on our skin, and gradually, the scenery began to change. The closer we got to Montauk, the more dense and lush the landscape became. The cars also evolved from shiny, new Range Rovers and sleek, convertible Mercedes, to weathered pickup trucks and rugged, vintage jeeps, a tangible sign of the town's more relaxed, laid-back ethos.
Located on the easternmost point of Long Island's South Fork, Montauk is truly the "end" of the "East End." It's primarily known for its rich fishing heritage that's claimed over 30 world records and it's also a prime spot for year round surfing as well. And while Montauk is generally considered more laid back and less flashy than say, East Hampton or Southampton - its air of glamour may just be a little less obvious.
Andy Warhol once owned a sprawling estate here where he entertained the likes of the Rolling Stones, Jacqueline Onassis and Elizabeth Taylor. Today, celebs who reside in Montauk include Julianne Moore, Ralph Lauren and Robert De Niro.
When we arrived, we headed straight to the Montauk Point Lighthouse. This impressive structure is the oldest lighthouse in New York state and the fourth oldest active lighthouse in the US. While I'd love to tell you we walked all the way up to the top (um, NOT after a long night standing and dancing in 4" heels), we DID stay to enjoy the dramatic views and bask in the amazing weather. The lighthouse was truly stunning against the bright, blue Montauk sky!
After our hour plus drive and lighthouse visit, we were definitely in need of sustenance. After the decadence of the previous night (i.e., Red Velvet Macarons with Foie Gras Mousse!) we were very tempted to simply devour some delicious steamers and clam chowder from one of the many inviting roadside stands or delicious dives...BUT we decided to push on - and we were very glad we did!
After checking out a few different restaurant recommendations, we finally eased the car into the gravel drive at Duryea's Lobster Deck. We made our way inside the quaint, whitewashed retail store and were redirected around the corner to the actual restaurant. And as we rounded that corner...the magnificent view took our breath away (click here to see video!).
I was instantly reminded of an amazing lunch we shared with our good friends Kaki and Phil at the Carlton hotel in Cannes a few years ago. The setting was virtually identical: French music wafted through the air as the sun danced and sparkled across the cerulean blue sea. Magnificent yachts bobbed gently in the adjacent harbor while beautiful people on the outdoor deck were washing down decadent lobster rolls with copious amounts of crisp, dry Provencal rosé. Needless to say we had found our #happyplace!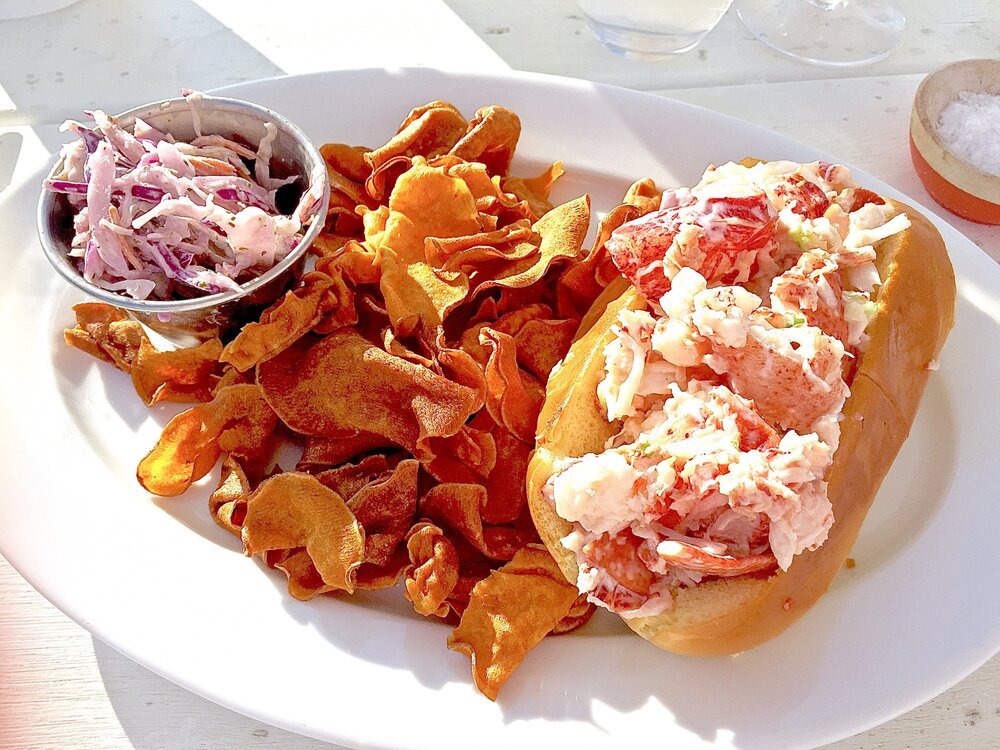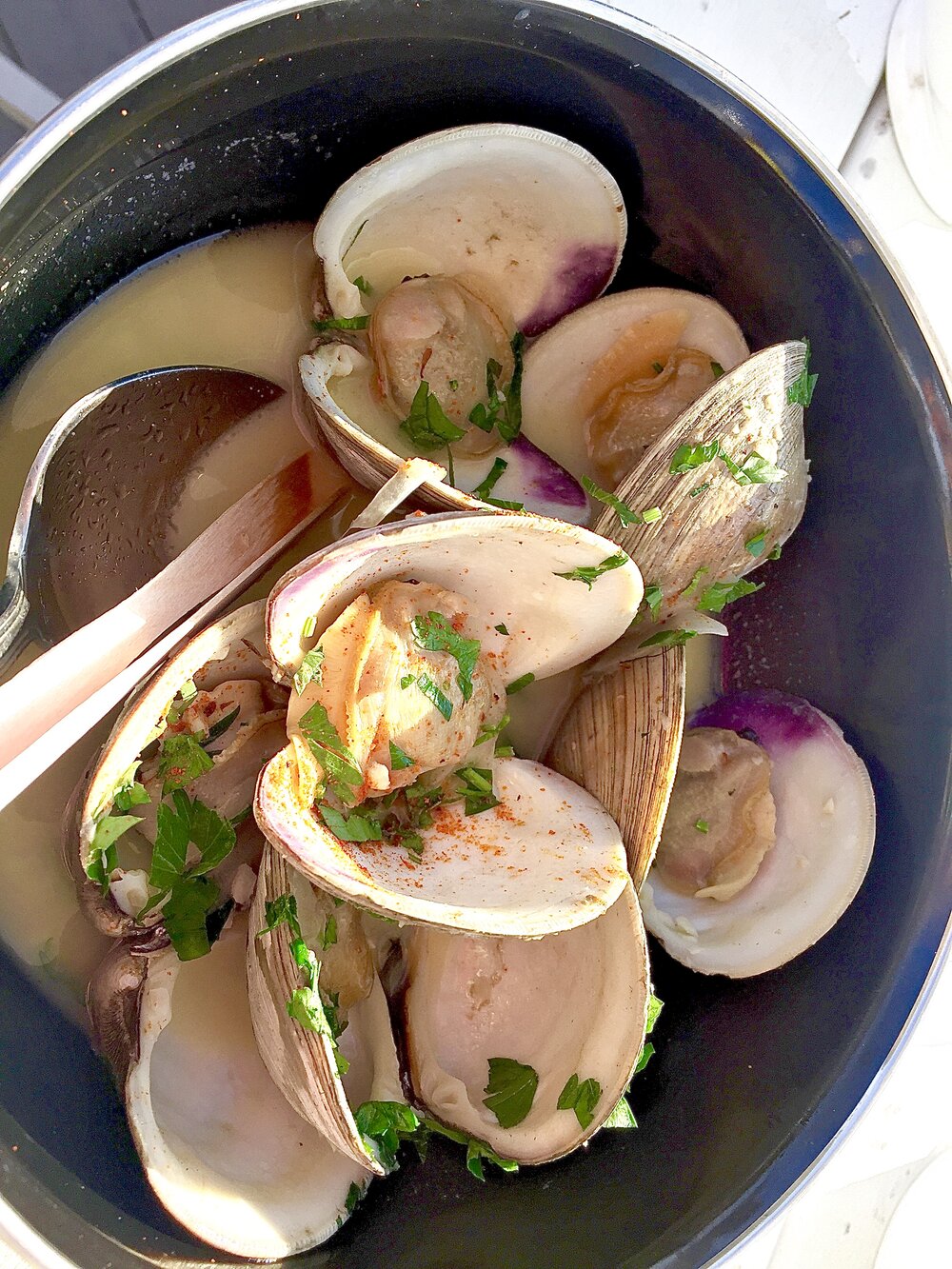 Located on scenic Fort Pond Bay, Duryea's Lobster Deck has been a Montauk mainstay for over 80 years. In fact, it was 100% family-owned and run since its inception in the 1930's until 2012 when owner, Perry Duryea III, sold the business to private-equity billionaire, Marc Rowan.
The restaurant re-opened in 2016 with some timely upgrades including a glamorous new wine list (the restaurant was previously BYOB), featuring an impressive (and pricey) selection of Champagne and rosé. Also, in place of plastic tables and chairs, the new owners upgraded to teak furniture and stainless silverware.
And while pricey, the food was truly exceptional! The $35 lobster roll was chock full of succulent lobster meat, dressed only with a whisper of mayo, then nestled in a soft, buttery bun. Crispy sweet potato chips and coleslaw were the perfect accompaniment and added great flavor and texture as well. We also enjoyed plump, flavorful steamed clams served in a delicious broth which was perfect for sopping up with salty, crisp French fries. The generous bowl of tarragon-laced clam chowder rounded out our feast perfectly!
Hmmm now whatever to drink with our meal? As you might expect, we washed everything down with a refreshing, rose petal pink hued bottle of Chateau Saint-Maur Provencal Rosé. The wine's enticing notes of red berries and spice brought the perfect brightness to the decadence of our meal. We also sampled the Summer Ale from the Montauk Brewing Company Summer Ale which had the perfect balance of flavor and freshness. The company's "come as you are" tagline also perfectly embodies the "no frills good life "of its eponymous town.
We happily lingered at Duryea's Lobster Deck for hours, savoring every bit of the delicious food and wine while enjoying the spectacular view. If you find yourself in Montauk this Summer, we highly recommend it, but just a helpful tip - beware of the eager seagulls who'll happily help themselves to a bite of your lobster roll if you're not careful!
Duryea's Lobster Deck | 65 Tuthill Road | Montauk, NY | 11954 | 631.668.2410 | www.duryealobsters.com
---
---