Nowhere embodies relaxed Summer glamour quite like the Hamptons. Located on the East End of Long Island, this sophisticated seaside haven is also home to our favorite Summer event, the James Beard Foundation's "Chefs & Champagne." Held on the last Saturday in July, this glamorous Summer soirée takes place under a sprawling white tent beneath cerulean skies, at the scenic Wölffer Estate in the village of Sagaponack.
It combines delicious, seasonally-inspired offerings from over 35 Chefs accompanied by flowing Champagne as well as an array of Wölffer Estate's eponymous wines. It is truly a feast for the senses and this year also featured some very special new faces.
The 2018 "Chefs & Champagne" event marked the first for the foundation's newly appointed CEO, Clare Reichenbach. The charismatic, blonde Brit (pictured below) brings her seasoned experience as executive vice president of strategy for BBC Worldwide and AMC Networks, to the renowned culinary organization, as well as extensive media expertise gained by working with clients including NBC Universal and New York Public Radio.
A self-described "deeply impassioned home cook," Reichenbach rallied the crowd of revelers by announcing the evening's enduring themes of, "good food, for good" and "pleasure with a real purpose." She also added, "we celebrate excellence in food, and we delight in deliciousness." I couldn't agree more!
But perhaps the overarching theme of the evening was the most timely, namely, the equality of women in the culinary arena. Spawned by the #MeToo movement and numerous sexual misconduct allegations in the culinary realm, Reichenbach also cited some sobering statistics, "While half of culinary students are women, they make up less than 20% of Chefs and head cooks."
The evening's ethos of equality was a continuation of May's James Beard FoundationAwards, which challenged the food community to RISE for diversity, culture and inclusion to ensure a seat at the table for everyone.
Which brings me to this year's Honoree. In her announcement, Reichenbach began, "Her passion for food, family and feminism makes her the ideal honoree for this year's event," and she couldn't have been more right! Padma Lakshmi is truly a driving female force in the culinary world. In addition to her titles of food expert, model, actress and best-selling author, she's also the host and executive producer of Bravo's James Beard award winning and Emmy award winning show Top Chef.
I was fortunate to have the opportunity to speak with the luminous Lakshmi about her favorite Summer flavors,  passions outside of food and what it means to be honored by the James Beard Foundation before the event got underway:
Q: How have you been enjoying the Hamptons so far?
A: "I just got here today, I've been filming the finale of Top Chef overseas in China. If feels good to be back but I'm a little jet-lagged."
Q: You contributed so much to the food world in such a unique way, what does it mean to be here and be honored by the James Beard Foundation today?
A: "It feels great, it feels so exciting! I've always admired Chefs who were of James Beard caliber, and also cookbooks that were recognized by the James Beard Foundation so to be here as their Honoree is really fantastic and a life bucket list dream come true."
Q: Since we're almost halfway through, what are your favorite flavors of Summer?
A: "It's a little early, but in a few week the corn will start to come in really sweet and ripe. The tomatoes are divine and we have a ton of basil in our garden so instead of always making pesto, we make green curry with it. My most favorite flavors of Summer though are peaches and tomatoes."
Q: As a Sommelier, I have to ask, do you have any favorite wines or cocktails you specifically enjoy in the Summer?
A: I mean, I love really good wine, I love [Chateau] Figeac, I also love Tignanello.
Q: You've inspired so many people to experiment in their own kitchens and think outside the box, are there any spices in particular you think of when it comes to Summer that people should explore?
A: "Here's two Middle Eastern spices, one is Sumac and one is Za'atar powder and I mention those two together because in the Summer you have such beautiful vegetables and it's easy to make a very simple yogurt dip with just yogurt, those two spices and salt and maybe a pinch of cayenne if you like things spicy. It's a great healthy snack for kids and adults and you put it out and it's beautiful. We actually make a ton of it and use it on our baked potatoes as well, instead of sour cream."
Q: You've filmed Top Chef in so many amazing places, if you could pick anywhere to film it next, where would it be?
A: I'd really love to do a finale in Goa. I'd love to be able to bring Top Chef to my home country. I just think Goa would be such a beautiful place, not only because of the Portuguese influence but also the wonderful mix of food and also the natural beauty. You have the beaches, the nightlife and the historical side - it's got a little bit of everything.
Q: What's been your favorite place to film Top Chef so far?
A: Singapore was pretty good, Hawaii was beautiful and I loved filming in New Orleans as well.
Q: What are your greatest passions in life outside of food?
A: My daughter of course, rollerskating, and reading. I love all those things.
Q: What are you reading right now?
A: Actually I'm reading this book by Francine Prose and it's called "What to Read and Why." And it's just a beautiful book of essays and it really reignites your love of classic books. And it's written in such an approachable, down to earth way, it makes you all of a sudden want to go back and read Tolstoy. She's such a great writer.
Q: Do you have a favorite culinary quote or words to live by?
A: Yes, "'Tis an ill cook who cannot lick his own fingers!" It's from Shakespeare's Romeo and Juliet."
Once again, the food at the 2018 Chefs & Champagne event was truly spectacular! As in years past, I have to share my Top 10 Tantalizing Dishes with you - please scroll down for the deliciousness:
1.) Calvisius Tradition Prestige Caviar (White Sturgeon): The silky, slightly saline taste and delicate yet firm texture of this Italian caviar was positively dreamy and the perfect pairing for the Boizel Champagne.
2.) Red Velvet Macaron with Foie Gras Mousse + Aged Balsamic by Chef Adrienne Cheatham of SundayBest Pop-Up Series: The combination of the moderately sweet macaron and silky foie mousse were positively heavenly. The balsamic drizzle and flourish of briny sea salt made the perfect finish!
3.) Tarte Pissaladière (Savory Onion Tart with Anchovies, Niçoise Olives + Arugula) by Chef Georgette Farkas of Rotisserie Georgette in NYC: This classic dish from the South of France was a real treat and the bright arugula provided a fresh pop for the savory, salty olives and anchovies.
4.) Whipped Feta with Watermelon + Pistachio Dukkah by Chef Ayesha Nurdjaja of Shuka Restaurant in NYC: The airy texture of the feta was the perfect counterpoint to the dense chunks of sweet, ripe watermelon. The generous sprinkle of chopped pistachios, seeds and spices added delightful depth and earthiness to the dish as well.
5.) Olive Oil-Poached Chinook Salmon with Charred Leek Emulsion, Jersey Corn Puree, Black Garlic + Corn Cracklings from Chef Matthew Woolf of The Rainbow Room: We were absolutely smitten with the silky texture of the salmon as well as the combination of flavors and textures of the accoutrements!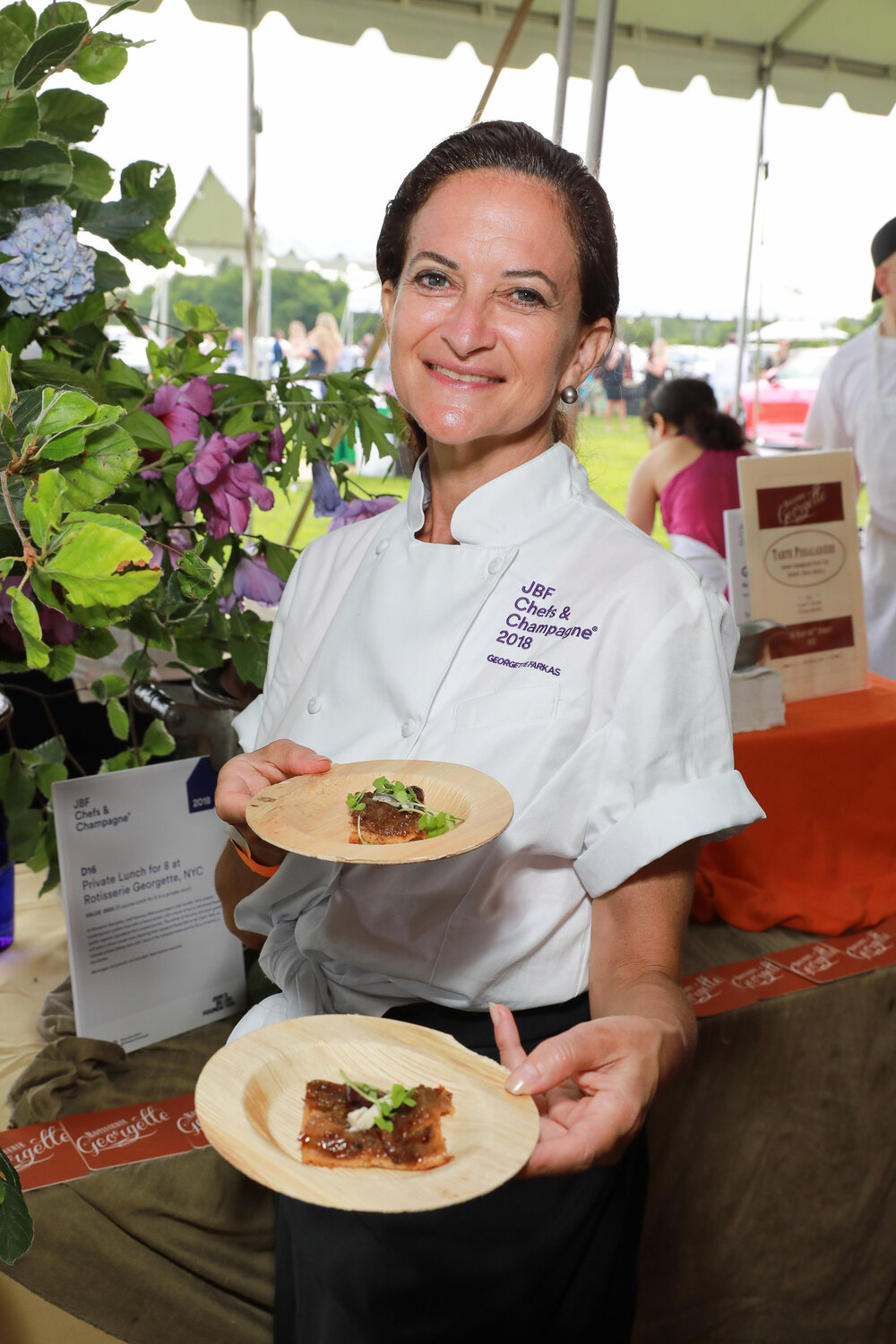 6.) Foie Gras Torchon with Duck Prosciutto, Local Cherries, Rooftop Honey, Farm Blossom + Seed Cracker from Chef Chris Starkus of Urban Farmer in Denver, CO: As a sweet and salty fan, this was a hands down favorite! It led with the salty tang of the prosciutto and finished with the bright, flavorful sweetness of cherries and honey.
7.) 45-Day Dry Aged Certified Angus Beef Rib-eye with Bone Marrow, Bearnaise Sauce + Tomato Confit from Chef Nicole Gajadhar of Saxon + Parole in NYC: Sheer meaty decadence describes this dish in which revelers were offered a choice of sliced, buttery meat or a giant bone robed in an ample lashing of meat and fat - see photo above for my choice!
8.) Wood-Grilled Oysters with Greenneck Butter + Charred Bread from Chefs Janine Booth + Jeff Mcinnis of Root + Bone in NYC and Stiltsville Fish Bar in Miami Beach, FL: This dynamic duo always amazes and we so enjoyed their flavorful oysters served marinating in the decadent butter with bread for handy sopping.
9.) Sweet Corn Sabayon with Blackberry Reduction + Cornmeal Crumble from Chef Claudia Fleming, Chef + Owner of The North Fork Table + Inn in Southold, NY: This masterful dish featured airy, silky/sweet sabayon as the perfect canvas for the flavorful blackberry and delightful texture of the crumble.
10.) Grilled Oregon Albacore with Lemongrass, Galangal, Chile + Lime from Chef Gregory Gourdet of Departure Restaurant + Lounge in Portland, Oregon: This delightful spice and citrus-infused albacore totally popped and provided the perfect vehicle of deliciousness that was also perfectly seasoned.
And in keeping with "Chefs & Champagne" tradition, towards the end of the evening, all participating Chefs gathered in the field for a group photo. Cheers to the James Beard Foundation on another fabulous evening - we're already looking forward to next year! Also, to view my posts on previous Chefs & Champagne events, please click here.
---
---