Ahhhh the bounty of late Summer! When I see all the beautiful produce at the Farmer's Market, it REEEALLY makes me want to do this.
The ripe, multicolored heirloom tomatoes seem to long for a drizzle of grassy green olive oil and generous sprinkle of crunchy Maldon sea salt, while the fragrant, downy peaches are begging to be bitten into, as their luscious juices trace their way to the tip of your chin.
And the corn - OH the corn! Roasted on the grill and slathered with butter, Kosher salt and coarsely cracked, black pepper - there are few things as gratifying. Which leads me to this heavenly recipe for Heirloom Tomato, Peach + Corn Salad with Burrata + Crispy Prosciutto that combines ALL of these delicious late Summer flavors in ONE marvelous, easy to make dish.
Yep, you heard me, I said easy. to. make!
This Summer I'm ALL about simplicity and I've also developed a legitimate aversion to firing up the oven. Maybe it's because the average temperature here in South Florida is a sweltering 110 degrees but, aside from the crispy prosciutto (which it TOTALLY worth it!), there is NO cooking required to make this recipe. Conveniently, you can even make the prosciutto a day or two in advance - IF you can keep your hands off it that long!
The crave-worthy, crispy prosciutto and decadent, creamy burrata cheese complement the flavors of the tomatoes, peaches and corn and round out this salad beautifully. Originating in Apulia, burrata cheese is made from fresh, Italian cow's milk. And if you haven't had the pleasure of experiencing this lesser well-known cousin of mozzarella - buckle your taste buds, Lady, because you're in for a real T R E A T!
Like fresh mozzarella, burrata cheese is formed into milky white orbs which are sold bobbing about in a container of briny liquid to help retain moisture. And while burrata's outer shell consists of fresh, silky mozzarella, its center is filled with a heavenly combination of stracciatella and cream. When sliced open, the fresh cream and curds ooze out into a decadent, milky, yummy mess. If you happen to be entertaining vegetarians, you can even skip adding the prosciutto since the burrata itself is so hearty and satisfying.
For maximum enjoyment, finish the salad with a scattering of gorgeous green basil leaves, a drizzle of the delicious vinaigrette and serve with a crisp, fruity Provençalrosé. Rosé has enough structure and flavor to complement all the different flavors and textures in this dish, without competing with any of them. And as I've said before, there's something magical about the way rosé pairs with pork. Whether it's a beautiful charcuterie board or the crispy prosciutto in this salad, rosé's soft, subtle notes of red berry fruit highlight its salty, savory flavors perfectly!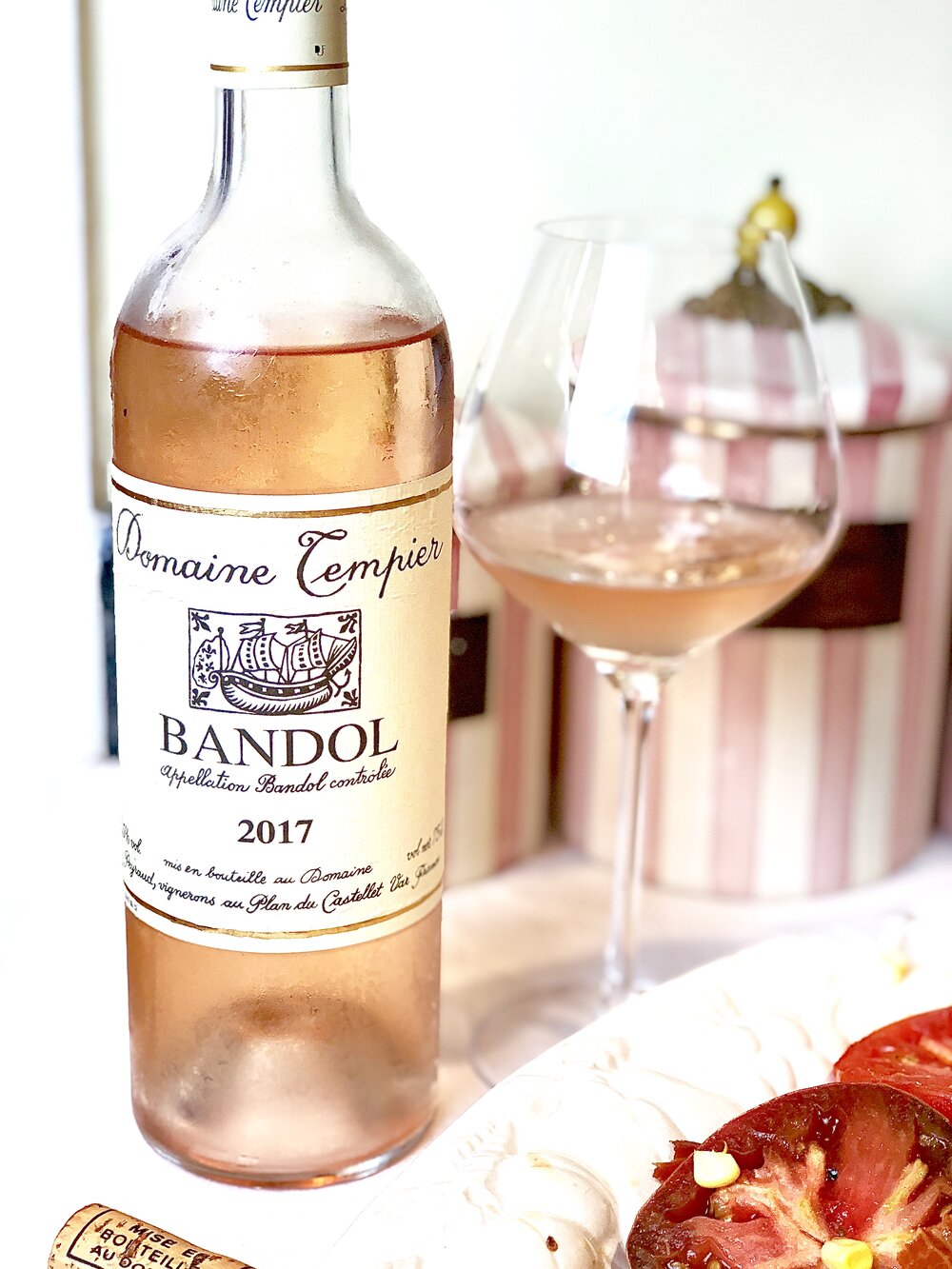 We thoroughly enjoyed this Heirloom Tomato, Peach + Corn Salad with Burrata + Crispy Prosciutto paired with a divine bottle of Domaine Tempier Bandol Rosé ($35). A blend of 55% Mourvèdre, 25% Grenache and 20% Cinsault grapes, this wine hails from the iconic Peyraud family who have been passionate pioneers and advocates of Bandol since the 1940's, when beloved husband and wife team, Lucie (aka "Lulu") and Lucien, assumed the reigns of Domaine Tempier shortly after they were married.
The couple did much to establish and celebrate Bandol's unique terroir during a time when Mourvèdre vines were being replanted with higher-yielding varieties. Lucien worked closely with the I.N.A.O. to establish Bandol as its very own appellation and the laws henceforth required the region's red wines to contain a minimum of 50% Mourvèdre which led to large scale replantings of the once maligned grape. Today, the Mourvèdre grape is intrinsic to Domaine Tempier's legendary, soulful wines which are widely considered the benchmark for Provence.
I truly hope you enjoy this delicious, late Summer-inspired salad as much as we do. Accompanied by a bottle of rosé, it's truly perfect for al fresco entertaining on a balmy Summer evening. For even more of my favorite recipes and wine selections that highlight and celebrate Summer, please click here.
In the meantime, what are some of your favorite Summer-inspired dishes and/or ingredients? Please let me know in the Comments section below.
Print Recipe
"HEIRLOOM TOMATO, PEACH + CORN SALAD WITH BURRATA + CRISPY PROSCIUTTO"
Recipe Type: SALAD
Cuisine: HEALTHY
Author: STEPHANIE MISKEW | THE GLAMOROUS GOURMET
Serves: 4-6 servings
Serve this delicious salad with a crisp, refreshing Provencal rose that will celebrate + highlight its delightful array of flavors + textures.
Ingredients
2-3 pounds heirloom or vine-ripened tomatoes, cut into 1/4-inch slices

3 large ripe peaches, pitted and cut into 1/4-inch wedges

2 3/4 cups of corn kernels, cut from 3-4 large ears of fresh corn

4 thinly cut prosciutto slices

1/3 cup chopped fresh basil, plus extra fresh basil leaves for garnishing

Juice of half a lemon

6 Tablespoons extra-virgin olive oil

2 Tablespoons Champagne vinegar

1 teaspoon Kosher salt

1/2 teaspoon freshly ground black pepper

4 - 4 ounce balls of fresh burrata cheese

Maldon sea salt for garnishing
Instructions
Preheat oven to 375 degrees and line a baking sheet with parchment paper.

Place 4 slices of prosciutto on the parchment paper, making sure they are laying flat and cook for 12-15 minutes or until the meat is darker in color and the fat appears more golden, being careful not to burn. Transfer cooked slices to paper towels to drain, they will crisp up as they cool.

To make the vinaigrette, combine the olive oil, lemon juice, vinegar, Kosher salt and pepper in a plastic container. Seal top of container and shake well to combine.

Place the tomatoes, peaches, corn and basil in a large bowl. Lightly moisten with some of the vinaigrette and toss gently, being careful not to pull apart the tomato slices.

On a large serving platter, evenly assemble the tomato, peach and corn mixture. Nestle the 4 balls of burrata (one per person) into the salad, one in each quadrant.

Consume one slice of the crispy prosciutto (Chef's treat!) and crumble the remaining 3 slices over the salad, leaving the pieces large enough so people can identify the glorious shards of prosciutto.

When ready to serve, scatter the whole basil leaves over the salad, sprinkle with Maldon or other sea salt and drizzle with additional vinaigrette (leaving some to serve alongside if desired).
---
---