Audrey Hepburn's legendary tiara in Breakfast at Tiffany's. Julia Roberts' dazzling diamond and ruby necklace in Pretty Woman. Marilyn Monroe's sexy signature Max Factor Ruby Red lipstick in Some Like it Hot.
The perfect accessory can truly take a look from "meh" to "MARVELOUS," and the same can be said for food as well. You see, crispy prosciutto IS the culinary equivalent of those glamorous accoutrements and can transform a dish in much the same way.
Yes, my fashionable foodie friend, I just compared crispy prosciutto to some of the most legendary fashion accessories of all time - BUT - once you try it I think you'll agree, its salty, savory deliciousness can truly elevate a dish to a whole new level. But first, take a sip of wine (or a deep breath) and let me give you a little backstory.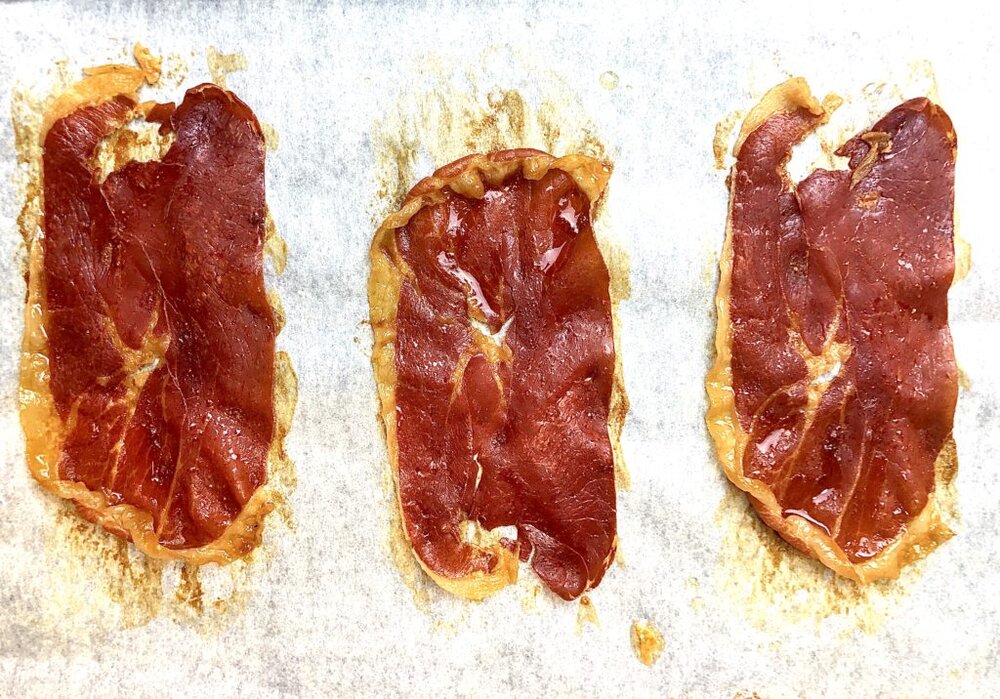 As you may or may not know, prosciutto is an Italian, dry-cured ham made from the hind legs of specially bred pigs. Prosciutto di Parma from Italy's Emilia-Romagna region is widely considered the gold standard and, like many Italian DOC wines, it must follow very strict production criteria that are mandated by law in order to merit its distinguished designation. Prosciutto is also produced in other regions of Italy (i.e. Prosciutto di San Daniele and Prosciutto Toscano) and, is even produced in the United States now as well (i.e. Rhode Island, Iowa, Seattle).
This decadent, stylish ham is much beloved for its slightly salty, sweet, nutty flavor and silky, buttery texture. As the moisture evaporates during the drying and curing process, the flavors of the ham are concentrated which is why it's best to slice prosciutto thinly. And it's the ham's hallmark marbling that imparts a gossamer-like mouthfeel to each heavenly slice. Like wine, prosciutto also tastes slightly different depending on where it's from - each region exhibits its own uniquely delicious, hammy terroir.
Thankfully, crispy prosciutto is much easier to make than diamond jewelry and is way more delicious than red lipstick! All you need to make it is a baking sheet, parchment paper (NOT wax paper!), a package of your favorite prosciutto and a hot oven and you're only minutes away from prosciutto heaven.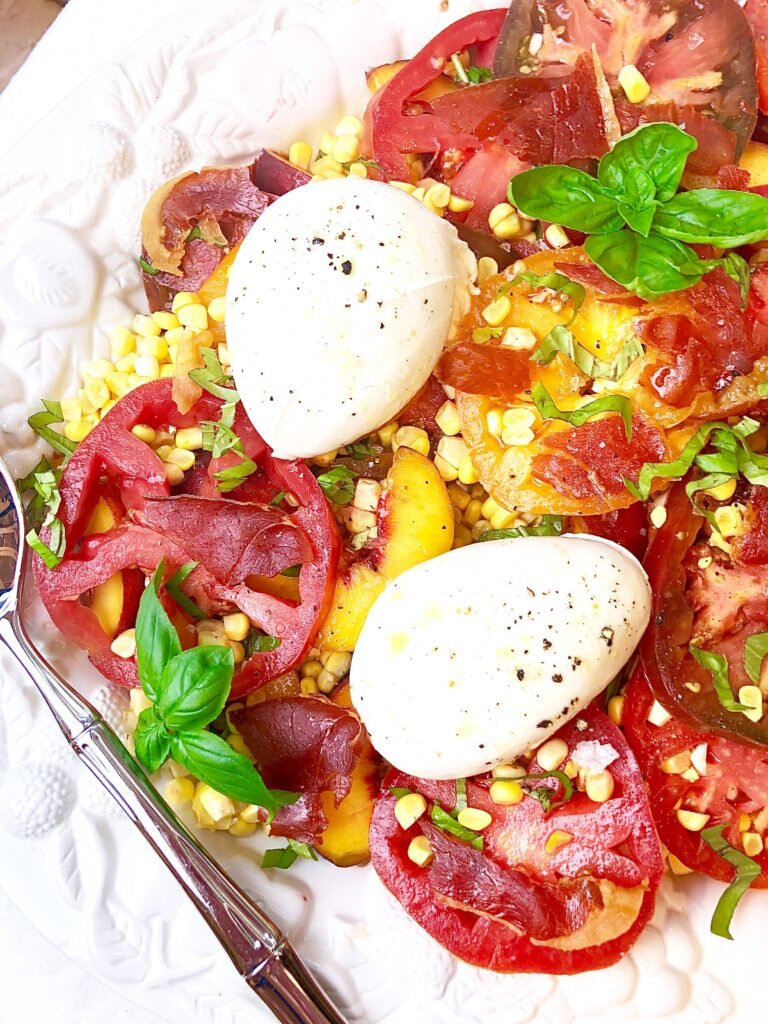 When it comes to pairing crispy prosciutto-laced dishes with wine, here are three essential tips:
1.) Fruity Rosés + off-dry White Wines: Due to the curing process, prosciutto has a delightfully subtle saltiness that's intensified as it crisps up. So, if you're a fan of combining salty and sweet flavors like I am  (i.e. chocolate + peanut butter, kettle corn, blue cheese + Sauternes), opt for fruity Rosés (or "Rosatos" as they're known in Italy), and off-dry white wines like Chenin Blanc, Riesling and Fiano di Avellino. When crispy prosciutto is used in a dish featuring glorious fruit like this Heirloom Tomato, Peach + Corn Salad with Burrata - the combination is truly out of this world!
2.) Sparkling Wine: Palate-cleansing bubbles are perfect for cutting through fat and since prosciutto is so decadently marbled, both Brut and Rosé sparkling wines, are an excellent choice. And since the fat in Crispy Prosciutto takes on a slightly nutty flavor as it crisps, Franciacorta and Champagne, which also tend to exhibit an inherent nuttiness due to the way they're made (Methode Traditionelle), would make excellent choices as well. Think Spaghetti Carbonara with crispy prosciutto and a delightful sparkling wine - YUM!!!
3.) Red Wines: The tannins in red wine are legendary for their ability to stand up to and cut through fat. However, prosciutto's plentiful fat is delicate and buttery so the perfect red wines pairings are those with gentle, medium-bodied tannins such as fruity Barberas from Piedmont, any incarnation of Tuscan Sangiovese such as Chianti Classico or Rosso di Montalcino, and frothy, savory Lambrusco from prosciutto's birthplace, Emilia-Romagna. Picture Coal-fired Pizza adorned with fresh tomatoes and basil then crowned with glistening shards of crispyprosciutto or a heavenly dish of Bucatini All'Amatriciana -Mangia!
I hope you enjoy this (highly addictive) recipe for crispy prosciutto as much as we do! And if you love to cook, eat and drink wine too (and I'm guessing if you've made it this far in this post that's a YES!) simply click here to sign up for my weekly newsletter that features seasonally-inspired recipes, wine recommendations and tips and tricks for mastering wine. Pinky swear I won't sell your information to buy more prosciutto either. Buon appetito!!!
Print Recipe
"CRISPY PROSCIUTTO: THE PERFECT CULINARY ACCESSORY"
Author: STEPHANIE MISKEW | THE GLAMOROUS GOURMET
Crumble crispy prosciutto over salads, serve with fried eggs and/or enjoy as a decadent snack!
Ingredients
Instructions
Preheat oven to 375 degrees.

Line a baking sheet with parchment paper. Lay 4 prosciutto slices (or as many as will fit) on parchment so they lay flat + are not overlapping.

Bake for 10-12 minutes or until the meat + fat are darker in color, being careful not to burn.

Transfer slices to paper towel-lined plate to drain and repeat until all slices are cooked.

The cooked prosciutto will crisp up as it cools.
---
---