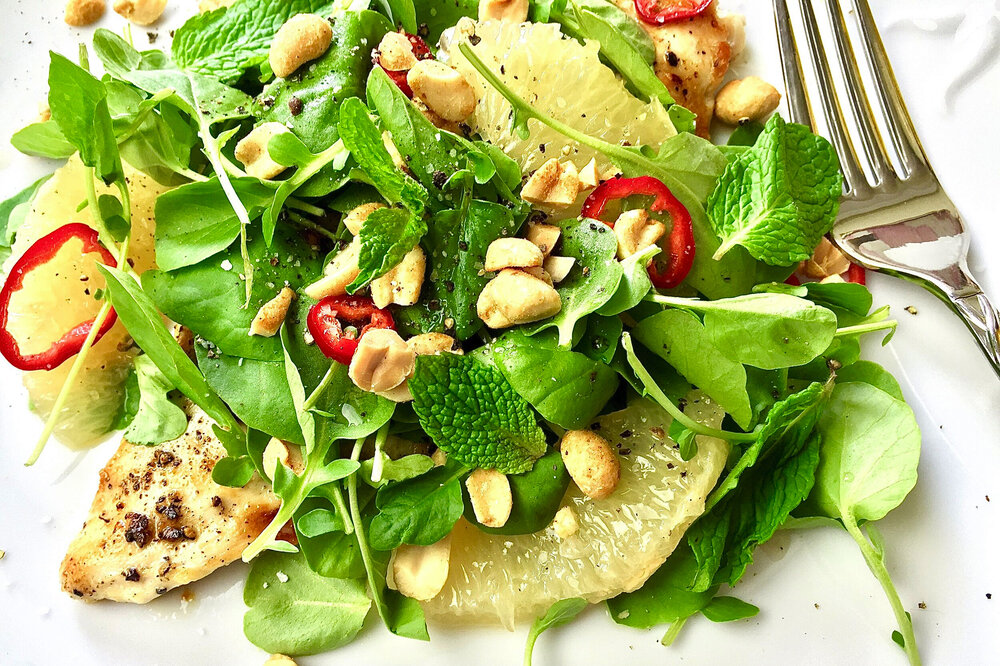 Spring has finally sprung, serving as a seasonal indicator it's time to switch from comforting winter dishes to lighter, more figure friendly fare. As you might imagine, here in South Florida citrus plays a large role in our Springtime cuisine. Luckily, we're able to source many types of citrus locally, so when I came across this recipe for Thai Pomelo Salad (Dtam Som Oo), it peaked my interest since it incorporated the deliciously exotic pomelo.
Also known as shaddock, pummelo, Chinese grapefruit, or lusho fruit, the pomelo is native to Southeast Asia and is the largest known citrus fruit. It is an ancestor of the grapefruit and over the years, was introduced to North America where it is now grown in many states including Texas, California, Arizona and Florida.
The large fruit tastes like a milder version of a grapefruit, which is slightly sweeter and not quite as acidic. If you happen to crave this pomelo salad outside of its season (December-April in Florida) you can easily substitute grapefruit with delicious results.
I wanted to turn this salad into a dinner recipe so I added chicken to make it a little more substantial. I simply pounded a few chicken breasts flat, seasoned them with olive oil, salt and pepper and then grilled them on my grill pan. To serve, I topped each cooked chicken breast with a large handful of watercress, pomelo wedges, dressing, mint leaves and peanuts. The dressing is CRAZY flavorful and gives this light, healthy dish plenty of personality.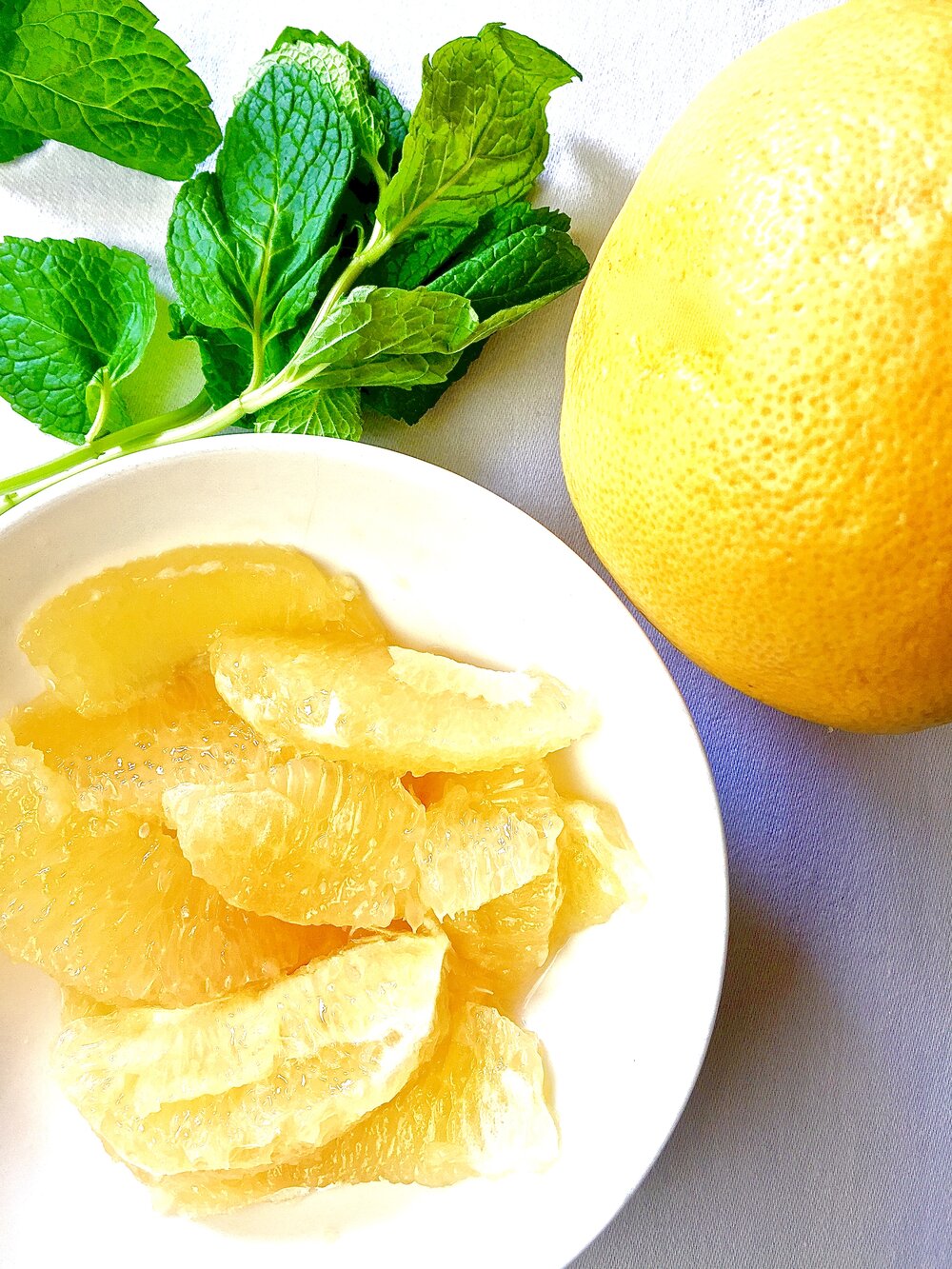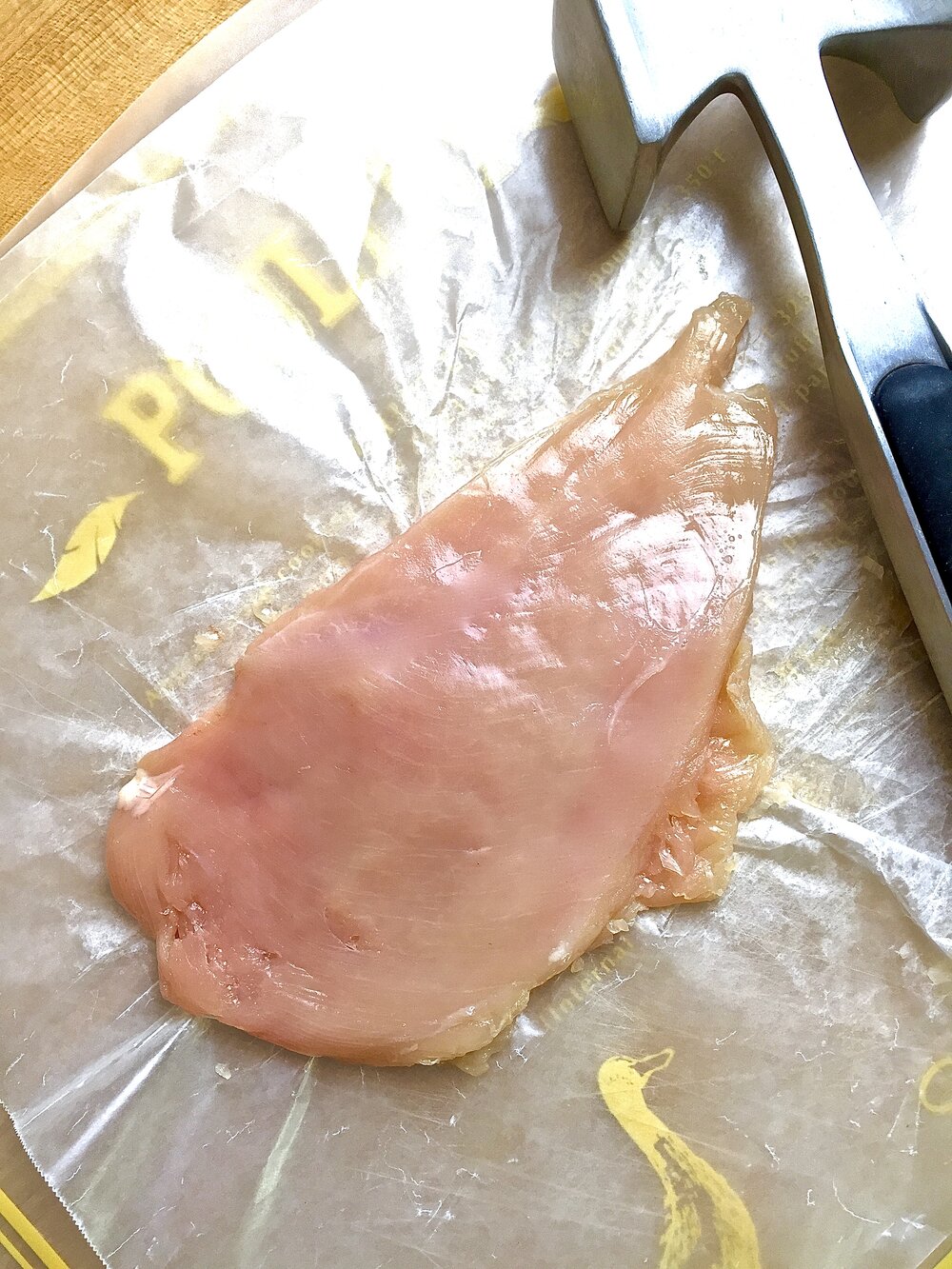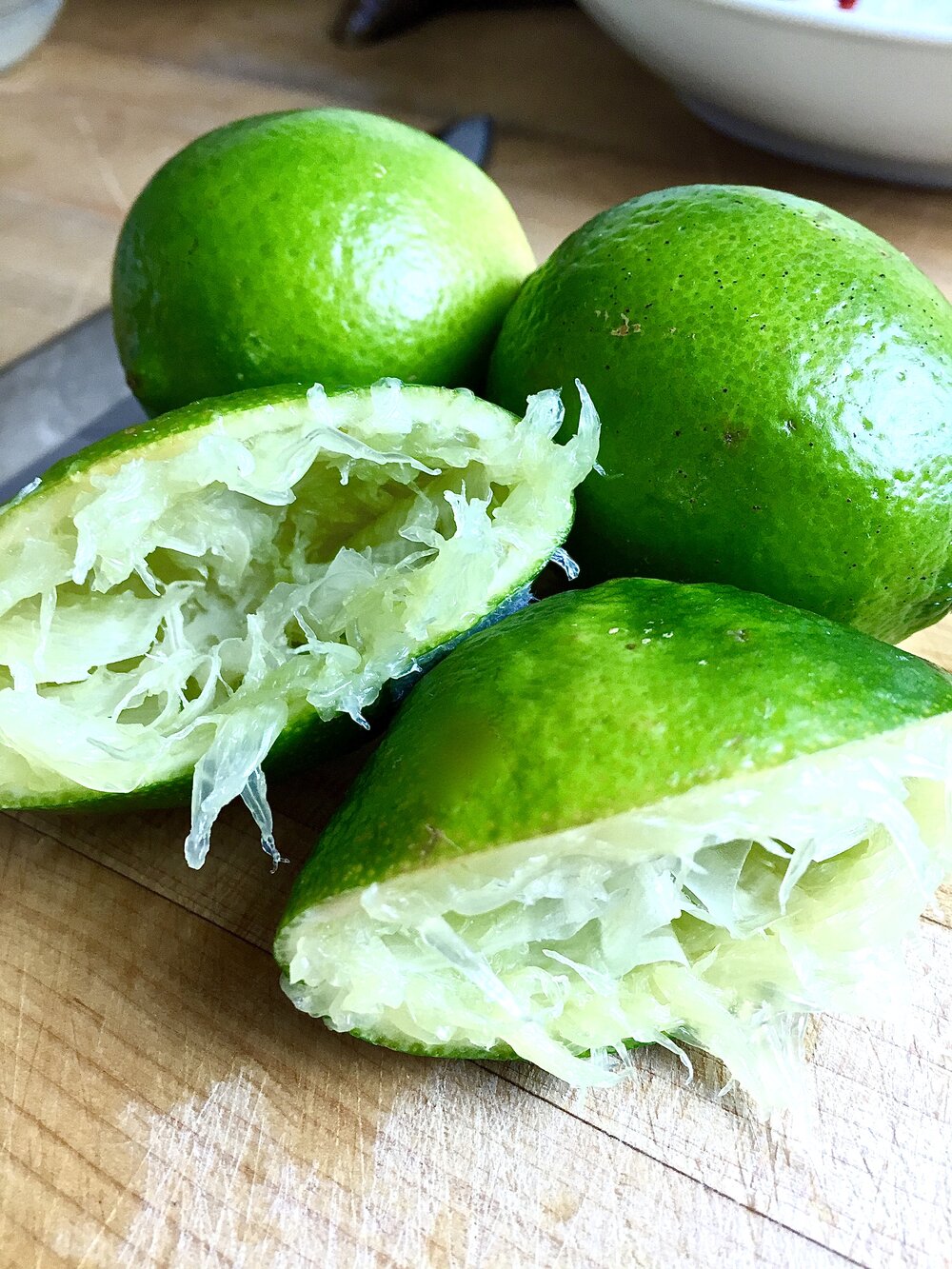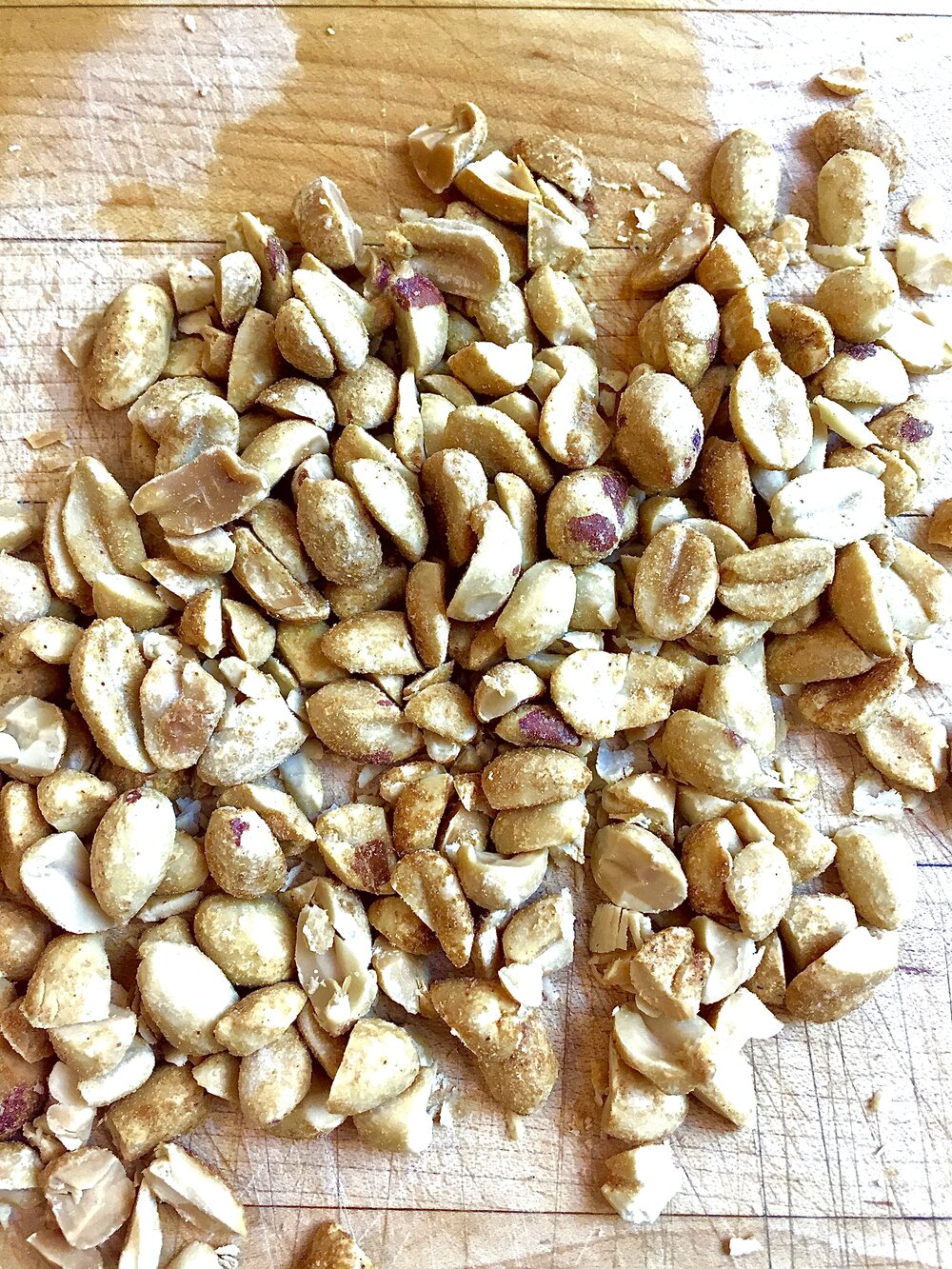 A word of advice, slicing a citrus fruit into "supremes" can take a little practice to master. It involves separating the fruit into segments and removing the peel, pith and outer membranes. For a quick instructional video from Iron Chef Michael Symon on how to perform this culinary technique, please click here.
I highly recommend using a very sharp knife to supreme your citrus and be sure to place your fruit in the fridge for at least thirty minutes prior to slicing - it will make the job MUCH easier. Once you complete this part of the prep, assembling the salad is a TOTAL breeze!
To pair with the Thai Chicken and Pomelo Salad, I love a white wine with plenty of personality like the Château Pesquié Terrasses Blanc ($16) from France's Southern Rhone Valley. This delicious blend of 70% Viognier, 15% Roussanne, and 15% Clairette is delightfully floral, fresh and fruity with notes of honeysuckle, white peach and pear.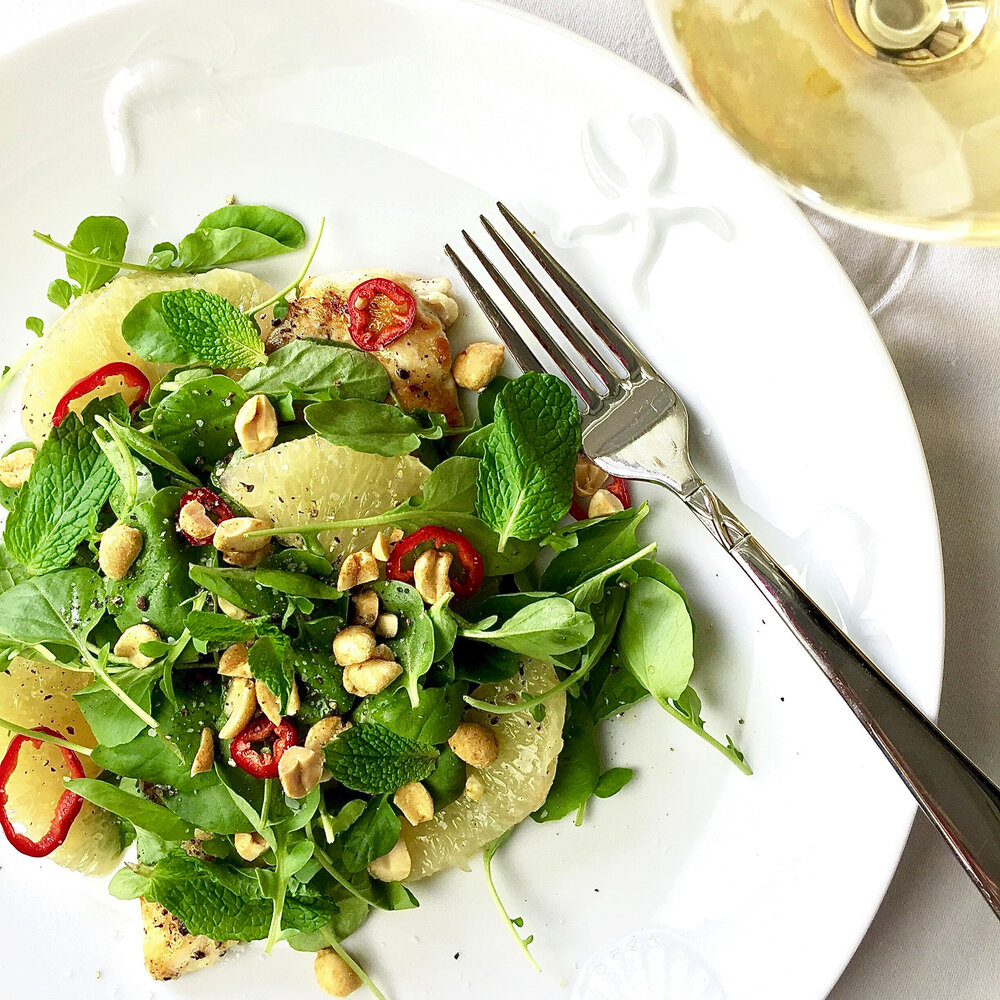 Winemakers Alexandre and Frédéric Chaudière fermented it entirely in stainless steel and concrete vats to preserve the wine's fresh fruit aromas and flavors which complement the flavors of the dish beautifully! What are YOUR favorite farm stand finds for Spring? From asparagus to watercress there are SOOO many good ones to savor and enjoy so please do tell in the comment section below.
print recipe
"FAST + FABULOUS: THAI CHICKEN + POMELO SALAD"
Author: Stephanie Miskew | The Glamorous Gourmet (adapted from Saveur Magazine - March 2014)
Serves: 4
Pair with a refreshing white wine like a Cotes du Rhone Blanc from France or Sauvignon Blanc from New Zealand
INGREDIENTS
1/4 cup Thai fish sauce

2 Tbsp. sugar

1 Tbsp. fresh lime juice

1-2 Pomelos depending on size (or 2 grapefruit), peeled + supremed

2 fresh red Thai chiles, thinly sliced

1 clove garlic, finely chopped

1 cup trimmed watercress

1/3 cup roughly chopped peanuts, lightly toasted

20 fresh mint leaves

4 boneless, skinless chicken breasts, pounded thin
INSTRUCTIONS
Drizzle chicken breasts on both sides with olive oil and then season with salt and pepper.

Preheat a grill pan or outdoor grill to medium-high heat and lightly brush grates with olive oil. Cook the chicken breasts approximately 3-4 minutes per side until done and set aside.

Whisk fish sauce, sugar, lime juice, chiles, garlic, and 1/4 cup water in a bowl and set aside.

Plate chicken and top with the watercress. Scatter pomelo or grapefruit sections over the salad, spoon on the dressing and top with the chopped peanuts and mint leaves.
---
---