I just love this quote and if you're looking for a Winter-inspired dish that embodies all of these seasonal necessities this Boeuf Bourguignon Pot Pie is just the ticket! As if Boeuf Bourguignon and pot pie weren't delicious enough on their own - combining them creates some truly decadent, delicious synergy.
This recipe features rich, savory beef short ribs slow-cooked in a star anise, bay leaf and red wine scented broth. The resulting heavenly mixture is then topped with puff pastry and baked until it emerges from the oven crowned with a gorgeous, golden brown, flaky tiara - hungry yet?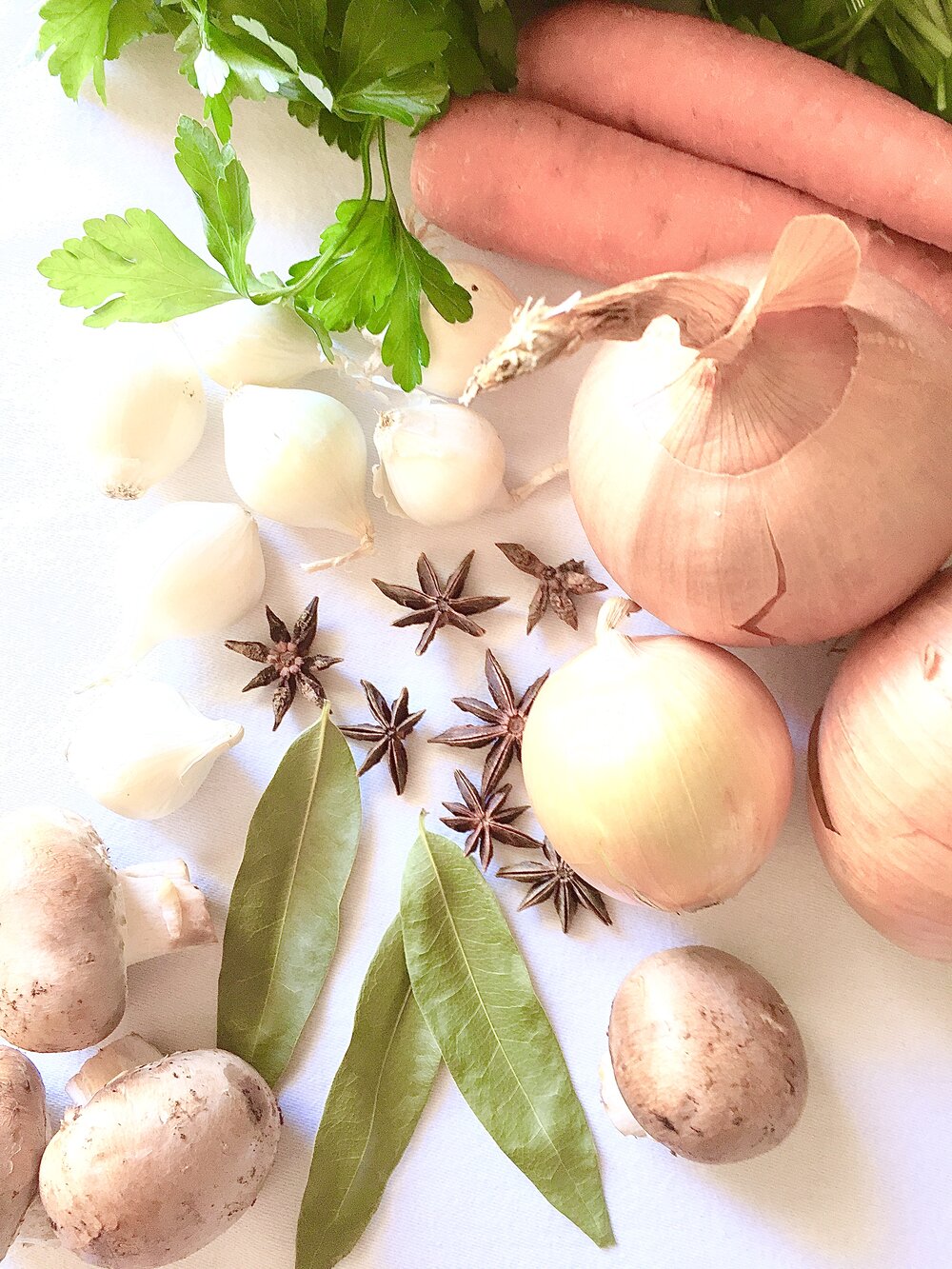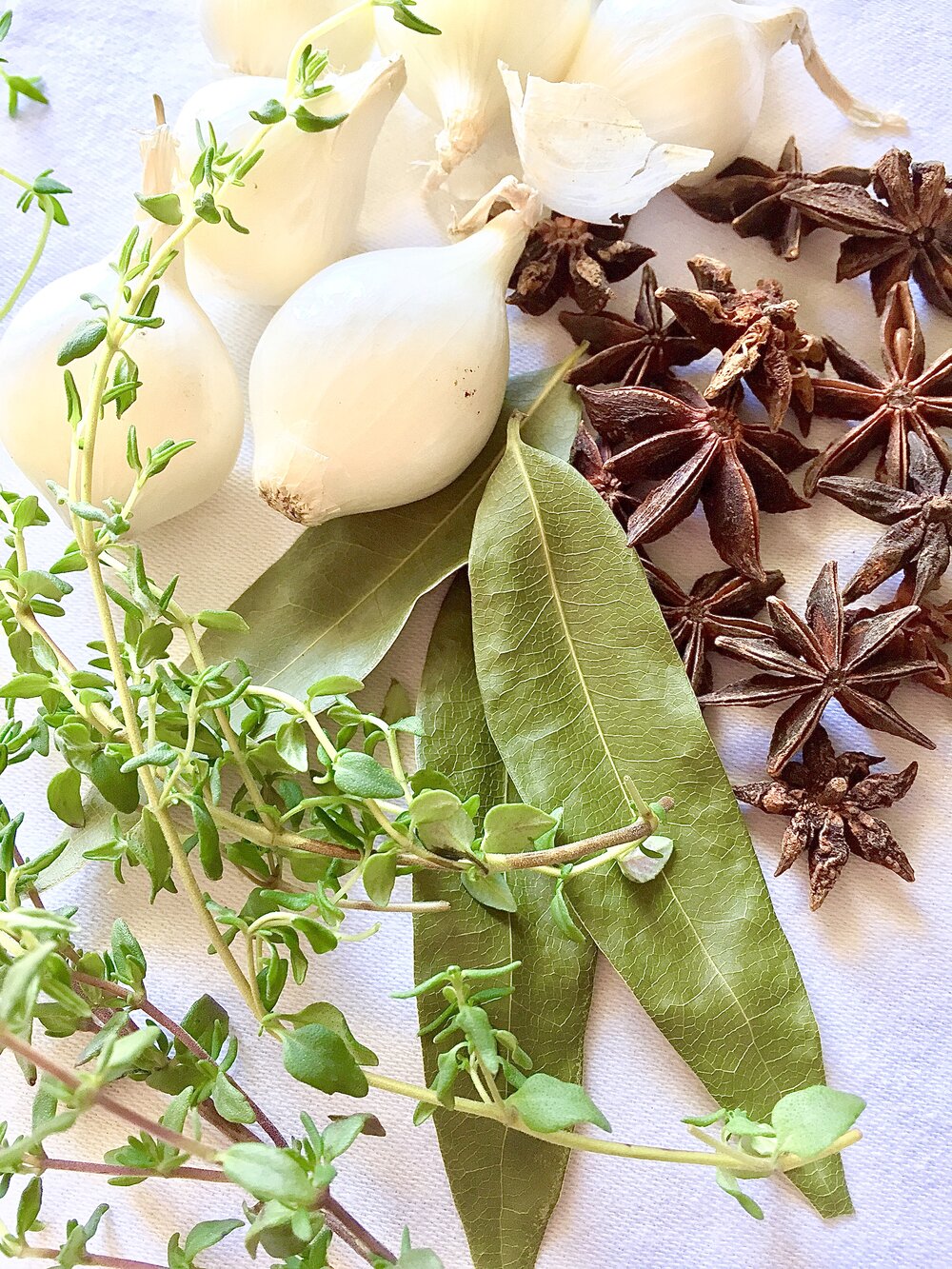 Unlike my Fast + Fabulous recipes that are ready in 30 minutes or so, this dish requires time. It's the perfect Sunday Supper or any day of the week you plan on spending a day at home. Be sure to read through the recipe first to get a feel for the timing of it and you'll also want to decide on a baking dish prior to beginning your culinary journey because this will determine how much puff pastry you'll need.
If you bake off the entire mixture in one baking dish, you'll only need one piece of puff pastry, however, if you decide to do divide the mixture among individual bowls, I highly recommend these onion soup-style dishes, you might need 2 sheets in order to have enough pastry to cut circles to top each dish.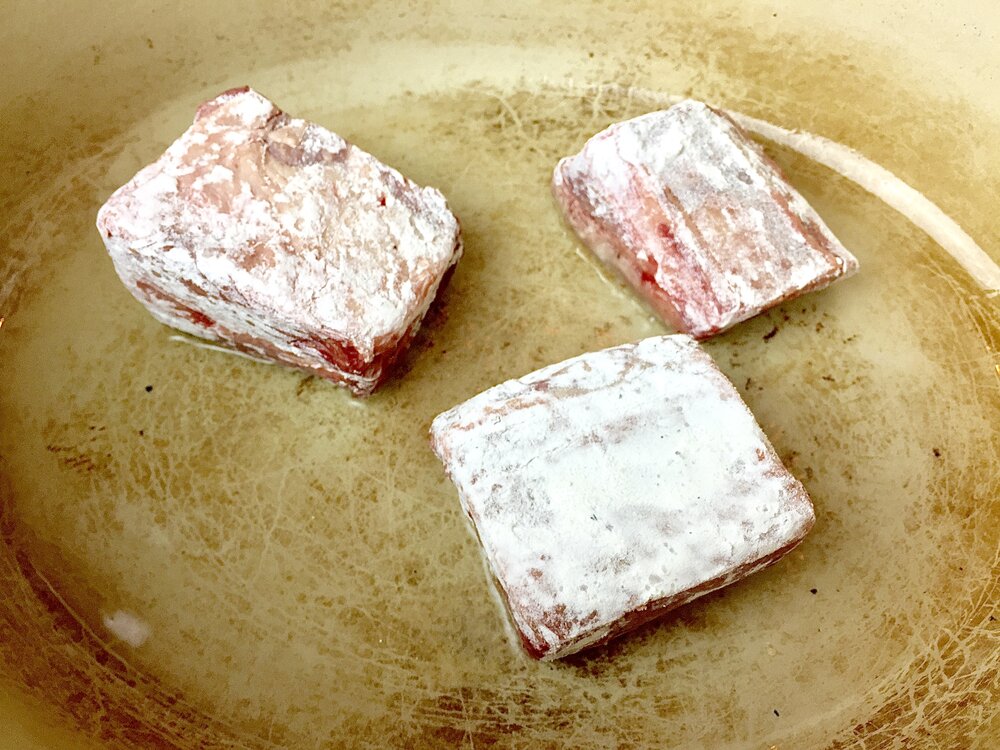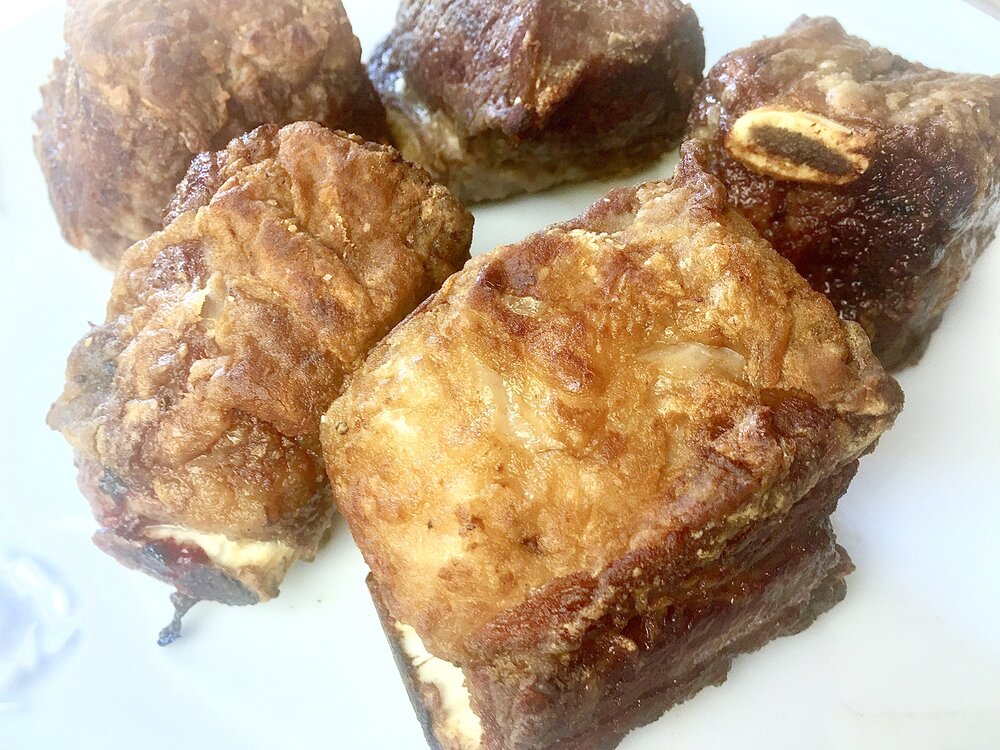 The short rib mixture can be made up to two days ahead of time. Simply cover + chill in the fridge when you're done preparing it and then bring to room temperature when you're ready to assemble the pot pie.
I usually prepare the short rib mixture at least one day in advance because when you pull it out of the fridge the next day, the chilled fat has congealed on the surface making it really easy to scoop out.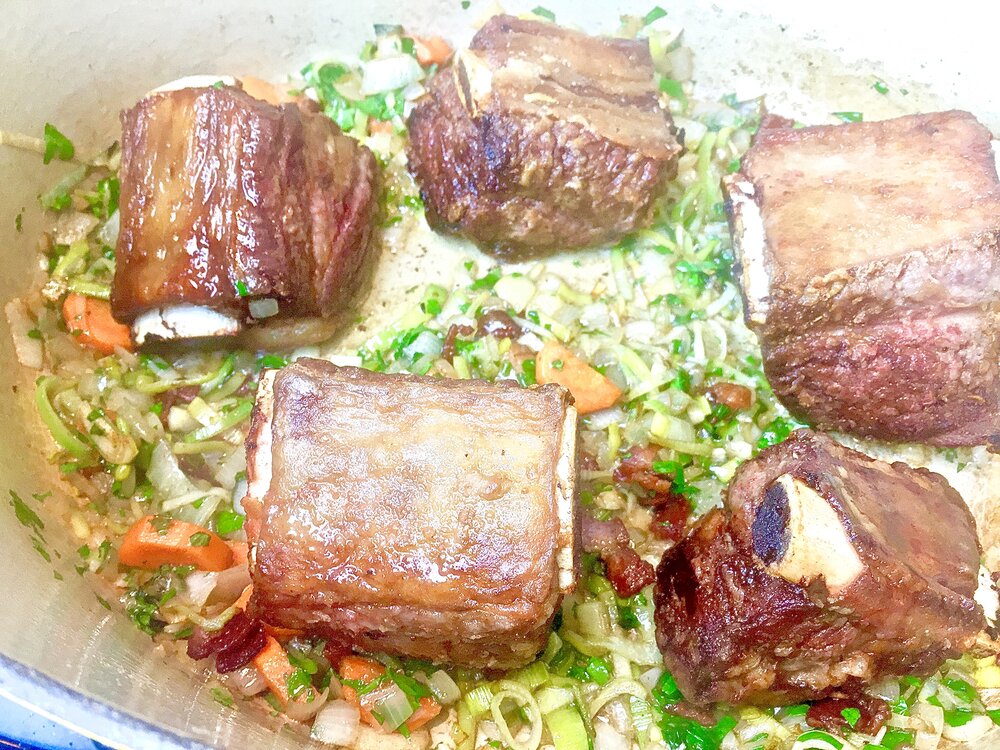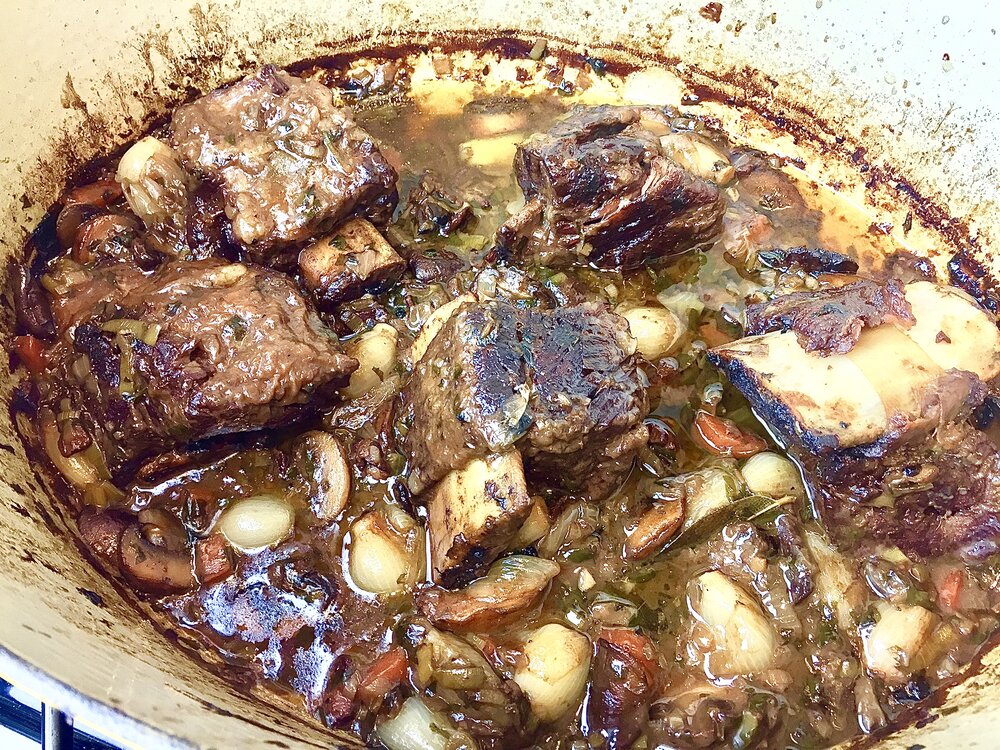 As for something to pair with this delicious dish, a hearty, full-bodied red like Cabernet Sauvignon or Côtes du Rhône is a wonderful choice. The plentiful tannins and full body of the wine balance out the richness and complexity of the dish resulting in pure, synergistic heaven! For more delicious red wines to enjoy with this dish, simply click here.
I guarantee, this decadent, flavorful Boeuf Bourguignon Pot Pie will reward you with a heavenly smelling home and a very happy family. What are some of your favorite Winter dishes? Please let me know in the comments below. xo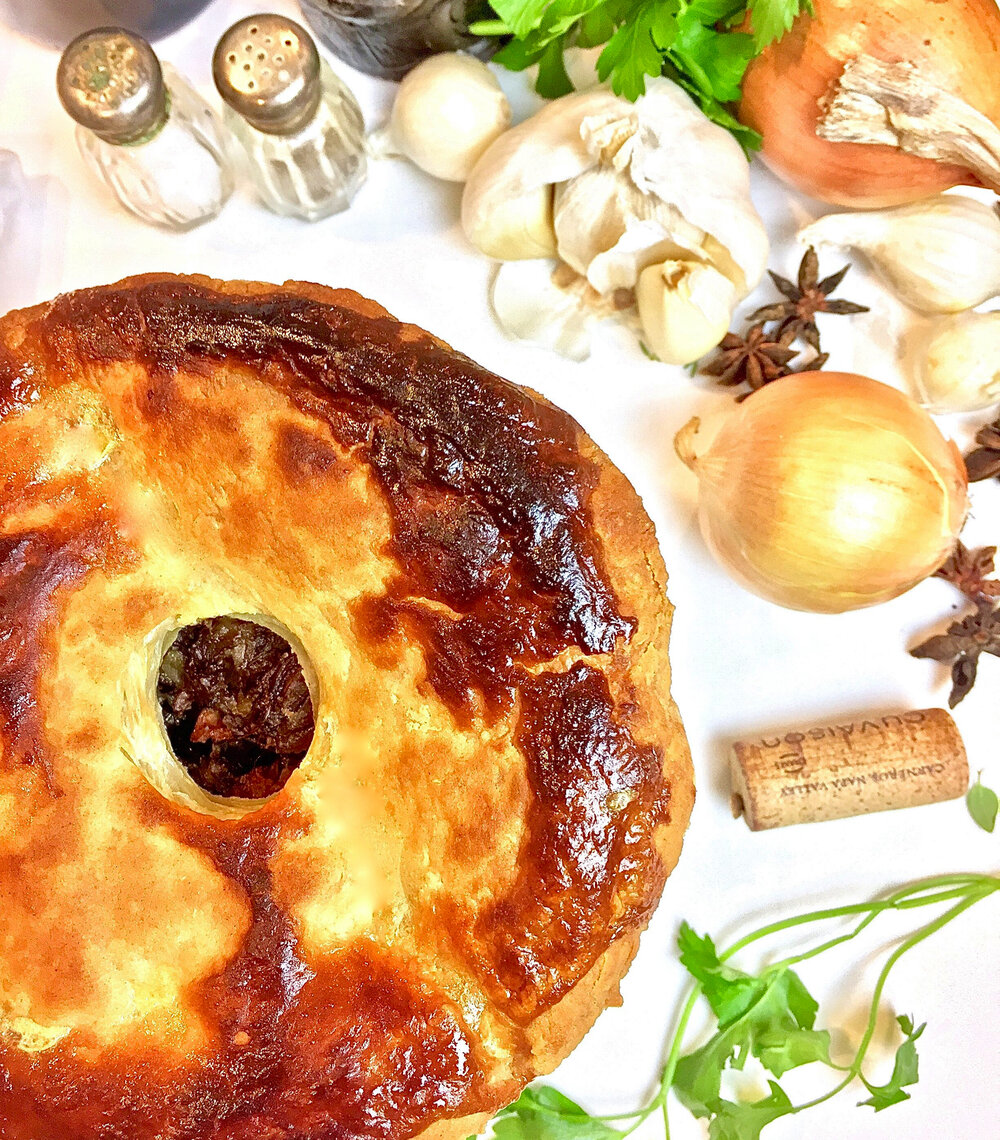 print recipe
"BOEUF BOURGUIGNON POT PIE"
3 Tablespoons olive oil

½ cup plus 1 tablespoon all-purpose flour, plus more

Kosher salt + freshly ground black pepper

3-4 lbs. bone-in beef short ribs

4 slices bacon cut into ¼-inch pieces

1 medium yellow onion, finely chopped

1 medium leek, white + pale-green parts only, halved lengthwise, thinly sliced

2 medium carrots, peeled + finely chopped

2 garlic cloves, finely chopped

½ cup finely chopped fresh Italian parsley

2 Tablespoons Cognac or Bourbon

4 sprigs thyme, leaves stripped

1 bay leaf

1 star anise pod

2 cups chicken broth

1 cup red wine (a medium to full-bodied red is best)

5 Tablespoons butter, room temperature, divided

8 ounces cremini mushrooms

8 ounces frozen pearl onions, thawed

1 Tablespoon fresh lemon juice

1-2 sheets frozen puff pastry, thawed

1 large egg, beaten
Place a rack in lower third of oven; preheat to 350°. Add ½ cup flour to a gallon plastic bag + season with salt and pepper. Add short ribs in batches and toss to coat; shaking off excess. Heat olive oil in a large heavy braising pot over medium-high heat. Working in batches, sear beef, turning often, until browned all over, 8–10 minutes per batch. Transfer to a plate.

Add bacon to same pot + cook, stirring often until brown and crisp, scraping up browned bits. Lower heat to medium + add onion, leek + carrot + cook, stirring occasionally, until vegetables are starting to soften, about 5 minutes. Stir in garlic + parsley + return beef to pot. Add Cognac or brandy + simmer until liquid is almost completely evaporated, about 1 minute. Add thyme leaves, bay leaf, star anise, broth + wine + season with salt and pepper; bring to a simmer.

Mix 1 Tbsp. flour + 1 Tbsp. butter in a small bowl until smooth, then stir into meat mixture. Cover pot + braise in oven until short ribs are very tender, approximately 4 hours until the meat is tender + falling off the bone, stirring occasionally.

Melt remaining 4 Tbsp. butter in a large skillet over medium-high heat. Add mushrooms + pearl onions and cook, stirring, until browned, 8–10 minutes. Stir in lemon juice + season with salt + pepper. Add mushrooms + onions to stew, cover pot + return to oven. Cook until onions are very tender, 25–30 minutes, then let stew cool.

Before proceeding with either assembling pot pie or refrigerating the beef mixture, remove the bones from the short ribs + bay leaf. Then use two forks to pull apart + shred the short ribs into bite size pieces + add back to the mixture.

Meanwhile, roll out one pastry sheet on a lightly floured surface until about 4" larger than baking dish (if cooking in one dish - 8" square is recommended) or cut circles to place over individual bowls that are 1" wider in circumference. Using a small knife or small circular cookie cutter punch out a small circle in the center of the puff pastry sheet or each individual circle.

Transfer stew to baking dish or divide among bowls, drape pastry over filling + trim to a 1" overhang. Crimp edge + then lightly brush top + edges of pastry with beaten egg.

Bake until crust is a golden brown, 30-35 minutes, keeping an eye on it to be sure it doesn't burn.
---
---