I'm NO baker - but I do LOVE wine! So any recipe I discover that's even remotely related to wine...well, I feel a responsibility to explore it further. Especially when it looks outrageously delicious!
Such was the case with the Canelé, a delightful French pastry known for its mahogany, burnt sugar crust and contrasting decadent, custardy center. Typically flavored with rum and vanilla, these beauties are baked in a special Canelé mold to achieve their hallmark striated, cylindrical shape.
Are you wondering where the wine comes in yet?
The Canelé originated in Bordeaux, a region many wine lovers adore due to its legendary full-bodied, age worthy red wines. Well, critical to the production of these wines is a process called "fining" in which a compound, usually egg whites, is added to the wine which binds to any potentially harmful chemicals. To get geeky, the positively charged albumin in the egg whites binds to negatively charged, undesirable polyphenols in the wine which then congeal and settle to the bottom of the barrel where they can be easily removed.
Since only the egg whites are used to "fine" the wine, the Canelé was born as a way to utilize all the leftover yolks. And personally, I can't think of a better place for them than the delightfully eggy, dense custard center of these glorious pastries!
On our first visit to Bordeaux we noticed Canelés everywhere, usually in miniature form. But this amazing recipe is for the standard size, which are bigger and allow for a better contrast between the caramelized outer crust and tender center.
Plus, there's just more Canelé to enjoy - what's not to love about that?
Now, if you're like me and not the most proficient baker, you might be a little intimidated by this recipe at first glance. I know I was, BUT I also love a challenge, especially one that leaves you with fabulous French pastries at the end. And, I'm here to tell you, Erin McDowell, food stylist and Food52 Baking Consultant, has written a brilliant recipe here. As a food blogger for almost 10 years now, I'm a stickler for a well-written recipe and this one is so well-written you actually feel like McDowell's in the kitchen with you, offering helpful advice at every step.
In addition to a few basic ingredients you probably already have in your pantry (i.e. eggs, flour, sugar, vanilla and butter) the only additional things you need to make this recipe are: (1) time and (2) a Canelé mold. This is the perfect weekend project since you need to let the batter rest overnight in the fridge before baking, which will also take a few hours. And, forget the elaborate and difficult to care for copper molds of the days of yore, McDowell recommends this brilliant silicone Canelé mold which can be found on Amazon for under ten dollars!
Now, the Canelés do require a little babysitting during the baking process. The mold needs to be generously buttered and pre-heated before adding the batter which aids in the caramelization process. The oven temperature also needs to be dropped after the first thirty minutes as well.
And, perhaps the ONLY thing McDowell doesn't prepare you for is the flipping of the Canelés in the mold for the final stage of baking. You might end up with some scorched fingertips but again, these beauties are so delicious you won't even notice those minor burns as you sink your teeth into these lovely confections!
Also, if you'd like a little something to sip with your Canelés, a Sauternes would be a positively exquisite pairing. This dessert wine also hails from the Bordeaux region of France and I'm a fan of the tenet, "If it grows together, it goes together." This special wine owes its delightful honeyed citrus, floral, peach and ginger notes to a very special type of mold, botrytis cinerea, which imparts unique flavors and a delightful viscosity to the wine which would complement these pastries beautifully.
I especially like the Chateau Suduiraut Sauternes ($40/half-bottle), a delightful blend of 95% Semillon and 5% Sauvignon Blanc, the two main grapes used to make Sauternes. I also adore the Chateau Climens Barsac ($80/750mL bottle) a rare 100% Semillon wine from the Sauternes sub-region of Barsac helmed by the wonderful Bérénice Lurton. Both embody the hallmark tension between honeyed viscosity and fabulous acidity which makes these wines so incredibly special.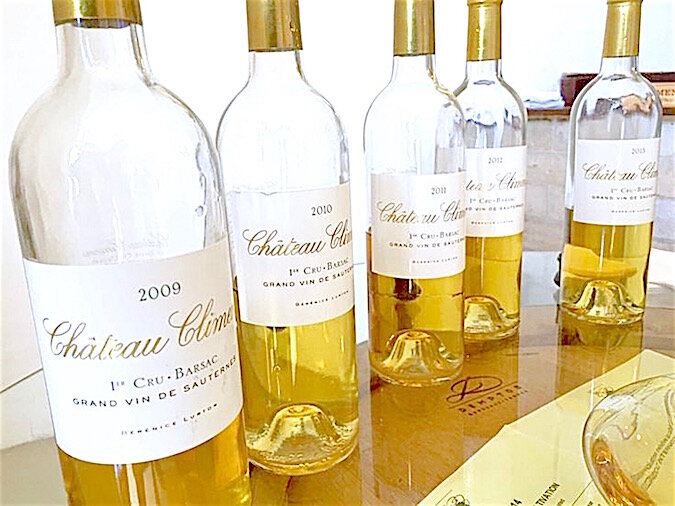 Rather than include McDowell'sCanelé recipe in this post, I'm linking to it on the Food52 website where I discovered it. I hope you enjoy it as much as we have and I'd also love to encourage any established or aspiring bakers out there to check out McDowell's brand new cookbook, The Fearless Baker ($17.50). Her website is also chock full of gorgeous food photos as well.
After experiencing such success with these Canelés, it has definitely inspired me to bake more. Plus, I can't wait to pair these sweet treats with even more amazing wines as well.
---
---