Fall leaves. Pumpkin spice. Sweater weather. There are many things to love about October but here in South Florida, this month marks another special occasion: the start of Stone Crab Season! Yes, October 15 kicks off the season which runs until May first and during the ensuing months, Floridians are obsessed with procuring our next "fix" of this crustacean delicacy.
While stone crabs can be found in waters as far north as Connecticut, the best are widely believed to come from Florida. The world famous Joe's Stone Crab in Miami's South Beach is the authority on these crustaceans, also known as Menippe Mercenaria (Menippe = Greek, meaning force or courage and Mercenaria = Latin meaning something of value). Stone crabs are beloved for their delicious, sweet flavor and their heavenly texture is somewhere between the delicacy of crab and the decadence of lobster.
Unlike most other crabs including Maine's Peekytoe, Chesapeake Blue, or the Pacific Dungeness, only the claws of the stone crab are harvested and the crab is not killed during the process. Stone crabs are captured in baited traps and only one claw per crab can be taken, allowing the crab to continue to defend itself against predators. The claws make up about half the weight of the entire crab and, once harvested, the pricey appendages are classified and priced according to weight - Colossal size claws can weigh up to 25 ounces or more! Once harvested, the crab is returned to the water where the claw will regenerate in approximately 12-24 months.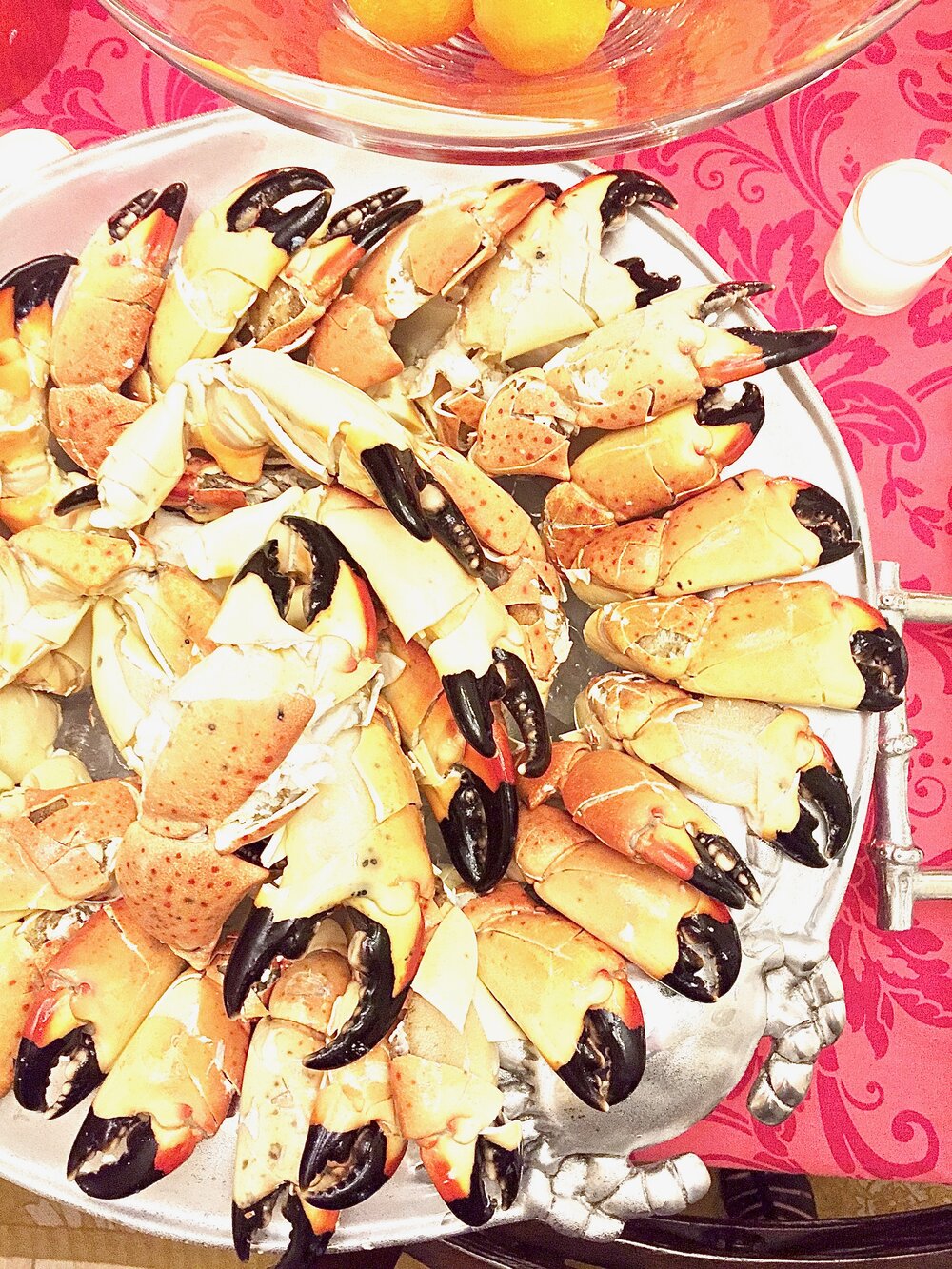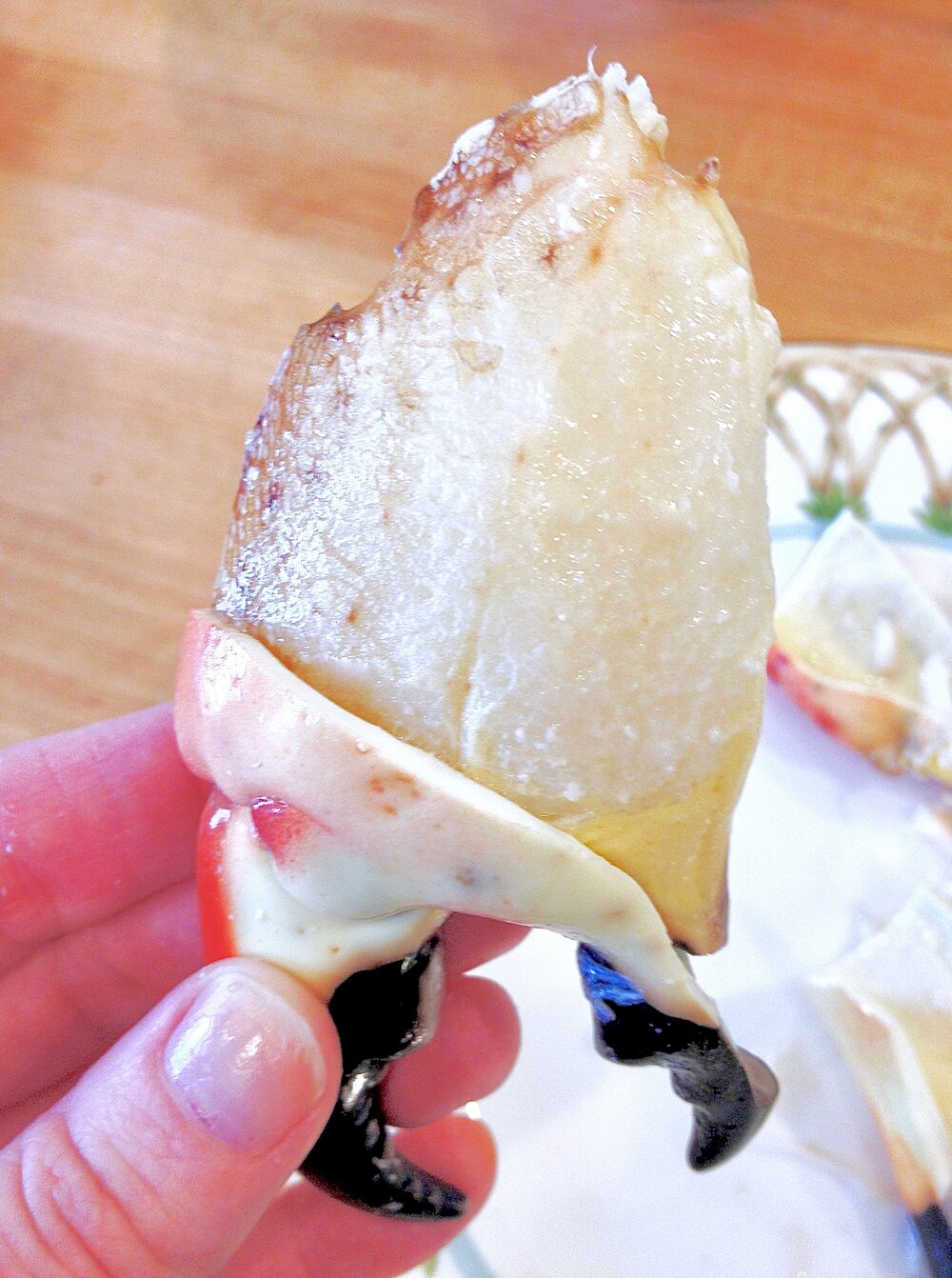 The stone crab gets its name from their extremely hard shells and the claws must be cracked prior to eating - an art form in and of itself! If you plan on enjoying them at home, you might want to ask your fishmonger crack them for you, otherwise, there are plenty of videos out there that show how to use some elbow grease to DIY.
Stone crabs are traditionally served with a mustard sauce that complements the delicious sweet meat although some people prefer to eat them plain with nothing at all. Many establishments are know for their mustard sauce and there's much debate as to which type of sauce is the best. Some folks lean towards a spicy mustard sauce (like us!) while others like it sweeter sometimes with the addition of honey. Which type of mustard sauce do you prefer if any at all?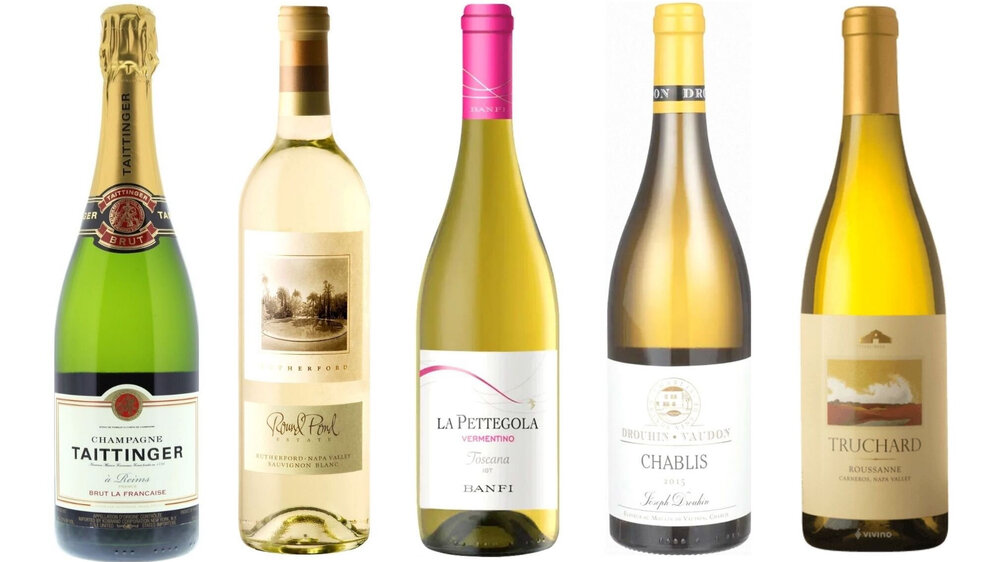 5 WINES TO PAIR WITH STONE CRABS
In order to complement the texture and flavor of the crab as well as the tanginess of the mustard sauce, opt for wines with notes of citrus and stone fruit with a racy, cleansing acidity. Champagne, Sauvignon Blanc, Vermentino, Roussanne and unoaked Chardonnay are wonderful choices to pair with Florida Stone Crabs and here are a few of my faves:
Champagne Taittinger Brut La Francaise, Champagne, France, NV ($44): This light, elegant Champagne crafted from a blend of Chardonnay (40%), Pinot Noir (35%) and Pinot Meunier (25%) is the perfect bubbly to pair with stone crabs with its floral-infused notes of citrus, white peach and brioche along with a bright, lively acidity.

Round Pond Estate Sauvignon Blanc Rutherford, California ($20): This delightfully juicy Napa Valley Sauv Blanc is bursting with notes of citrus, white peach and green apple that match up perfectly with stone crab meat and mustard sauce. It's like adding a squeeze of lemon to any dish you pair it with!

Banfi La Pettegola Vermentino, IGT Toscana, Italy ($20): This crisp, delightful gem from Tuscany is racy and bright with notes of yellow apple, apricot and juicy grapefruit accentuated by hints of lavender and almond that carry through on the finish.

Drouhin Réserve de Vaudon Chablis, Burgundy, France ($30): This terroir-driven, unoaked Chardonnay named for the northernmost region of Burgundy where it comes from, is a classic seafood match with pure, mineral-infused notes of lemon, green apple, white peach and a hint of chamomile.

Truchard Roussanne, Carneros, California ($24): This utterly delightful, Rhone-inspired white wine is rife with juicy notes of Fuji apple, honeyed citrus, peach and spiced pear with a lively acidity and vanilla-tinged finish. This wine's hint of sweetness make it one of our favorite pairings for any seafood with a sweet succulent quality like scallops and clams.
---
---