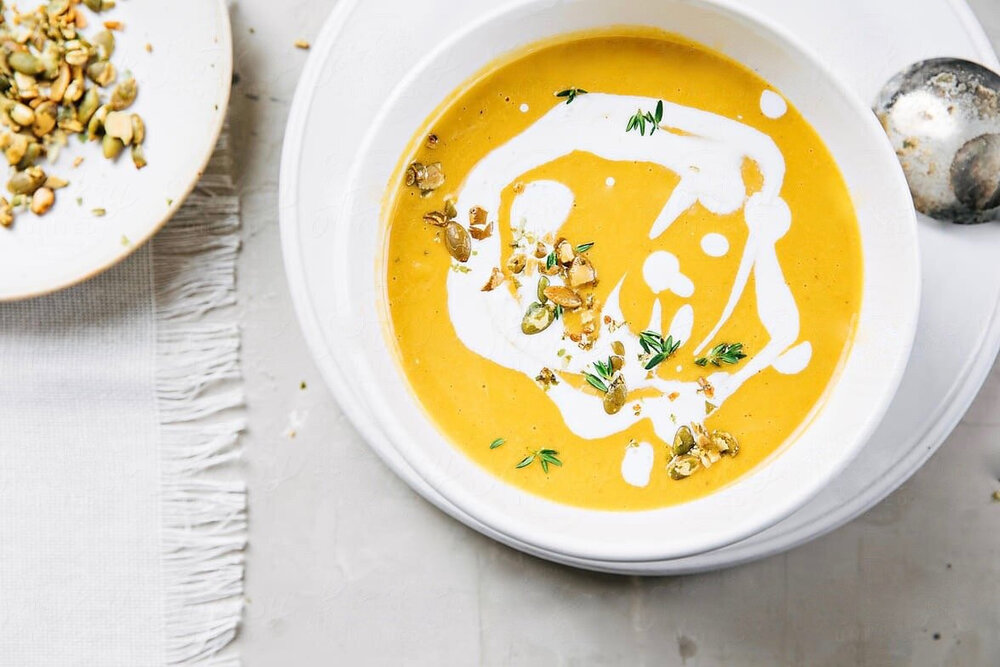 While I sincerely adore each and every classic Thanksgiving dish from stuffing to sweet potatoes, this year I'll be treating my guests to a delightful "amuse bouche" before we dig into the main meal. This deliciously Decadent Butternut Squash Bisque will prime everyone's palates for the meal to come and, as an added bonus, it can even be prepared well in advance!
I must admit I came late to the butternut squash party. It wasn't until my friend Crissi introduced me to her Mom's recipe for butternut squash purée a few years ago that I became smitten with its silky texture and incredible flavor. There's just something about the way this relatively pedestrian gourd transforms in the presence of butter, cream and a few basic seasonings to create utterly decadent deliciousness! Of course it also doesn't hurt that I was able to snap up these adorable Staub ceramic pumpkin mini cocottes which just happen to be the perfect serving dishes for the soup.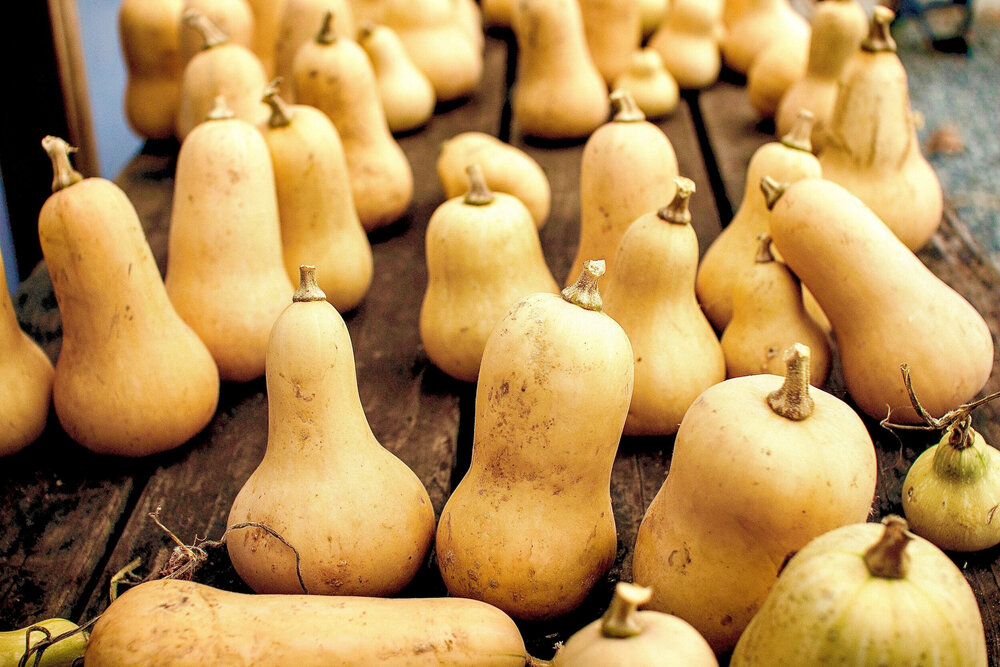 Regardless of what you serve it in, this soup will dazzle your guests with its delicious flavor and luxurious texture. You'll also earn some serious "kitchen cred" for toasting the butternut squash seeds yourself!
For your convenience, you can make the soup and toast the seeds up to three days in advance. Just be sure to stop after puréeing and wait until you reheat it just prior to serving to add the half & half and butter. The seeds can easily be stored in an airtight container at room temperature. I look forward to enjoying this soup all Winter long, preferably paired with a fabulous glass of full-bodied Chardonnay or Viognier - for even more seasonally-inspired white wines, click here.
And if you'd like to receive a decadent morsel of deliciousness in your inbox every Saturday, please sign up to receive my free, weekly newsletter, "The GG Guide to Wine + Food" by clicking here. It's a treasure trove of seasonally-inspired, Sommelier-selected wines, recipes, pairings + travel tips. xo
PRINT RECIPE
"DECADENT BUTTERNUT SQUASH BISQUE"
Makes 6-8 "amuse" size portions
INGREDIENTS
3 Tablespoons good olive oil

1 medium butternut squash, peeled & cubed

1 1/2 cups chopped yellow onion

1/2 cup chopped celery

1/2 cup chopped carrots

2-3 garlic cloves, minced

6 cups chicken stock

Kosher salt & freshly ground black pepper

1/2 cup half & half

2 Tablespoons butter

Sour cream + toasted butternut squash seeds for garnish (see recipe below)
INSTRUCTIONS
Pre-heat oven to 400 degrees.

Place cubed squash on a baking sheet + drizzle with 1 Tablespoon of olive oil. Season with Kosher salt and pepper + toss to coat. Bake for 30-40 minutes, until squash is tender but not browned. Set aside.

Heat remaining olive oil over medium heat in a soup pot. Add onion, celery + carrots + saute for 7-10 minutes, until vegetables are tender but not browned. Add minced garlic + saute for an additional 2 minutes, until garlic is fragrant. Add cubed, roasted squash to the pot + stir to combine. Then, add the chicken stock + bring mixture to a boil. Reduce heat to low + simmer, covered for 30 minutes.

Turn burner off +, using a hand blender, purée soup in the pot. Otherwise purée in batches using a blender (be careful using a blender with hot soup!). Stir in half & half + season to taste with Kosher salt + freshly ground black pepper.

Immediately before serving stir in butter +, once melted, serve soup garnished with a dollop of sour cream + roasted butternut squash seeds.
"TOASTED BUTTERNUT SQUASH SEEDS"
INGREDIENTS
Seeds from a butternut squash, rinsed & dried with paper towels

Kosher or sea salt

Freshly ground black pepper

Smoked paprika or piment d'espelette (optional)
INSTRUCTIONS
Preheat oven to 350 degrees.

Make sure any bits of squash have been removed from the butternut squash seeds + spread evenly on a baking sheet. Drizzle with olive oil + sprinkle liberally with Kosher salt + pepper, toss to coat.

Lightly sprinkle with smoked paprika or other desired seasoning to taste + bake in the oven for 7-10 minutes checking to make sure they don't burn. They're done when they're lightly browned + fragrant. Set aside to cool before using or eating.
---
---