One of the things I love most about late Summer is the oodles of fabulous ripe fruit…especially my personal favorite, nectarines! There's just something about the smell of a perfectly ripe nectarine. When I hold it up to my nose, close my eyes and inhale, it's intoxicating, sweet perfume takes me back to childhood and happy Summer memories of plucking ripe nectarines straight off the tree and gobbling them down on the spot.
One of my favorite ways to enjoy the abundance of fruity deliciousness is through recipes that truly let the fresh ingredients shine. So, I'm super happy to share one of my favorite Summertime Sweets with you: Nectarine Thyme Crumble. There's just nothing like an uncomplicated crumble to showcase ripe Summer fruit! And thankfully, they couldn't be easier to make.
A crumble is a simple dessert consisting of cooked fruit topped with a crumbly mixture of butter, flour and sugar which is then baked in the oven until the topping is crisp and deliciously browned. The dish originated in Britain during World War II when the ingredients for pie pastry were scarce and it has remained popular to this day due to its utter yumminess. Of course in true GG fashion, I've made one boozy addition to glam up the flavors and included a delightfully frothy, Italian sparkling wine to pair it with.
You definitely need to serve a warm crumble with ice cream, which begins to melt the minute it hits the dessert - #sheerdeliciousness! In addition to nectarines, a crumble can also be made with a variety of fruits such as apples, blackberries, peaches, rhubarb and plums. I especially like baking them in a cast iron pan which gives the dessert a deliciously rustic touch and makes a great presentation but you can also use a glass baking dish instead.
For maximum enjoyment, use the ripest nectarines you can get your hands on. And be sure to purchase an extra one to indulge in as you slice the fruit for the recipe ~ it's NO use trying to resist, nor should you have to! And whenever I make fruit desserts I like to add a little liqueur to enhance the flavor and bump up the complexity a notch. For this recipe, I add a little J Vineyards Pear Liqueur which beautifully enhances the flavor of the nectarines but feel free to use something you already have on hand - citrusy Grand Marnier or even a floral elderflower liqueur like St. Germain would also work nicely.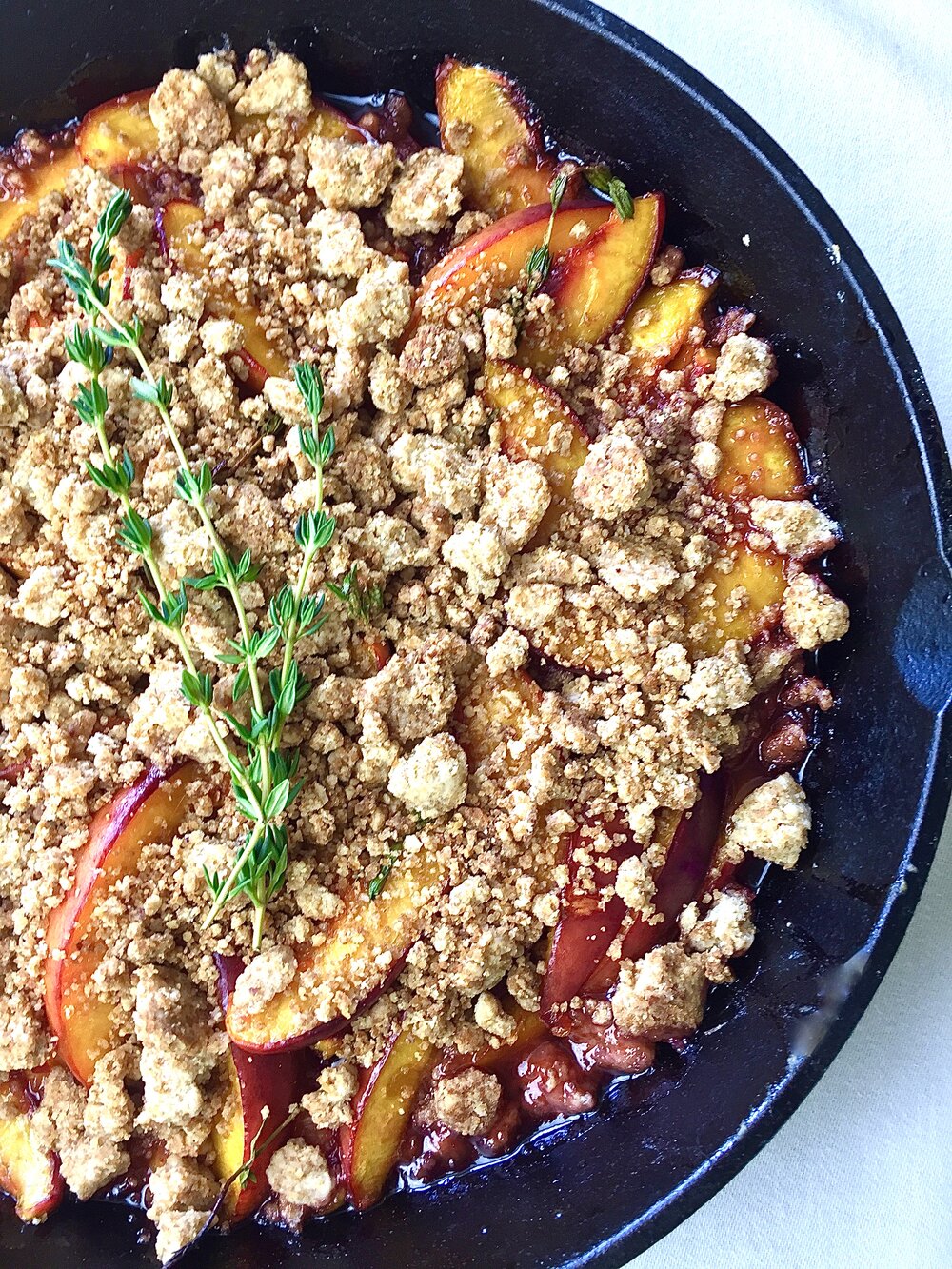 To pair with your Nectarine Thyme Crumble, I highly recommend a Moscato d'Asti, a delightfully frothy, semi-sparkling wine from Italy's Piedmont region. The Italians refer to this type of wine as "frizzante," meaning the wine is slightly sparkling and not quite as bubbly as Champagne.
And since the dessert itself is only lightly sweet, the wine's delicate flavors of peach, citrus and honey complement the crumble beautifully while the subtle, frothy effervescence adds a delightful texture to the pairing experience. Some of my favorite Moscatos include the Michele Chiarlo Nivole Moscato d'Asti and La Spinetta Moscato d'Asti "Biancospino" and "Bricco Quaglia."
I hope you enjoy this recipe for Nectarine Thyme Crumble as much as we do and I'd also love to know, what are YOUR favorite Summer flavors and/or desserts? Please let me know in the Comments section below! Just scroll on down there to the little box and let me know. xo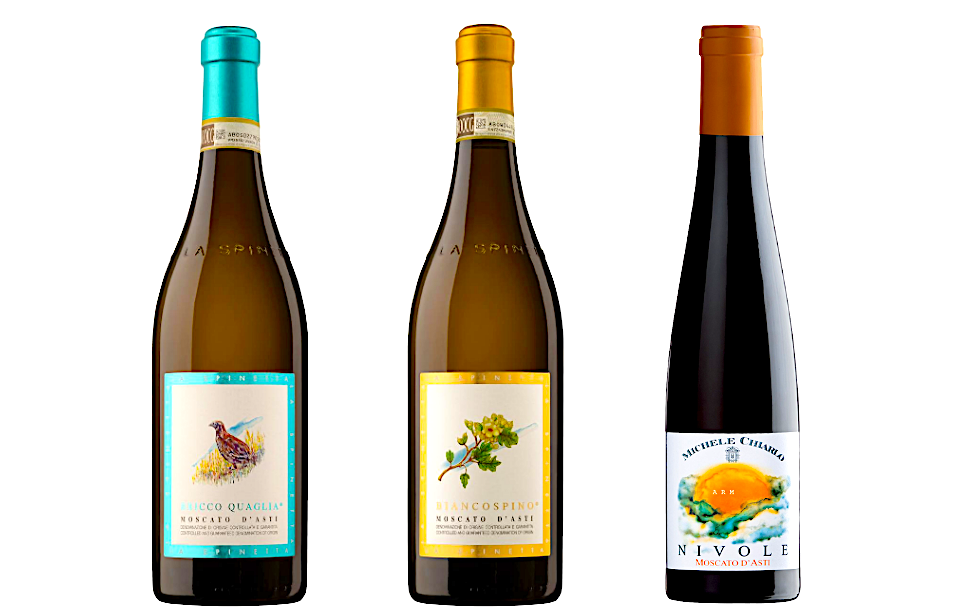 PRINT RECIPE
"SUMMERTIME SWEETS: NECTARINE THYME CRUMBLE"
Author: Stephanie Miskew | The Glamorous Gourmet
Serves: 6
This recipe fits nicely in a 10" cast iron pan & pairs nicely with a Moscato d'Asti from Italy's Piedmont region.
Ingredients
6 ripe nectarines, thinly sliced

6 Tablespoons granulated sugar

1 1/2 Tablespoons freshly squeezed lemon juice

6 thyme sprigs, plus extra for garnish

3/4 cup all purpose flour

4 Tablespoons light brown sugar

2 Tablespoons wheat germ

1/4 cup butter, softened

1 Tablespoon pear brandy or other similarly flavored liqueur

Kosher salt
Instructions
) In a large bowl, toss the sliced nectarines, granulated sugar, lemon juice, thyme sprigs and a pinch of Kosher salt. Let marinate for 1 hour.

) Preheat over to 375 degrees. In another bowl, combine the flour, brown sugar, wheat germ and a pinch of Kosher salt. Work the softened butter into the mixture with your fingers until it has the consistency of sand. Spread the mixture out evenly on a baking sheet, making sure the clumps are of similar sizes so they cook evenly.

) Bake the streusel in the oven for approximately 10-15 minutes, stirring 1-2 times, until the mixture is lightly and evenly browned. Set aside to cool.

) Spoon the nectarine mixture, including the thyme and any accumulated juices, into a 10" cast iron pan. Bake for approximately 20 minutes, until the fruit is softened and the juices are bubbling.

) Scatter the streusel on top of the nectarine mixture in the cast iron pan and bake for an additional 5-10 minutes until browned and bubbly. Garnish with additional thyme sprigs and serve with generous scoops of vanilla ice cream.
---
---