Despite what those wine snobs like to believe, no one can know ALL there is to know about wine. But that's part of the beauty of this expansive topic! And if you're new to wine, I appreciate how daunting it can be knowing exactly where to "jump in." So if you find yourself in this vinous quandary, I'm happy to help with the perfect starting point - my two companion blog posts: White Wine 101 which I posted last week and this week's post, Red Wine 101!
Beginning with the basics is always a great way to start and after reading these two posts you'll know:
The important differences between white and red wine production

The most popular grape varieties you'll encounter on wine lists and at your local wine or grocery store

Which well-known producers to look for when shopping for a particular grape variety or style of wine

Delicious food pairing suggestions and recipes

Helpful lingo that'll have you "Talking the Talk" of both red and white wine in no time!
Before we dive in, I wanted to debunk some commonly held misconceptions about red wine:
RED WINE VS. WHITE WINE
As I mentioned in White Wine 101, before we get into the differences between white wine and red wine, let's talk about what they have in common first, namely: fermentation! Please check out my previous post for more on this simple, yet critical chemical process. While white and red wines do have fermentation in common, red wine differs from white wine in a few important ways:
MACERATION: This is perhaps the major defining difference between white and red winemaking. In white winemaking there's essentially no contact between the grape juice and the skins, a process called maceration. However in red wine production, maceration is the manner by which important phenolic compounds are infused into the wine through contact with grape skins, stems and seeds. These compounds which include tannins and anthocyanins are responsible for a red wine's color, flavor profile and mouthfeel. The duration of maceration is determined by the winemaker depending on the style of wine he is trying to make.
GRAPE VARIETIES: Since the color of red wine is largely determined by the color of the grapes used to make it, red wine is generally made using only red grape varieties. The more intense the color of the grape, the more intense the flavor and color of the finished wine. White wine on the other hand, is made from white grapes, and while it is possible to make white wine from red grapes, this process is usually only reserved for sparkling wine production. For more on that, please check out this post.
WARMER FERMENTATION: Unlike white wines which undergo cooler, temperature-controlled fermentations which run around 50-60 degrees, red wine fermentation run much warmer at approximately 60-95 degrees. The warmer temperature facilitates the extraction of color, tannin and other beneficial phenolic compounds which are important in the finished red wine.
MALOLACTIC FERMENTATION: While we hear about this secondary fermentation being used in the production of buttery Chardonnays, it is actually crucial to the production of most red wines as well. During this process, lactic bacteria converts harsh, bitter, malic acid into creamy, buttery lactic acid which makes the wine more palatable and imparts a richer, creamier mouthfeel. So the next time you pop the cork (or screwcap) off a bottle of Australian Shiraz and smell buttered popcorn, now you'll know why!
TOP 5 RED GRAPES
Stylistically speaking, red wines can range from light and fruity to full-bodied and tannic. This largely depends on the grape variety used to make the wine, as well as where the grapes were grown. Below are the top 5 red "cornerstone" grape varieties you're most likely to encounter on restaurant wine lists as well as in your local retail or grocery store. I've included information about each grape's hallmark flavor profile, which foods you should pair them with and a few of my favorite bottles to try. And always remember, if you can't find the exact wines listed, be sure to ask someone at your local wine shop to suggest a similar alternative:
1.) PINOT NOIR (Burgundy, California, Oregon): This delightful, yet difficult to grow grape variety produces lighter-bodied red wines that are velvety and delicious with notes of cherries, raspberries, earth and spice. It is the legendary grape of France's famed Burgundy wine region, but it also does well in California and Oregon as well. Since Pinot Noir is infamously finicky and a challenge to produce, this is one grape variety where you might want to spend a little more money to get a good bottle. If you're in the mood to splurge, Pinot's the place to do it:
PAIR WITH: Pinot Noir is one of the most versatile food pairing grapes on the planet. This is largely due to it's fruity flavor profile, lighter body and friendly, supple tannins. For that reason it pairs brilliantly with dishes ranging from grilled fish to a Burgundian classic like Coq au Vin. It also pairs nicely with difficult to match veggies like Brussels sprouts, beets and broccoli rabe.
GG FAVE PINOT NOIRS (please click on name of wine for purchasing information):
2.) MERLOT (Bordeaux, California, Italy): Since falling from grace in 2004 as a result of Mile's "Merlot-phobia" in the movie "Sideways," I'm happy to report Merlot has officially made a comeback! And why shouldn't it? Merlot is SO easy to love with its lush, plush notes of dark, ripe fruit and uber-alluring tannins. And while it originated in Bordeaux, France where it is still the most widely planted grape today, Merlot performs well in many exciting wine making regions around the world. So if you prefer bold red wines with oodles and fruit and firm, yet supple tannins, it's time to give Merlot another try!
PAIR WITH: Merlot is a lush, full-bodied red wine with lots of ripe fruit which make it perfect for pairing with savory, flavorful fare like burgers and BBQ as well as more refined dishes like seared duck breast with blackberry gastrique and roast leg of lamb.
GG FAVORITE MERLOTS: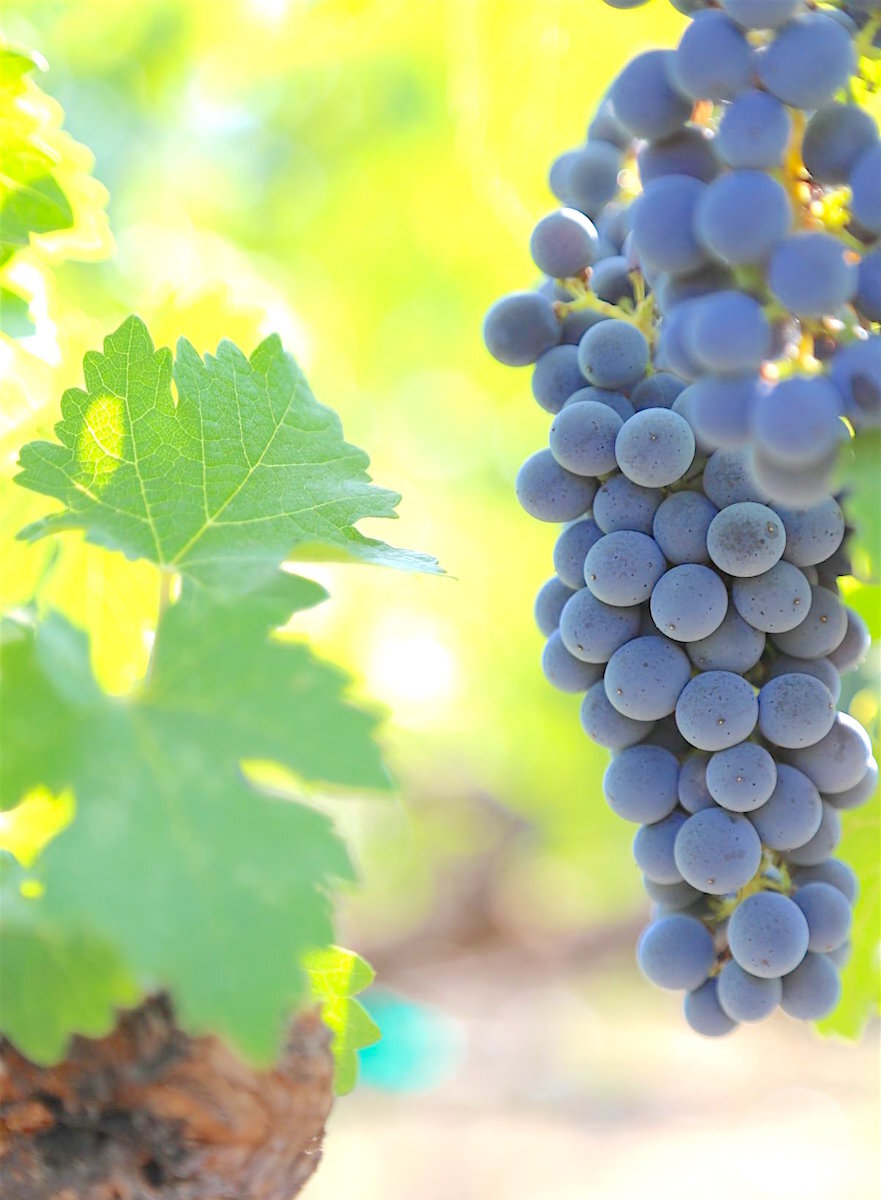 3.) CABERNET SAUVIGNON (Bordeaux, California, Italy): This legendary grape is the basis of many of the most expensive and age-worthy red wines on the planet - most notably in the Bordeaux region of France and California's Napa Valley. This is largely due to its reliably high levels of tannin which contribute greatly to a wine's overall structure and ageability. That being said, wines made from the Cabernet Sauvignon grape are available at many price points and the resulting wines display flavors ranging from tart red currants and graphite to rich blackberry, plum and cocoa depending on where it is grown. So for those of you who adore big red wines with intense tannins, Cabernet Sauvignon is the grape for you!
PAIR WITH: Cabernet Sauvignon is best matched with dishes that are equally as hefty as the wine itself - anything lighter would simply get blown away by its sheer power. Opt for dishes which are relatively high in fat and flavor such as a juicy, flavorful New York strip steaks, braised beef short ribs or savory grilled lamb chops.
GG FAVORITE CABERNET SAUVIGNONS:
4.) SYRAH (Rhone, California, Washington): This intense red grape is the source of some of the most robust, deeply colored, full-bodied red wines on the planet. While is can be found as a varietal wine, Syrah is usually blended with other grapes (both red AND white!) to round out its spicy, exotic flavor profile. In cooler climates such as France's Rhone Valley, Syrah produces bold, complex wines with notes of black and red fruit accompanied by savory notes of herbs, bacon fat and olive tapenade. In warmer climates like Australia and South Africa where it is know as "Shiraz," Syrah produces lush, sometimes jammy wines with notes of cherry, blackberry and chocolate with a spicy, peppery finish.
PAIR WITH: Full-bodied Syrahs are perfect for pairing with luscious, flavorful dishes such as BBQ, burgers, braised beef dishes, juicy steaks and savory roasted leg of lamb.
GG FAVE SYRAHS:
5.) CABERNET FRANC (California, Bordeaux, Australia): Cabernet Franc, along with Sauvignon Blanc, is a parent of the Cabernet Sauvignon grape and while it might not be quite as popular, it is certainly worth exploring! While it can be found as a varietal wine in places like France's Loire Valley and California's North Coast, Cab Franc is usually a part of a blend, most notably in Southwest France where it is one of the five classic Bordeaux grape varieties. Here it is most popular on the famed Right Bank where it is usually blended with Merlot, most notably in Saint Emilion at the legendary Chateau Cheval Blanc. Cab Franc can display very different aromas and flavors depending on the climate in which it is grown. Cool climate Cab Franc displays notes of tart cherry, sweet herbs and mushroom accompanied by a delightful earthiness, while in warmer climates it reveals the grape's capacity for red berry fruit such as cranberry, pomegranate and strawberry along with notes of moss, forest floor and black tea.
PAIR WITH: This medium-bodied red pairs nicely with a wide variety of dishes such as Roast Chicken with Mushrooms, Provençal inspired Pork Chops, grilled Filet Mignon and hearty soups and stews.
GG FAVORITE CABERNET FRANCS:
TALKING THE TALK
As with any type of wine, red wine has it's own "lingo." These terms refer to different winemaking tools or specific vinicultural techniques employed by winemakers when making this type of wine. No Red Wine 101 post would be complete without a list of those you're most likely to encounter when talking about red wine:
TANNINS: These phenolic compounds set red wine apart from white wine and are imparted into red wine from its grape seeds, skins and stems as well as time spent in oak barrels. Tannins allow red wine to age with grace because they act as a preservative. They also add critical texture and mouthfeel to red wine, so when you feel the sensation of the moisture being sucked out of your mouth or a chalky feeling on your tongue after tasting a red wine, that's the tannins!
SEDIMENT: As red wines age, their tannins tend to bind up with color molecules and precipitate out of solution and collect at the bottom of the bottle. Sediment is the layer of small, sand-like particles you encounter in these aged red wines. Generally, the more tannic the wine, the more sediment you're likely to encounter. While sediment won't hurt you if you drink it, the texture can be off-putting so it is often advisable to decant wine off of its sediment before drinking it, although in very old wines, always taste the wine first! While all young, tannic red wines can handle the sudden infusion of oxygen that occurs during decanting, old wines tend to be more fragile.
DECANT: Decanting is the process of transferring a wine from the bottle into a crystal decanter and there are two main reasons to do this: (1) decanting a youthful, tannic red wine infuses it with oxygen thereby softening its harsh tannins and making its aromas and flavors more readily perceptible. A super creative option popularized by Nathan Myhrvold in his books Modernist Cuisine utilizes a blender to "hyperdecant" young red wines - for my video demonstration of this process, please click here or click play on the video above, and (2) as red wines age, sediment often forms at the bottom of the bottle. These older red wines often need to be decanted off of their sediment for maximum enjoyment. While decanting a youthful red wine should be done vigorously, decanting an older red wine is a more delicate process. You don't want to risk over oxygenating the wine or stirring up the sediment.
OAK: The majority of red wines receive some degree of oak treatment during which the wine actually spends time in an oak barrel. While there are quite a few different types of oak, the most popular are French and American. French oak is used with the majority of red grapes such as Pinot Noir, Cabernet Sauvignon, Merlot and Cabernet Franc. It imparts notes of baking spices (i.e. clove, nutmeg) and vanilla to a finished wine. American oak, on the other hand, has a special affinity for certain red grapes such as Tempranillo and Zinfandel and manifests in the finished wine as notes of dill pickle, coconut and sweet vanilla.
RESVERATROL: This natural phenolic compound found in red wine is believed to have heart-healthy properties which help prevent damage to blood vessels, reduce bad (LDL) cholesterol and prevent blood clots although it's not entirely understood how this works. Resveratrol is also found naturally in peanuts and berries which aren't nearly as much fun and you can now find it in skincare products such as the Caudalie line as well!
I hope you found my post on Red Wine 101 helpful in your understanding of this delightful, and imminently enjoyable wine. For even more on the topic, please check out my podcast episode, Red Wine 101, where I answer some interesting viewer questions and dish on some humorous personal experiences as well. If you missed my previous post, White Wine 101, please click here to get all caught up and check out some of my favorite Winter White Wine Recommendations as well!
---
---