If you're looking for the ultimate 'breakfast in bed' recipe - look no further! These Red Velvet Pancakes are perfect for any occasion from spoiling Mom on Mother's Day, romancing your Valentine, or treating yourself to a well-deserved morning indulgence.
I've been a huge fan of ALL things red velvet ever since I was a kid. Every Summer, the day after school let out, my family would head straight to Captiva Island on the west coast of Florida. And every night, after a long day of basking in the sun on the beach or bobbing around in the ocean, we would have dinner at a restaurant called The Bubble Room. This legendary Florida restaurant charmed visitors with its eccentric, retro theme and, in contrast to the toasty temperatures outside, the interior was bedecked in Christmas decor year round - it was truly magical!
In addition to being filled with lots of family memories, The Bubble Room is also home to a profound #foodmemory - it's the place where I discovered Red Velvet Cake. From its glorious red color to it's tangy, sweet flavor and decadent cream cheese frosting it was literally heaven in cake form (please click here for the full story + The Bubble Room's Red Velvet Cake recipe).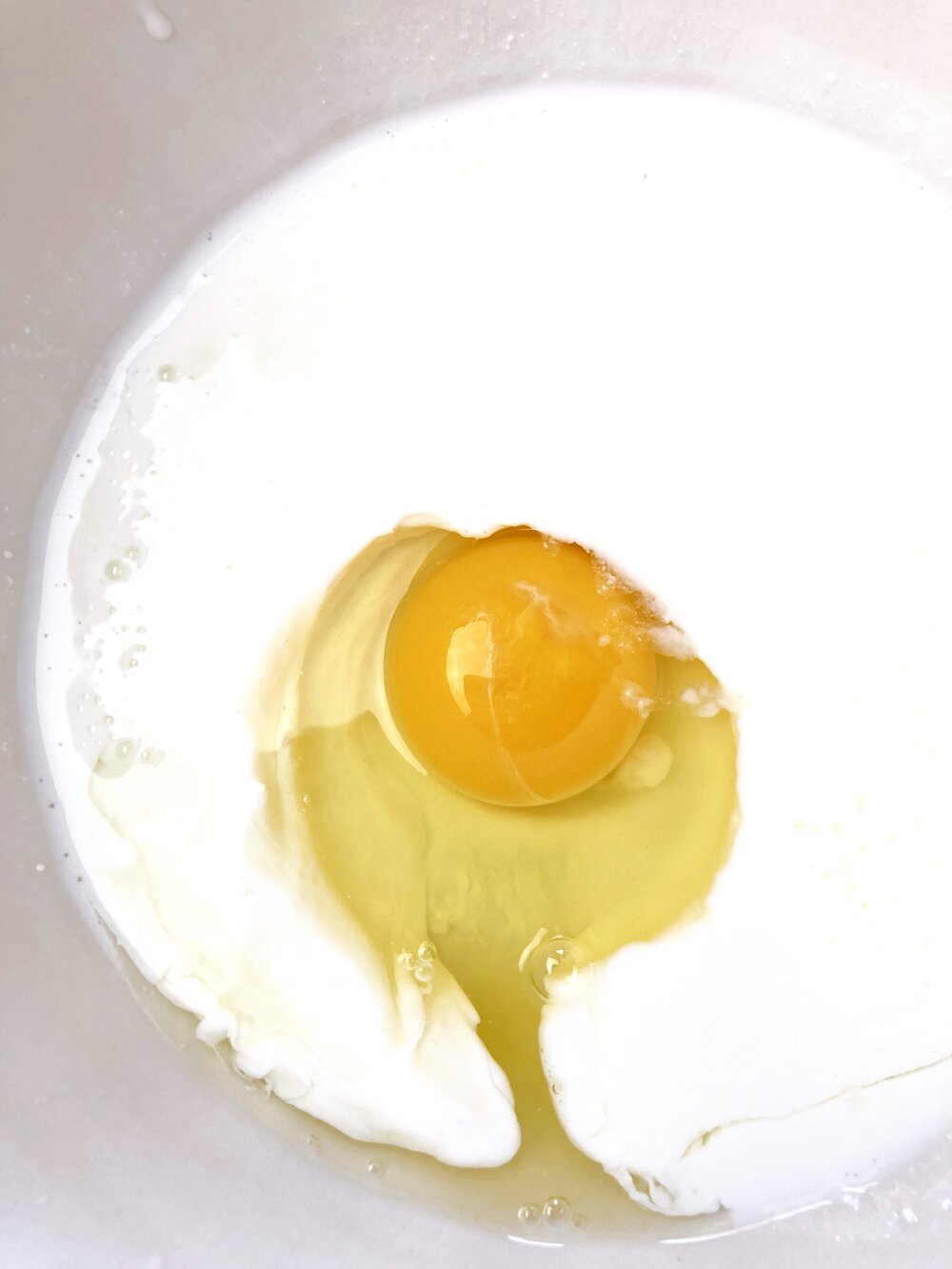 And since then I've come to love Red Velvet in just about any form which brings me back to these delicious Red Velvet Pancakes! Much like my previous excitement, I was also thrilled to discover this recipe which translates the fabulous flavor into delicious breakfast form. Unsweetened cocoa powder gives the pancakes a fabulous chocolatey backnote, while sour cream and buttermilk impart their yummy, signature tanginess.
And, let's not forget about the copious amount of red food coloring that's key to any red velvet recipe. It's important to note that the potential for staining your clothes here is REAL, folks, so please be careful and avoid wearing light colored clothing and/or anything you care about.
And, honestly, if you're fingers aren't stained scarlet after making these babies, you're probably doing something wrong!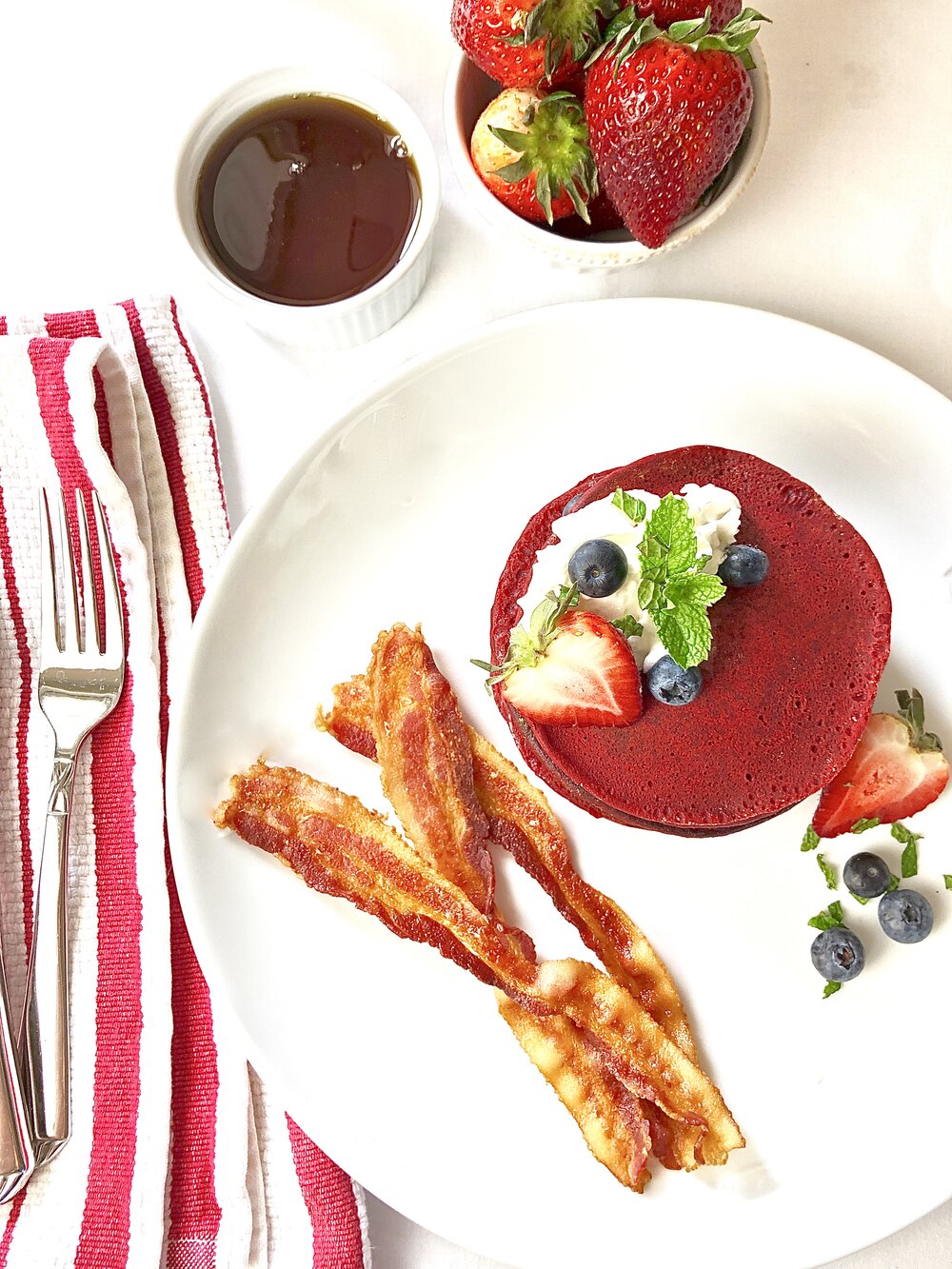 5 Tips for Perfect Red Velvet Pancakes
In order to ensure the pancakes turn out their signature red color, cook them over medium-low heat.

Make sure to generously re-butter the pan between batches - you want to avoid the pancakes turning brown!

Using a non-stick pan is key, otherwise the pancakes could stick and make an unsightly red velvet mess.

Be sure to cook the pancakes in smaller batches of two to three at a time to ensure even cooking.

This recipe makes a generous stack for one person or two short stacks. If making for a family you might want to make two batches.
I love that these Red Velvet Pancakes aren't too sweet so when you add garnishes or accoutrements such as powdered confectioner's sugar, whipped cream, fruit and/or maple syrup, the sweetness level is perfect! Serve these beauties with a side of crispy bacon and an adult beverage like Champagne (or a Strawberry Rhubarb Fizz) and you are all ready to dazzle Mom or whoever that special someone might be.
Thanks so much for taking a walk down memory lane with me and I hope you enjoy this recipe for Red Velvet Pancakes as much as I do. And, if you do make it for your loved one, I'd love to hear about it in the Comment section below!
Print Recipe
"RED VELVET PANCAKES"
Recipe Type: Breakfast
Author: Stephanie Miskew | The Glamorous Gourmet
Makes: 8 pancakes
Ingredients
1 cup all-purpose flour

1 teaspoon baking powder

1/4 teaspoon baking soda

1/4 teaspoon salt

2 tablespoons sugar

1 1/2 tablespoons unsweetened cocoa powder

1 extra large egg

3/4 cup buttermilk

1/4 cup sour cream

1 tablespoon red food coloring

1 teaspoon pure vanilla extract

3 tablespoons melted butter, plus additional for cooking pancakes

Whipped cream (optional)

Sliced fruit (optional)

Maple Syrup (optional)

Confectioner's sugar (optional)
Instructions
Whisk flour, baking powder, baking soda, salt, sugar and cocoa powder in a bowl. Sift if necessary to remove lumps.

In a larger bowl, beat the egg with buttermilk, sour cream, food coloring and vanilla extract until smooth.

Slowly whisk in the flour mixture, adding melted butter in gradually. Whisk until all lumps are out.

Melt 2 Tablespoons of butter in a large nonstick pan over medium-low heat. Drop in batter 1/4 cup at a time to form pancakes. Add additional butter for each batch of pancakes.

Flip pancakes when bottoms are set and bubbles form on top. Cook until firm and fluffy.

Serve the pancakes warm with a side of bacon and a dusting of confectioner's sugar, whipped cream, sliced fruit and/or maple syrup.
---
---