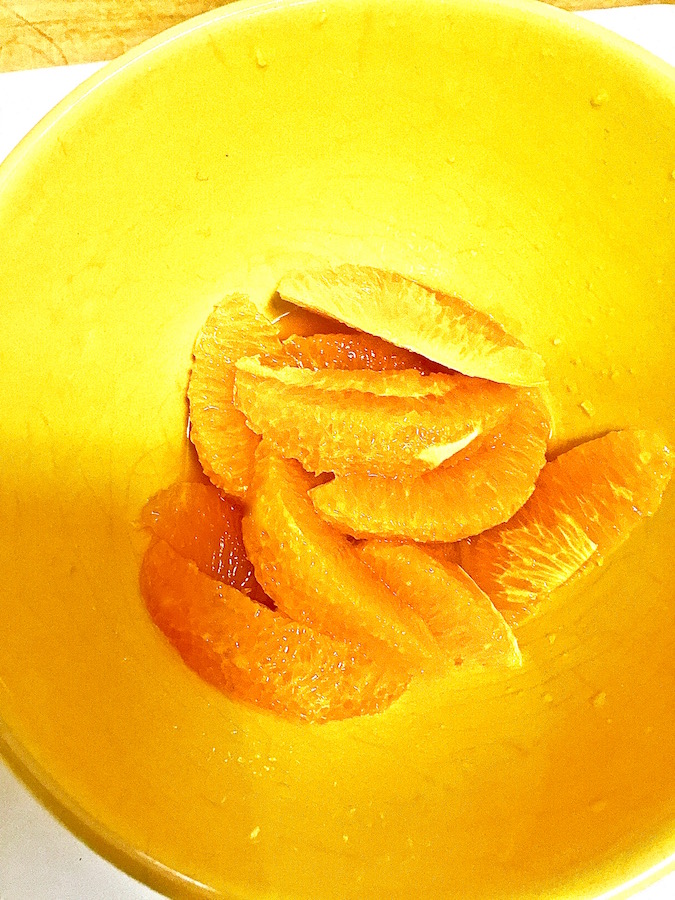 Well, it's official! The dates are set, the details are finalized and I couldn't be more excited because today I get to share my big announcement with you! You know, the one I've been hinting at for the past month or so since we returned from our cooking class at La Pitchoune, Julia Child's former Summer home in Provence?So while I apologize for the delay, I promise it will be worth the wait.First, in keeping with my previous La Peetch posts, I'd like to share the details of our magical last day with you. Days one, two and three of The Courageous Cooking School were so heavenly, a teeny gray cloud descended on my heart knowing we would be leaving this special place in the morning. However, this was also the day I knew I wanted to return and share this experience with you or others?.The day began with a lesson on creating beautiful fruit and charcuterie platters. Chefs Sandrine and Dominie demonstrated tips for making them especially gorgeous including grouping similar colors together while also combining different heights and textures.We also learned to supreme citrus, a technique I adore, which separates the juicy, citrus segments from the bitter, white pith. Sandrine also showed us how to make delicate strawberry roses out of gorgeous ripe, red French strawberries. To view her technique, check out the video below.To pair with our bounty of fresh fruit, Dominie also showed us how to make a sabayon. Known as zabaglione in Italy, this heavenly mixture of egg yolks, sugar and sweet wine (traditionally Madeira) is served slightly warm to make the contrast between the warm sauce and chilled fruit truly delightful.After our morning lesson we quickly changed and we were off to our celebratory last day lunch at Paloma, a Michelin two-star restaurant in the neighboring town of Mougins. The nattily dressed staff greeting us warmly and whisked us through the gorgeous Baroque-style dining room to our secluded table tucked in a lovely niche of the restaurant.The beautiful dining room featured sumptuous decor in muted tones of black, grey and lavender accented by gorgeous, sparkling crystal chandeliers. Ensconced in our banquette replete with chic Mongolian sheep fur pillows, the charming Chef de Cuisine Nicolas Decherchi greeted us personally. Needless to say, an onslaught of culinary delights ensued!Shortly after ordering, an amuse bouche of Savory Candy Floss with Foie Gras arrived served like miniature cotton candy on whimsical wooden sticks. It was served with a Food Lover's Trio featuring a delightful demitasse of pea soup with duck leg confit, a miniature sandwich of olives, anchovies and tuna and a bright yellow pepper capsule served atop savory bread. We were encouraged to begin with the trio and finish with the savory floss since they would bring us wet napkins for our hands.The soup and sandwich were a divine combination of flavors and textures, the velvety soup with silky duck confit paired nicely with the flavorful sandwich. The delightful savory floss deliciously dissolved on the tongue and rewarded with a creamy foie center - tres magnifique!Next, was a Seasonal Amuse, a gelée of fresh mint topped with a creamy espuma of smoked bacon studded with bits of bacon and black salt. The creativity of the dishes thus far was truly stunning. Even the fresh bread was served with a trio of beautifully sculpted, incredibly flavored pyramids of butter leaving us all in suspense over the main courses.Finally, a throng of waiters descended with our main courses. Our respective dishes were placed perfectly in front of us, each covered with a lovely silver cloche. Then, in perfect synchronicity, the servers removed the cloches in one dramatic grand gesture to reveal the deliciousness underneath (to watch, please click here).My mouthwatering Lobster with Housemade Linguine was blanketed in a blissfully creamy sauce of lobster, orange and basil and topped with a heavenly foam. Steve opted for a Paloma classic, Yellow and Brown Morille Mushrooms with a delicate mushroom mousseline with roasted gnocchi, poultry broth and a licorice zabaglione. Since I had been on a morel mushroom bender since we arrived, I'm thankful he shared a few bites with me. Needless to say, oodles of delightful rosé washed down all the deliciousness!As you might expect, dessert was equally astounding. I chose the Piña Colada Soufflé featuring a warm coconut soufflé with a creamy pineapple center accompanied by a refreshing coconut sorbet topped with rum foam (to watch the special prep, please click here). Steve opted for the divine Sainte Honoré with Praline which featured classic Sainte Honoré cake with delicious almond flavors topped with lemon foam served with praline ice cream.In addition to the desserts we ordered, we were also able to indulge in perhaps my favorite part of the French fine dining experience: the cheese and dessert carts. In the event you are still hungry after your multi-course meal, you can select from a plethora of delectable cheeses and heavenly pastries.While Steve indulged in some cheeses, I was thrilled to spot one of my absolute favorite Provencal desserts on the cart: a miniature Tarte Tropézienne. Made of decadent, vanilla custard-filled brioche cake and finished off with delicious nibs of pearl sugar, this dessert has quite a glamorous pedigree: it originated in Saint-Tropez in the 1950's and was named by actress Brigitte Bardot!A tour of the kitchen following our meal rounded out the exceptional dining experience. And that's exactly what is was, truly exceptional. From the haute cuisine, to the gorgeous decor, to the impeccable service right down to the intricately adorned silverware, the unwavering attention to detail made it quite easy to see how Paloma earned it's Michelin two star-rating.That evening back at La Peetch, we enjoyed a delightfully relaxed dinner comprised of the last of the ingredients we had purchased at the Market in Antibes as well as the morning's projects, our cheese and charcuterie boards.Steve and I made a Frisée aux LardonsSalad complete with perfectly poached eggs (one of my favorite takeaway skills of the week) which was served alongside a gorgeous Salade Niçoise with fresh seared tuna, a colorful and crisp Fennel andGrapefruit Salad and delicious Tomato Balsamic Bruschetta. Fresh country bread and copious amounts of salted butter from the boulangerie rounded out our final meal.We dined and drank wine into the wee hours of the morning with our new friends, reveling in our experiences over the week and all we had learned. We laughed until our cheeks hurt and it was truly the perfect end to a truly magical week and an experience we will cherish for years to come.
And it is for that reason and being so inspired by this special place...
I'm excited to FINALLY announce my first EVER Food and Wine Trip to La Pitchoune in Provence!
The 2018 La Pitchoune Food & Wine Experience will take place Sunday,October 14 - Friday, 19th, 2018. I'll be partnering with current owner and consummate hostess of La Pitchoune, Makenna Held, and we are looking forward to creating an incredibly special experience for you.Attendees will stay on property at La Pitchoune, Julia and Paul Child's former Summer home, and Bramafam, the home of Simone Beck (Julia's Mastering the Art of French Cooking co-author) which is located mere steps from La Peetch. Beck and her husband were actually the owners of the property who allowed their dear friends, Julia and Paul, to build their Summer home there.During the experience, we'll divide our time between learning French-inspired cooking techniques and developing wine tasting and pairing skills. In addition to the food and wine classes, we'll also enjoy field trips to local purveyors, markets, restaurants and wineries who highlight the bounty of Provence and make this magical region so incredibly special.The 2018 La Pitchoune Food & Wine Experience will be limited to 16 guests and the Sunday to Friday experience is $3,750 per person. In addition to lodging and daily classes, continental breakfasts, lunches and dinners are also included as well as excursions throughout the local area to food hot spots, (optional) daily yoga, beaucoup wine from the region and unlimited dips in the pristine, mosaic pool of La Peetch or the picturesque infinity pool of Bramafam. From the moment you arrive, you'll have a glass of wine in hand and plenty of food in your belly.If you are interested in signing up for our 2018 La Pitchoune Food & Wine Experience (Sunday,October 14 - Friday, 19th, 2018) or if you'd like to learn more about it, please e-mail me at stephanie@theglamorousgourmet.com. I'd be happy to answer any questions you might have.I look forward to hearing from you and hope you can join us in Provence!Bon appétit,
---
---