With the unseasonably warm weather we've been having here in South Florida, I really wanted to share a healthy, delicious Spring-inspired food and wine pairing with you. And when perusing this recipe for Grilled Swordfish with Rosé Aioli, Fennel, Olive + Spinach Salad from Chef Jennifer Carroll, Top Chef alum and protégé of the legendary Eric Ripert of Le Bernardin, she had me at rosé!
Nothing says Spring like rosé and we adore this incredibly refreshing, food-friendly wine here at Chez Miskew. Thankfully my husband is NOT afraid to "drink pink" (or wear pink for that matter!) and with our preternatural Summer-like weather we can drink it almost year round. Over the years we've even made a vinous mecca to Provence to visit some of our favorite rosé producers and also had the opportunity to sip rosé with Martha Stewart in South Beach.
"It's funny how what began as a humble, everyday wine from the South of France has evolved into a vinous juggernaut that's now synonymous with glamour and celebrated with such hashtags as #roseallday, #drinkpink and #yeswayrose."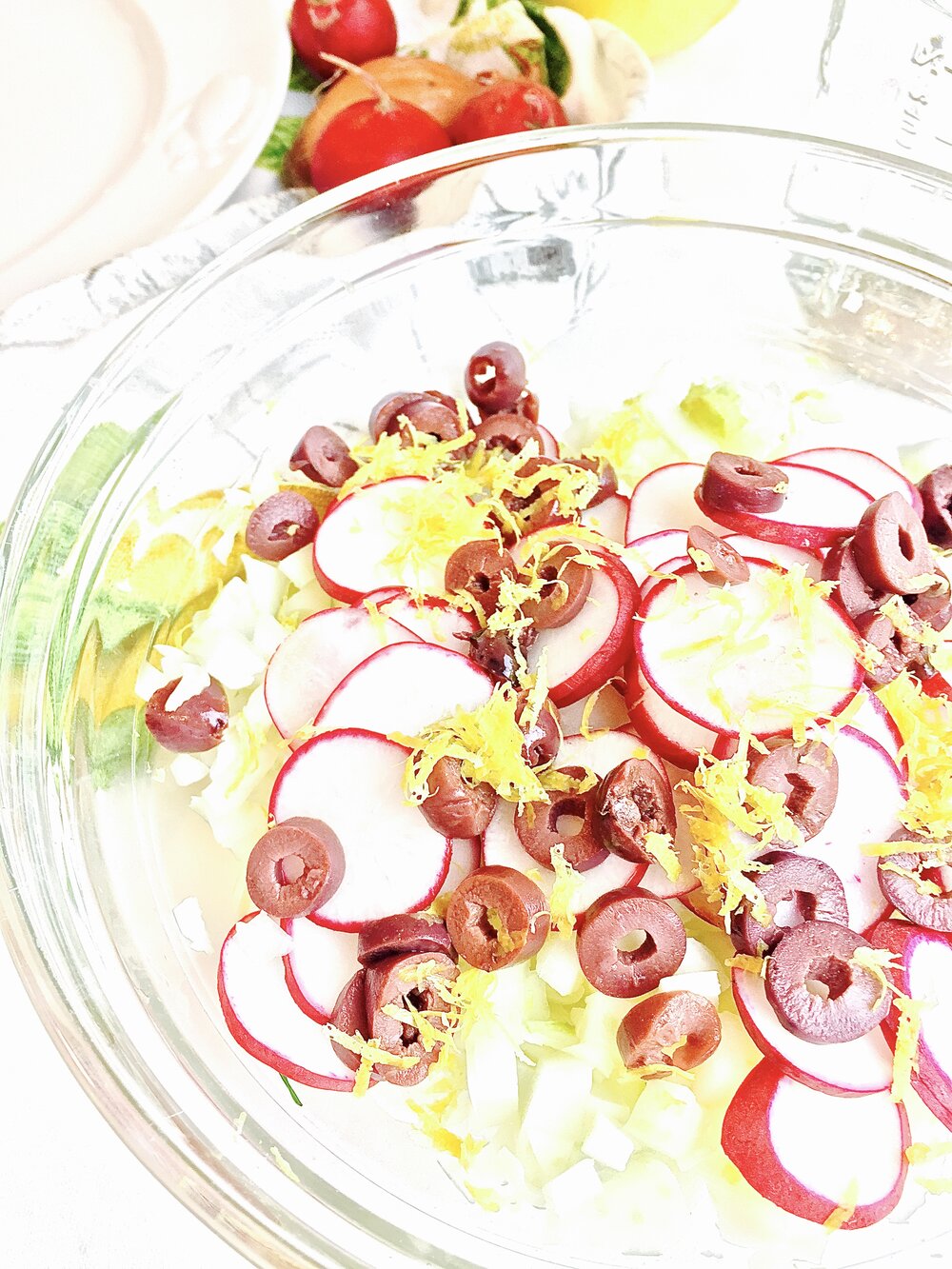 But back to our recipe which turns a little bit of kitchen time and some impeccably fresh ingredients into a completely delicious sensory experience. I was lucky to score some fresh-off-the-boat Pumpkin Swordfish from my local fishmonger (thanks, Captain Clay!). The "pumpkin" actually refers to the color of the fish (not the flavor!) which takes on an orange hue after the fish eats lots of Royal Red Shrimp found in very deep Atlantic waters. As far as flavor goes, pumpkin swordfish is slightly sweeter than white swordfish but either one will work perfectly in this recipe.
Simply put on some fabulous French music (see my recommendation below) and assemble the marinade for the swordfish which is simply extra virgin olive oil, lemon zest, juice and Kosher salt and pepper. Chill the fish in the fridge for an hour while you prepare the rosé aioli and fennel and olive relish.
The relish combines the delightful Mediterranean flavors of Kalamata olives, fennel and radishes brightened by a dash of lemon juice and rice wine vinegar (just FYI, rice vinegar is the SAME thing!). The intoxicating rosé aioli is what pulls everything together though. Made from reduced rosé wine whisked together with shallots, lemon juice, rice wine vinegar, grated garlic and mayonnaise it can conveniently be made a day or two in advance. It's so delicious you could just spoon this right out of the bowl and into your mouth.
And I did. Many times.
After an hour of marinating, simply cook the swordfish on a screaming hot grill pan (NO need to head outside) for about 3-4 minutes a side, garnish with a generous sprinkle of Maldon sea salt and chopped fennel fronds you're good to go. The texture of the fish combined with the delicious flavors of the salad are truly dreamy and perfect for Spring (or a few weeks before!).
RECOMMENDED WINE PAIRING: As the title of this post suggests, a Provençal rosé like the Chateau D'Esclans Whispering Angel Rosé ($24) or Rock Angel Rosé ($35) is the perfect pairing for this recipe. If you can't find either of these wines, any lighter colored dry (NOT sweet) rosé wine will do.
WHY THE PAIRING WORKS: There's something about the way rosé synergizes with the Mediterranean flavors of olives and fennel as well as the garlicky aioli that makes this pairing utterly amazing. The weight of the wine also matches the weight of the fish perfectly and complements its oily texture as well. For an "a-ha" moment, simply take a bite of the grilled swordfish dipped in the rosé aioli on your fork with a little bit of salad and then take a sip of wine!
MUSIC TO LISTEN TO: The French-inspired "Something's Gotta Give" Soundtrack (that fabulous movie with Diane Keaton and Jack Nicholson?) pairs perfectly with this dish.
I hope you enjoy this recipe for Grilled Swordfish with Rosé Aioli, Fennel, Olive and Spinach Salad paired with a Provencal Rosé as much as we did. I'd love to hear what you think in the Comments section below.
Print Recipe
"GRILLED SWORDFISH WITH ROSE AIOLI + FENNEL, OLIVE + SPINACH SALAD PAIRED WITH A PROVENCAL ROSE"
Author: Adapted by Stephanie Miskew | The Glamorous Gourmet
Serves: 4 servings
Ingredients
SWORDFISH
4 1/2" thick 8 oz. swordfish steaks (bloodline trimmed/removed if you prefer)

1/4 cup extra-virgin olive oil, plus more for brushing

1 teaspoon finely grated lemon zest plus 1 Tablespoon fresh lemon juice

1/2 teaspoon Kosher salt

1/4 teaspoon freshly ground black pepper

ROSE AIOLI

3/4 cup dry rosé wine

2 Tablespoon minced shallots

1 Tablespoon unseasoned rice wine vinegar

1/2 teaspoon freshly grated lemon zest plus 2 teaspoons fresh lemon juice

1/4 teaspoon grated garlic

1 cup mayonnaise

RELISH

1 fennel bulb, cored & finely chopped, fronds reserved

1/4 cup pitted Kalamata olives, thinly sliced

1/2 cup thinly sliced radishes

5 oz. baby spinach (4 cups)

3 Tablespoons extra virgin olive oil

1 Tablespoon unseasoned rice wine vinegar

1/2 teaspoon finely grated lemon zest plus 1 Tablespoon fresh lemon juice

Maldon sea salt & freshly ground black pepper
Instructions
) In a large, resealable plastic bag, combine all of the ingredients except the swordfish & mix well. Add the swordfish & turn evenly to coat. Seal & refrigerate for 1 hour (do NOT let it marinate for much longer, otherwise the lemon juice will begin to cook the fish).

) In a small saucepan, simmer the rosé over moderate heat until reduced to 2 Tablespoons, approx. 10 minutes. Transfer to a medium bowl & let cool to room temperature. Then whisk in the shallot, vinegar, lemon zest, lemon juice, garlic & mayonnaise until smooth.

) Making the relish: In a medium bowl, combine all of the ingredients except the spinach & fennel fronds & season to taste with salt & pepper. When ready to eat, mix in the baby spinach leaves & 2 Tablespoons of the rosé aioli & toss to evenly coat.

) Heat a large cast-iron or non-stick grill pan & brush grates with oil. Remove swordfish from the marinade & season with Kosher salt & pepper. Grill over moderately high heat, turning once, until cooked through, 3-4 minutes per side.

) Plate the swordfish & garnish with a generous sprinkle of Maldon sea salt, freshly ground black pepper & fennel fronds. Serve with the relish & remaining rosé aioli paired with a crisp, refreshing dry rosé wine.
---
---