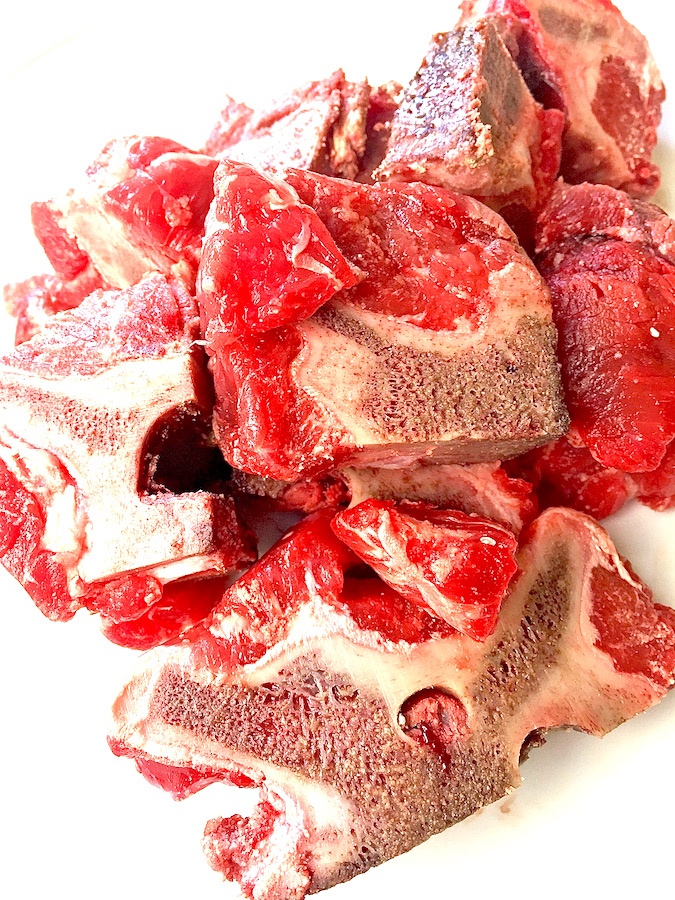 Following the decadence of the holidayseason, January is generally a month of self-imposed restriction and deprivation. While I used to eagerly vault up onto that band wagon, eschewing wine (except for the occasional waistline-friendly glass) and delicious food for the entire month, I've come to believe this approach only set me up for failure.Let's face it, it's virtually impossible to go from a 5candy cane and 2 Pumpkin Spice Latte a day habit to surviving on a bowl of fresh blueberries sprinkled with sawdust and a shitty diet shake each day. Am I right? Instead of embracing restriction and deprivation, why not focus on enjoying reasonably sized portions of nourishing food that feeds our bodies and souls?As I've said before, healthy and delicious foods need not be mutually exclusive, and this week I'll be featuring recipes that demonstrate this fact - buh-bye, restriction and deprivation! The first such recipe is for Bone Broth. This relatively simple "soup" became an uber-hot culinary trend in 2016 and for good, healthy reasons we'll get to in a minute. And while I wouldn't consider this a meal, it actually fills a much more important role.I don't know about you, but my dietary kryptonite isn't necessarily meals...it's snacking. When those in-between-meal cravings start beckoning, encouraging you to reach for those savory salt and vinegar potatochips or vanilla bean ice cream, I've found that simply heating up a cup of this flavorful broth quashes those craving in their tracks. It is rich, hearty and supremely satisfying and essentially healthy comfort food. The fact you can flavor it with your favorite ingredients makes it even more appealing. I find it tastes even better sipped from a beautiful cup such as this lovely pink Wedgwood "Williamsburg Husk" cup. We eat with our eyes first, right?As if its deliciousness wasn't enough, bone broth is also chock full of healthy goodness like anti-inflammatory agents, minerals, healthy fats and soothing, gut-healing proteins. During the lengthy cooking process, the collagen in the bone marrow is broken down into gelatin which promotes healthy tendons, bones and joints as well as thick, luxurious hair and strong nails. Bone broth also benefits those with generalized joint pain and conditions like rheumatoid and osteo-arthritis. Additionally, the glycine and glutamine found in this magical broth also mitigate problems with digestion, particularly IBS and leaky gut.While this recipe calls for beef bones, you can also make bone broth from the bones of virtually any animal. Fish, chicken and beef are the most popular. For this recipe, select beef bones with the most marrow, the brownish, spongy looking material located within the actual bones is where all the nutrient-rich goodness lies. Knuckles, shanks and short ribs are great choices. Once you've selected your bones, have fun experimenting with different ingredients to flavor the broth. While I like adding tomato paste and smashed garlic cloves to beef bonebroth, you might enjoy onion, thyme and black peppercorns in your chicken bone broth. There's no right or wrong here, just cater to your own palate!Another important note for those of you have dogs like we do, please resist the urge to give your dog the bones. Both cooked AND raw bones can splinter and seriously hurt, injure or even kill your dog if they become lodged in the mouth, esophagus or digestive tract. For more information, please click here or consult your own veterinarian.I hope you enjoy this recipe for Beef Bone Broth as much as we do and you'll join us on the bone broth bandwagon! If you have any recipes that are also healthy and supremely satisfying, please share in the Comments section below. Thanks for reading and stay tuned for more healthy deliciousness!Bon appétit,
"Beef Bone Broth"
Recipe Type
:
Healthy
Cuisine:
Soup
Author:
Stephanie Miskew | The Glamorous Gourmet
Serves:
approximately 2 quarts
Ingredients
5 quarts water

2 pounds beef bones (preferably knuckles, shanks or short ribs) with some meat still attached

2 Tablespoons good olive oil

2 Tablespoons apple cider vinegar

2 Tablespoons tomato paste

5 large garlic cloves (or to taste), smashed, skins removed

Kosher salt & freshly ground black pepper to taste
Instructions
Heat olive oil in a large stock pot over med-high heat. Add beef bones to the pot and brown on all sides, approximately 5 minutes. Do not overcook!

Add remaining ingredients to the pot, cover and bring to a boil. Reduce heat to a very low simmer and cook for 6-8 hours, stirring occasionally with lid slightly ajar. Season to taste with Kosher salt and freshly ground black pepper.

Remove pot from heat and allow broth to cool. Strain through a fine mesh strainer and transfer to preferred storage container(s).

Broth will keep in the refrigerator for a few days or can be frozen for later use. The broth can be drank on its own or used as a base for soups and stews or in any recipe that calls for beef stock.
3.5.3226
---
---