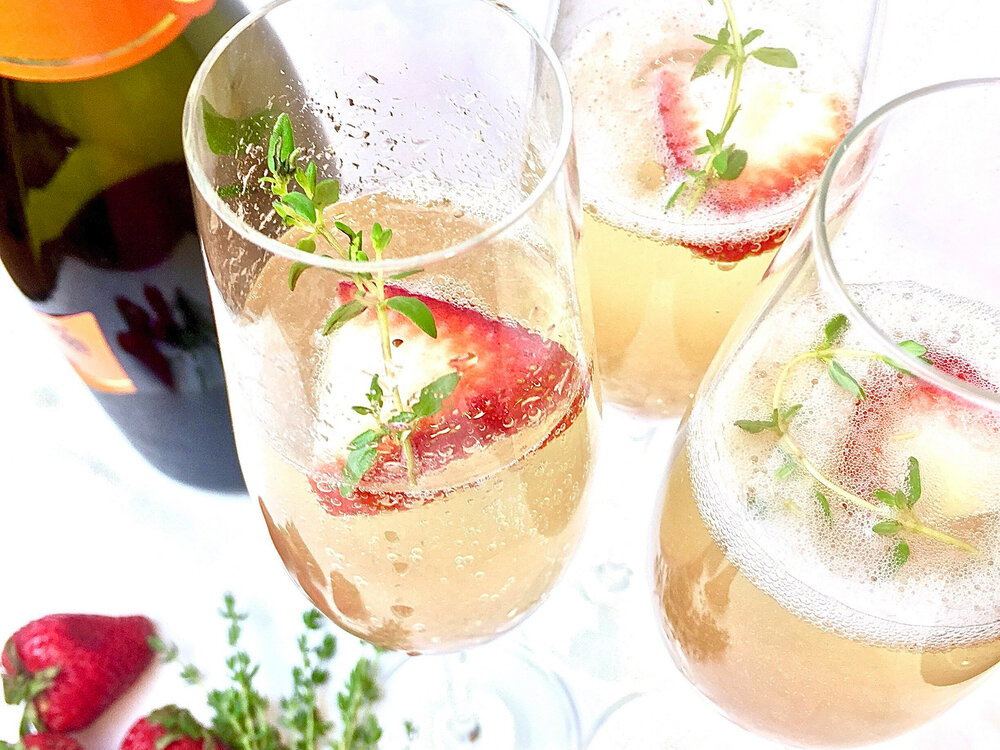 Make Mom feel like "Queen for a Day" with a special Mother's Day Cocktail, the Strawberry Rhubarb Fizz!
This delightful drink incorporates some of Springtime's most fabulous flavors (i.e. ripe, ruby-red strawberries, tart rhubarb and lemony thyme) as well as one of my ALL time favorite things, Champagne! And while I normally don't mix anything with Champagne (I usually opt for Prosecco or Cava to make sparkling wine-based drinks such as Mimosas or Bellinis), I find the heavenly notes of strawberry, rhubarb, thyme and citrus nicely accentuate Champagne's sublime flavors and sparkly texture.
Strawberry and rhubarb go together like peas and carrots, eggs and bacon, wine and cheese and any other perfect pairing you can think of. Since it doesn't roll off the tongue as easily, however, I don't think it gets enough love but it is no less delicious, I promise you!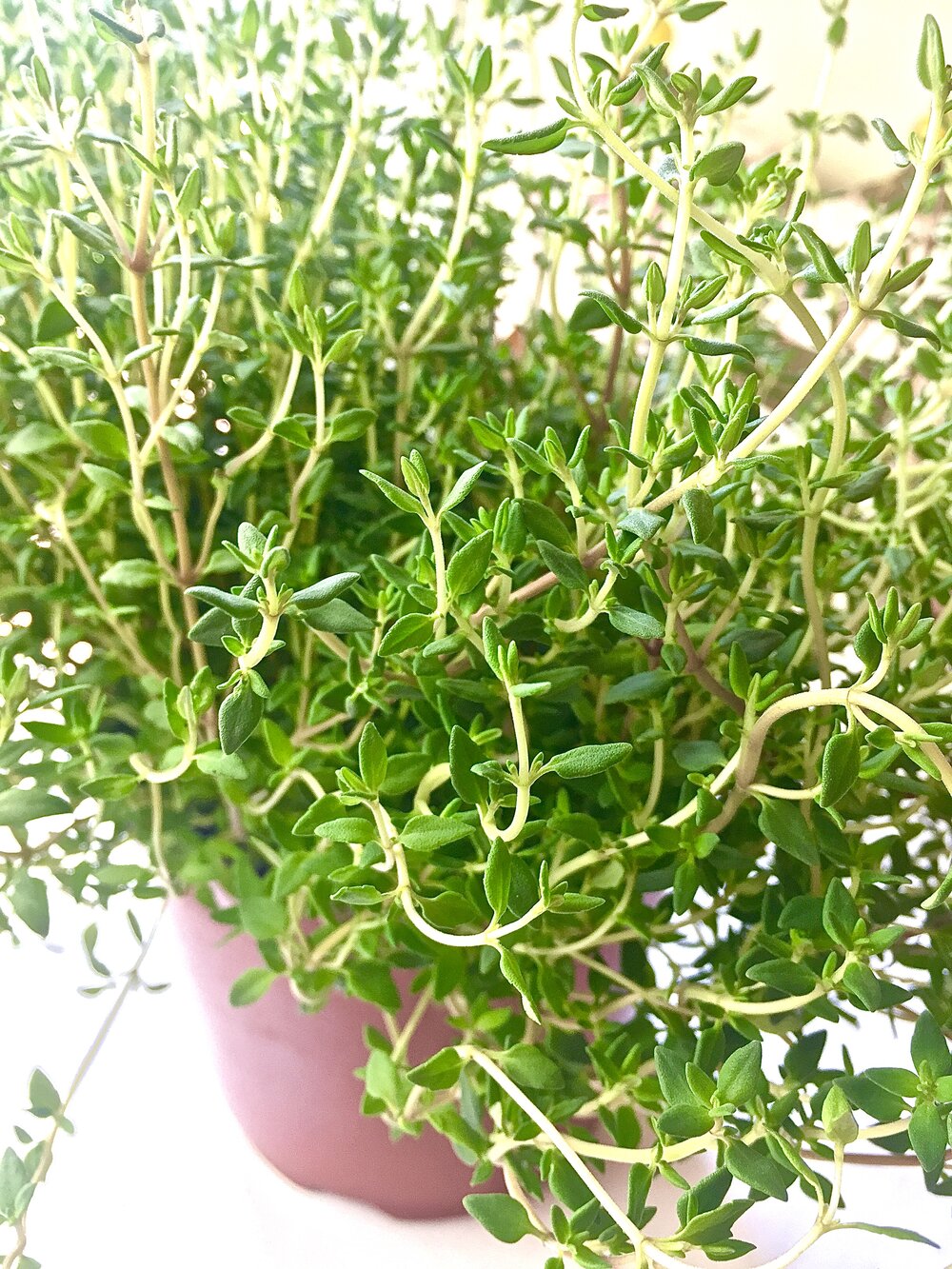 If you're not familiar with rhubarb it's a plant with triangular-shaped, bright green leaves and rosy-pink stalks. You'll likely to find it in your local grocery store in early Spring, usually just the stalks are packaged since the leaves are somewhat poisonous. The tartness of the rhubarb balances the sweetness of the strawberry to create a divine, unique flavor that's perfect for pies, tarts, crumbles...or cocktails.
Making the Strawberry Rhubarb Fizz, is also super easy. A little day-in-advance strawberry rhubarb simple syrup prep is all the work that's required. Thankfully, simple syrup is just that, incredibly simple to make!
Simply combine equal parts sugar and water along with a pound each of strawberries and rhubarb, a handful of fresh thyme and some lemon zest in a saucepan. Simmer for 20 minutes, allow the mixture to cool and you are ALL done! Refrigerate the mixture overnight and when ready to serve, simply pour some of the delightfully pink syrup into the bottom of a flute, top with the Champagne and garnish with a strawberry slice and thyme sprig.
You can also serve this delicious Strawberry Rhubarb Fizz paired with some of our favorite Mother's Day brunch treats such as Blueberry French Toast or Neiman Marcus's Popovers with Strawberry Butter.
Wishing all you fabulous Moms out there a very Happy Mother's Day!
Print Recipe
"MOTHER'S DAY COCKTAIL COUTURE: STRAWBERRY RHUBARB FIZZ"
Author: Stephanie Miskew | The Glamorous Gourmet
Ingredients
1 lb. strawberries, trimmed & sliced in half, plus additional strawberry slices for garnish

1 lb. rhubarb stems, washed & cut into 1/2 inch segments

10 thyme sprigs, plus additional for garnish

1-2 strips of lemon zest

1 cup sugar

1 cup water

750 ml bottle of Champagne
Instructions
) To make the strawberry rhubarb simple syrup, place water, sugar, strawberries, rhubarb, thyme sprigs and lemon zest in a saucepan. Bring mixture to a boil and then reduce to a gentle simmer and cook for 20 minutes, stirring occasionally.

) Remove from heat and allow mixture to cool in the saucepan for maximum flavor. Once cooled, strain the mixture through a fine-mesh strainer, pressing solids with a spatula or spoon for maximum extraction (reserve this pulp for use as a delicious addition to yogurt or oatmeal). You should have approximately three cups of simple syrup when done. Refrigerate overnight or until ready to use.

) When ready to serve cocktails, add 1-2 Tablespoons of chilled simple syrup in the bottom of a Champagne flute, top with Champagne and garnish with a strawberry slice and thyme sprig. Serve immediately.
---
---