With our latest blast of chilly weather (here in South Florida it actually got down to 45 degrees!) I was looking for a dish that was not only comforting...but also had a glamorous, exotic edge. So when I came across this recipe for Moroccan Chicken Tagine with Preserved Lemons I knew I'd found what I was looking for.
Thankfully, my culinary instincts were spot on (LOVE when that happens!). This dish features succulent chicken thighs simmered in a hearty, fragrant broth with exotic, savory herbs and spices including ginger, sweet paprika, cilantro, turmeric and saffron. My fellow foodies, this delightful recipe perfumed our home with the most wonderful aromas and dazzled our palates with its toe-curling deliciousness.
Not only is it delicious, this Chicken Tagine is also super fun to make on a lazy day and is guaranteed to reward your patience. The glorious finishing touch is the addition of preserved lemons (that you're gonna make yourself!) which accentuate the dish's complex flavors with their citrusy goodness.
But first things first...what the flip is a tagine?
A tagine, also spelled tajine, is a North African dish named after the conical-shaped earthenware pot it is cooked in. This stew of meat, chicken or fish is cooked in the broad-based bottom, historically over hot coals, where the steam accumulates in the narrow, cone-shaped top and drips back down onto the stew, preserving all the delicious flavor. Luckily, a stove top works just as well and while a tagine still takes some time to cook, the sublime flavor is well worth the wait.
The first issue at hand when preparing this Moroccan Chicken Tagine is to make the preserved lemons. Preserved lemons? I'm supposed to MAKE preserved lemons? I hear your inner panic brewing but before you spiral into a full blown preserved lemon panic attack let me assure you, this step couldn't be easier.
Simply slice up 2-3 lemons, toss then in a glass baking dish, sprinkle them with Kosher salt and cook them low and slow for 3 hours. The result is salty, lemony deliciousness and I would advise you to hang on to the liquid the lemons are cooked in. It makes a fabulous seasoning for the finished dish. Instead of salt, just douse it with a little briny, lemony elixir.
The next step is the marinating of the chicken thighs. Oooooh what's better than skin-on, bone-in chicken thighs? Just pop those beauties into a gallon sized ziploc bag with the fragrant, flavorful mixture of cumin, garlic, ginger, paprika, onion, oil, salt, pepper and preserved lemon pulp. Ideally, they should marinate in the fridge overnight for maximum flavor, but if you forget to do this the night before, 4-6 hours of marination will do just fine.
Then, it's time to tagine - why can't it be a verb too? If you are the proud owner of a Le Creuset Dutch oven (I especially love my 9 1/2 quart oval one) or an actual tagine, dust that baby off and prepare yourself for the deliciousness at hand. From here on out you simply simmer the chicken thighs and the marinade with the parsley and cilantro stem bundle, onion, turmeric and saffron threads. Over the course of the next 30 minutes, you'll layer in the remaining ingredients and you've got one fabulously mean tagine.
Sorry I just couldn't help myself!
Simply serve over a bed of fragrant Basmatic rice and you are good to go, well, except for one crucial component...the wine!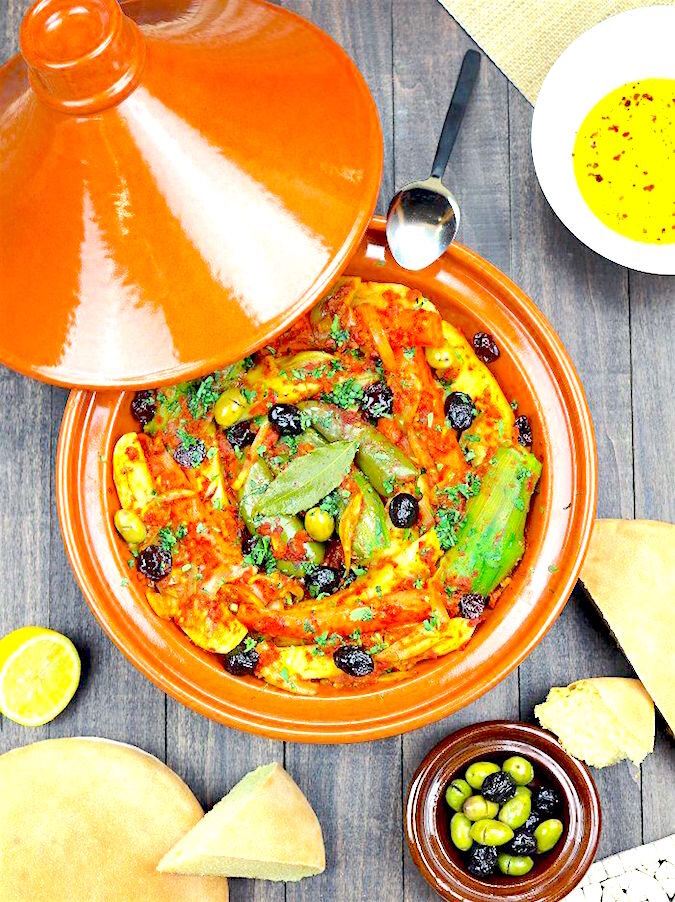 While I was partially inspired by the weather, a special wine also played a role in making this recipe, the 2014 Casa Abril Godello ($17). This delightful white wine from Spanish wine specialist and Casa Abril owner, April Cullom, hails from the Valdeorras DO, located in northwest Spain. It is 100% Godello, a native Spanish white grape variety, from 25-40 year old vines.
Fermented entirely in stainless steel, this Godello has lovely aromas of saline and citrus while on the palate, notes of apple, peach, lemon zest and a hint of almond skin accompany a bright, food-friendly acidity. This wine immediately had me thinking of food and it paired brilliantly with the flavors and textures of the Moroccan Chicken Tagine. You'll be reading more about April and her wonderful wines in next month's Inspiring Women post so stay tuned.
If you'd like to see this month's installment featuring some fabulous, female, James Beard Award-winning Chefs, please click here. I hope you enjoy this Moroccan Chicken Tagine with Preserved Lemon as much as we do. Paired with the Casa Abril Godello it has quickly become one of our favorites. Definitely put it on your "To Do" list for your next snow day OR lazy Saturday. I guarantee you won't be disappointed and I hope it brings comforting deliciousness to a cozy day.
Print Recipe
"MOROCCAN CHICKEN TAGINE WITH PRESERVED LEMONS"
Author: Adapted from Ina Garten
Prep time: 1 hour - Cook time: 4 hours
Serves: 4-6
Ingredients
8 bone in, skin on chicken thighs

6 cloves of garlic, peeled & finely chopped

1 teaspoon ground cumin

1 teaspoon ground ginger

1/2 teaspoon sweet paprika

1 large yellow onion, grated (approximately 1 cup)

2 Tablespoons olive, canola or grapeseed oil - one without much flavor

2-3 lemons

1 cup pitted green Moroccan or Greek olives - Italian Castelvetranos work nicely too

1/4 teaspoon powdered turmeric

4 strands of saffron

1/2 bunch Italian parsley, 1/4 cup chopped

1/2 bunch fresh cilantro, 1/4 cup chopped

Stems from parsley & cilantro tied with kitchen twine

Kosher salt & freshly ground black pepper

Cooked Basmati rice for serving
Instructions
To make the preserved lemons, preheat oven to 250 degrees. Meanwhile, cut lemons into sixths, lengthwise and place in a glass baking dish (anything non-corrosive is fine!). Sprinkle the lemon slices with 2 Tablespoons of the Kosher salt and cover with water. Cook lemons in preheated oven for 3 hours and then allow to cool. Any unused portion should be refrigerated.

To prepare the tagine, mix the cumin, garlic, ginger, paprika and 1 Tablespoon Kosher salt, 1/2 teaspoon black pepper, 1/2 cup grated onion and the oil in a large bowl.

Rinse the preserved lemons and remove the pulp reserving the rind for later use.

Add the lemon pulp to the mixing bowl and then add the raw chicken. Mix everything together and then place in a large gallon plastic bag. Place bag in a glass baking dish and put in the fridge to marinate overnight or at least 6-8 hours in order to achieve maximum flavor.

When ready to cook, remove chicken mixture from the fridge and allow to sit at room temperature for 30 minutes.

In a large Dutch oven or casserole, add the chicken and marinade, parsley-cilantro bundle, remaining grated onion, turmeric, saffron threads and 1 1/2 cups of water. Bring to a boil over high heat, reduce to simmer and cook, partially covered for 30 minutes.

Remove the lid, stir the chicken and continue to cook for an additional 15 minutes.

Remove the chicken to a serving dish and cover with foil to keep warm. Keep sauce on stove and continue to reduce.

Slice the preserved lemon rind into thin slices and add to the sauce along with the olives, chopped parsley and cilantro. Reduce for an additional 3-5 minutes until sauce thickens slightly.

Pour sauce over platter of cooked chicken, garnish with additional parsley and cilantro if desired and serve over cooked Basmati rice.
---
---