After moving to Carmel in 1914, American poet Robinson Jeffers and his wife Una referred to it as their "inevitable place" and after visiting recently, it's certainly easy to understand why. At the urging of our good friends Jean and Chad, we decided to check out a different part of California rather than the well-known wine regions of the North Coast.
And just like Robinson and Una, we were inevitably and irrefutably smitten by Carmel's beautiful coastline, lush greenery, charming cottages and perfect weather. It also didn't hurt that it was located in close proximity to some pretty fabulous wineries as well! For more on our winery visits, read here and here.
So after spending two days in San Francisco, we took the scenic route (California State Route 1) south along the breathtakingly beautiful California coast. Our three hour jaunt culminated in the scenic 17-mile drive around the Monterey Peninsula which hugs the Pacific coastline as it wends its way through the famed Pebble Beach community. Once we reached Carmel-by-the-Sea we made our way downtown to our hotel, L'Auberge Carmel, a Relais & Châteaux property located only four blocks from Carmel Beach, and within walking distance of the town's tony art galleries, quaint boutiques and world-class restaurants.
Built in 1929, L'Auberge Carmel was commissioned by one of early Carmel's most colorful characters, Allen Knight. He based the design on architecture he saw during his travels to Czechoslovakia and architect Albert Farr successfully brought his vision to life. While the building has seen various incarnations over the years, in 2004 it was renovated to recapture it's original European aesthetic.
This endeavor resulted in a 2005 "Spirit of Carmel Award" from the Carmel Heritage Society. A remodel followed in 2012 which included extensive upgrades to the lobby, courtyard, all guest rooms and Aubergine restaurant. Today, the hotel maintains its aura of Old World charm which is beautifully complemented by the extraordinary customer service and attention to detail.
The boutique hotel's 20 rooms are arranged around a lovely center courtyard which echoes the charming Old World vibe. At the time of our visit the ambiance was distinctly Autumn with plump, orange pumpkins surrounding the babbling, stone fountain in the courtyard in addition to colorful flower boxes, ivy covered archways and manicured greenery and topiaries.
The hotel's charm is complemented by many modern amenities including flat screen TVs, Bose docking systems, wireless Internet, radiant floor heating in bathrooms, luxurious linens, and cozy down bedding in every room. The hotel also has a sleek, black Mercedes on call to whisk guests down to the beach or to your favorite restaurant in town.
It's this lovely combination of Old and New world alongside impeccable attention to detail and customer service that's earned L'Auberge a well-deserved spot on Travel & Leisure Magazine's 2014 list of Top 100 Hotels in the World.
Perhaps the gem in the hotel's crown though is its Forbes 5-star, James Beard Award-nominated restaurant, Aubergine. This intimate, jewel box of a space, which only seats twenty-two guests, features fabrics, artwork, wood and glass tile in elegant tones of beige, taupe, gold and brown. In the morning, hotel guests can enjoy Aubergine's leisurely Signature breakfast of house-made delectables (including our favorite – pain au chocolate) in the sunny, welcoming space.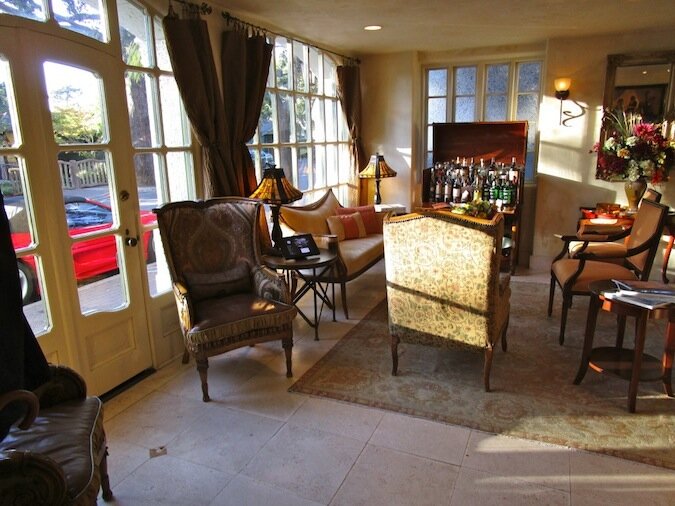 By night, however, the delightful cuisine of one of Food & Wine Magazine'sBest New Chefs of 2013, Justin Cogley, is on full display in his seasonally inspired, innovative and ever changing tasting menus. It is Chef Cogley's integration of locally sourced ingredients and modern gastronomic techniques that is garnering him much critical acclaim, including a James Beard Award nomination for Best Chef: West in 2014 and 2015. Wine is also an intrinsic part of the Aubergine experience and their carefully curated, 2,500 bottle cellar was awarded Wine Spectator's Best of Award of Excellence in 2014.
During our stay we attended Aubergine's special "Provence to Carmel" dinner held in honor of Relais & Châteaux's 60 year Anniversary. This six-course, black and white truffle dinner complete with wine pairings featured guest Chef Jacques Chibois of Provence's La Bastide Saint Antoine who was fresh in from France to team up with Chef Cogley on the special dinner.
Chefs Chibois and Cogley alternated dishes, each featuring both black and white truffles in a variety of creative and delicious incarnations. It was truly a memorable experience to be savored, and I'll be sure to include all the delicious details in an upcoming post – I promise!
If you're interested in planning your own Glamorous Getaway to California, I highly recommend the enchanting L'Auberge Carmel. We were thoroughly smitten by the hotel's combination of Old World charm and modern amenities as well as the world class dining and stellar customer service. In addition to staying at this fabulous hotel, here are some of our favorite things to do there.
6 Things You Won't Want to Miss in Carmel
1.) Tour the Tor House: This historic home was built in the early 1900's by poet Robinson Jeffers by hand from stones he found on the beach, while the outside retaining wall contains rocks from the Temple of Peking, Lava from Hawaii and a piece of the Great Wall of China.
This tour is a must for lovers of poetry, literature, history and/or architecture and who knows - you might just discover Carmel is your "inevitable place" too! Be sure to book in advance since tours fill up fast. Hour long tours are $10 for Adults, $5 for full time students 12 years old and up. www.torhouse.com
2.) Dine at Casanova: Established in 1977, this gem of a restaurant is a local favorite and will transport you to the quaint inns of France and Italy. The cuisine is utterly delicious and the wine selection is equally impressive.
While on the pricier side, it's definitely worth the splurge and if you're going with a group request the Van Gogh Table. Also, be sure to order the gnocchi and ask for a tour of the extensive wine cellar if you're so inclined.  www.casanovacarmel.com
3.) The Lodge at Pebble Beach: Built in 1919, this legendary California haven for discerning clientele and golf fans is definitely worth a visit!
Even if you're not planning on playing a round of golf at least peruse the beautiful Lodge and take in a leisurely lunch at The Bench restaurant which overlooks the impressive 18th hole of the legendary golf course. www.pebblebeach.com
4.) The Inn at Spanish Bay: Nestled among majestic Monterey pines and fronted by a Scottish style links golf course that overlooks the breathtaking coastline, this oceanside retreat is beyond gorgeous.
Taking in a Monterey sunset around the firepit with cocktail(s) in hand while listening to the enchanting sounds of the bagpiper is a MUST! For more information, please click here.
5.) Wine & Cheese: Carmel makes it easy to enjoy wines produced in nearby vineyards. Rather than having to drive 45 minutes outside of town to visit a winery, most have tasting rooms in town where oenophiles can sample their wines!
Our favorites include Talbott Vineyards, Scheid Vineyards and Wrath although we did make the drive to Santa Lucia Highlands to visit the Pisoni family. For cheeses to pair with, The Cheese Shop in Carmel Plaza is a must!
6.) Wander the streets: Carmel is known for its enchanting, whimsical fairytale cottages with rolled eaves, rounded doors and asymmetrical stone chimneys which exist alongside shingled beach houses, modern glass homes and log cabins.
The variety of architecture adds such visual interest to any walk through town, but if you find a house you like, don't bother looking for the number. In order to keep the town from becoming too "citified," there are no house numbers, street lights or sidewalks outside the main street in town.
L'Auberge Carmel Fast Facts:
Room rates start at $430 and include Aubergine's Signature Breakfast

Carmel has a beautiful, mild, humidity-free climate year round with average temperatures of 60-75 degrees in the Summer and 50-65 degrees in the Winter. For this reason hotel rooms do not have central air conditioning but they do have heat.

Aubergine's daily tasting menu is $150 per person
L'Auberge Carmel | Monte Verde at Seventh | Carmel-by-the-Sea, CA 93921 | 831.624.8578 | www.laubergecarmel.com
---
---