As much as I love Fall, it doesn't feel like it's official until I've made one of my favorite desserts of ALL time, Ina Garten's mouth wateringly delicious Pear Clafouti.
Somehow the heavenly aroma of ripe Bartlett pears, sugar, vanilla, pear brandy and lemon zest baking away in the oven makes it truly official for me, despite what the calendar might say. So if you're looking to ring in the season with something sweet this month, this delightful recipe is the perfect choice and it also couldn't be easier to make.
And if you've never "clafoutied" before (YES, it can be used as a verb), a clafouti is essentially a baked dessert that originated in the Limousin region of Southwest France. It features sliced fruit (traditionally cherries but pears are in season longer), arranged in a buttered dish which are then covered with a custard-like batter and baked until golden brown. The clafouti is then dusted with confectioners' sugar and served warm or at room temperature. Honestly, I'll take it any way I can get it, it's THAT delicious!
And while Ina's recipe already has pear brandy baked into it, this Pear Clafouti also happens to pair deliciously well with one of my new favorite dessert wines, the Barboursville Vineyards Passito from Virginia ($32/375mL).
Yes - V I R G I N I A!
This wine is a blend of Moscato Ottonel and Vidal grapes that were air dried in order to concentrate their flavor and sugars. The dried grapes were then pressed and the resulting juice underwent a lengthy fermentation with additional time on the lees to accentuate the wine's mouthfeel. The result is a viscous, luscious wine with notes of spiced pear, candied citrus and vanilla which still retains a bright acidity and lightness to balance its sweetness. If you can't find this glorious dessert wine a Sauternes from Bordeaux or an Italian Moscato d'Asti will be equally as fabulous!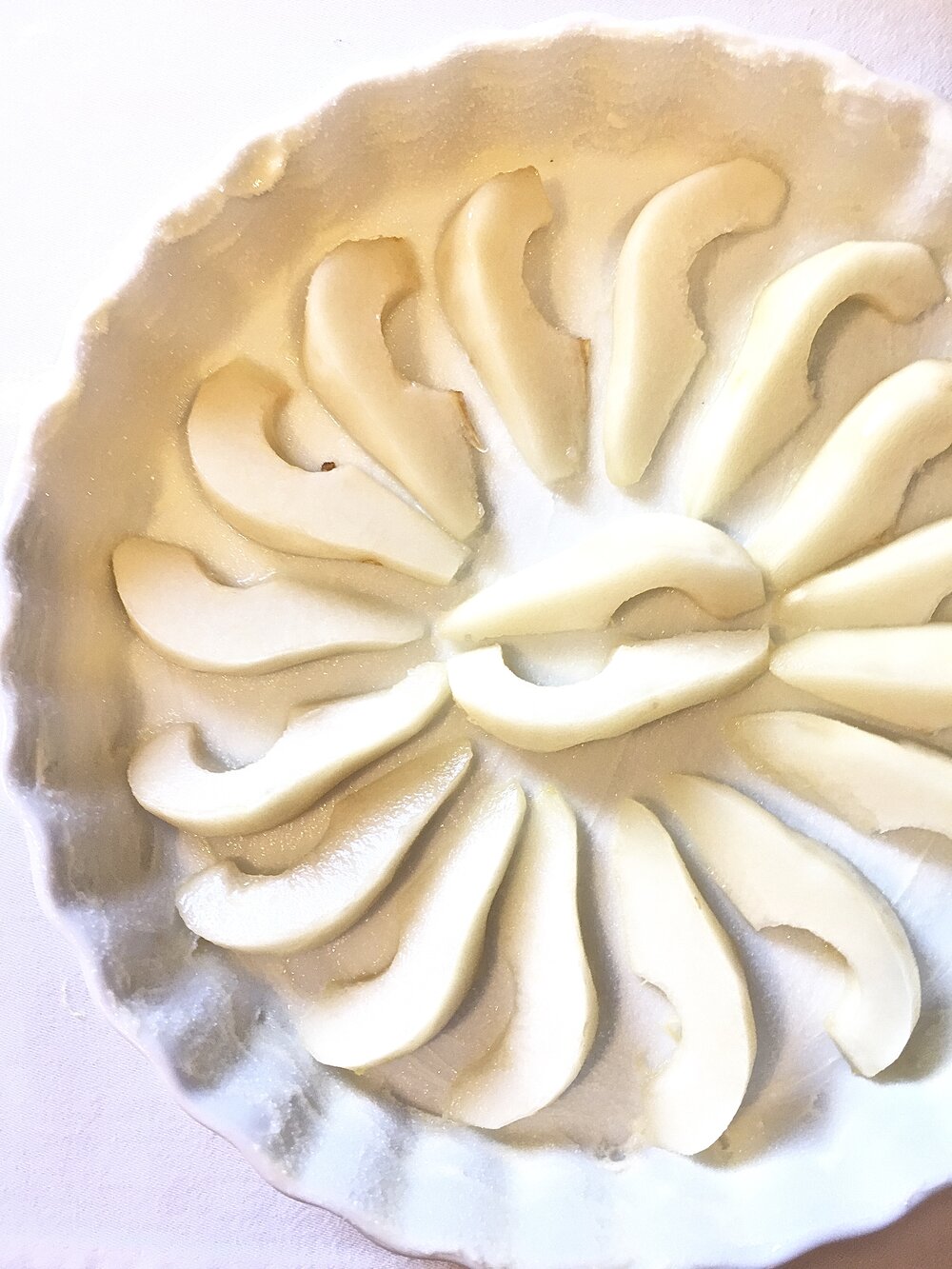 If you find yourself hankering for something other than pumpkin spice to satisfy your sweet tooth and put you in the Fall spirit, you can't go wrong with this recipe. Just be sure you also have some of your favorite vanilla ice cream on hand to round out the experience (Haagen-Dazs is the BOMB!).
I really hope you enjoy this recipe for Pear Clafouti and do YOU have a favorite Fall dessert OR dessert wine you look forward to all year? If so, I'd love to know so please let me know in the Comments section below.
Print Recipe
"FALL DELICIOUSNESS: INA GARTEN'S PEAR CLAFOUTI"
Author: Ina Garten | Barefoot in Paris
Pair this delicious recipe with a luscious, white dessert wine like the Barboursville Vineyards Passito from Virginia, a Sauternes from Bordeaux or an Italian Moscato d'Asti!
Ingredients
1 Tablespoon unsalted butter, room temperature

1/3 cup plus 1 Tablespoon granulated sugar

3 extra-large eggs, room temperature

6 Tablespoons all-purpose flour

1 1/2 cups heavy cream

2 teaspoons pure vanilla extract

1 teaspoon grated lemon zest (1 lemon)

1/4 teaspoon Kosher salt

2 Tablespoons pear brandy such as Poire William

2-3 firm but ripe Bartlett pears

Confectioners' sugar
Instructions
) Preheat oven to 375 degrees. Butter a 10 x 1 1/2-inch round baking dish and sprinkle the bottom and sides with 1 Tablespoon of the granulated sugar.

) Beat the egs and the 1/3-cup of granulated sugar in the bowl of an electric mixerfited with a paddle attachement on medium-high speed until light and fluffy, about 3 minutes. On low speed, mix in the flour, cream, vanilla extract, lemon zest, Kosher salt and pear brandy. Set aside for 10 minutes.

) Meanwhile, peel, half, core and slice the pears. Arrange the slices in a single layer, slightly fanned out in the baking dish. Pour the batter over the pears and bake until the top is golden brown and the custard is firm, 35-40 minutes. Serve warm or at room temperature, sprinkled with confectioners' sugar.
---
---