Although Fall doesn't officially start until next week, for some reason I've been obsessed with it for the past month. From drinking (way too many) Pumpkin Spice Lattes to coming up with a list of 5 Fabulous Things to Do this Fall - for some reason I can't get this season off my mind. I recently came across a cocktail that's further perpetuating my fascination with the savor-worthy season: the Smoked Sazerac!
The traditional Sazerac originated in New Orleans in the 19th century and, with its pre-Civil War origins, it is largely considered to be America's oldest cocktail. Named for the Sazerac de Forge et Fils brand of cognac that served as its original main ingredient, the Sazerac is a variation of a classic cognac or whiskey cocktail. Traditionally, it's a combination of cognac or rye whiskey, absinthe, Peychaud's Bitters, and sugar, although bourbon whiskey is sometimes substituted for the rye, and Herbsaint is sometimes substituted for the absinthe.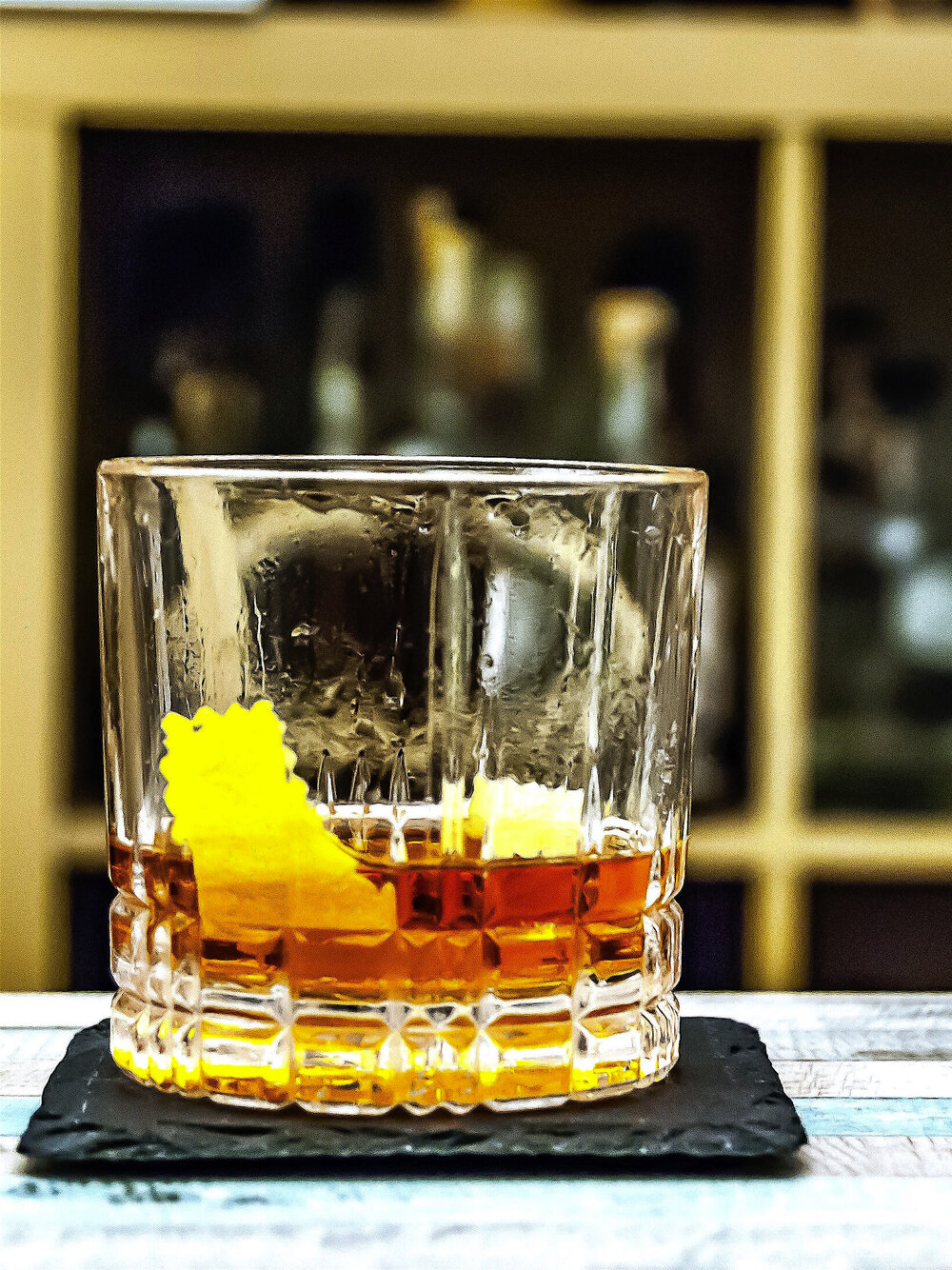 We discovered this particular riff on the traditional Sazerac during a visit to The Cloister at Sea Island in Southeast Georgia, one of our favorite vacation spots. Every time we visit, we have dinner at the wonderfully warm and inviting River Bar the night we arrive. Inspired by a French brasserie, the River Bar overlooks the Black Banks River on the west side of Sea Island and makes a wonderful spot for watching the sunset...generally with cocktail in hand. This time the Smoked Sazerac caught Steve's eye and underneath the list of ingredients was an asterisk that warned, "This cocktail requires extended time for production"...but the foreplay was well worth the wait!
Our bartender Kelly kindly took us through each step of making this fabulous cocktail in which the traditional Sazerac ingredients of rye, absinthe, and Peychaud's bitters are enhanced by the Fall-inspired flavors of ginger-cinnamon syrup and smoke from cherry wood chips. The wood chips are ignited at the bar by flaming absinthe and the resulting smoke is captured in a chilled old-fashioned glass that the drink is ultimately served from.
If you're entertaining this season or just feel like spoiling yourself, the Smoked Sazerac is well worth the effort and will surely put you and/or your guests in the Fall spirit(s)! I sincerely hope you enjoy our latest edition of Cocktail Couture, to see past installments of this segment, please click here.
So what's your favorite cocktail to enjoy in the Fall?
And if you'd like to receive a decadent morsel of deliciousness in your inbox every Saturday, please sign up to receive my free, weekly newsletter, "The GG Guide to Wine + Food" by clicking here. It's a treasure trove of seasonally-inspired, Sommelier-selected wines, recipes, pairings + travel tips. xo
PRINT RECIPE
"THE SMOKED SAZERAC"
Makes one drink
INGREDIENTS
3 ounces Bulleit Rye

1 ounce ginger syrup*

1/2 ounce of Vieux Carré Absinthe

A couple dashes of Peychaud's bitters or to taste

Cherry wood smoker chips ($5.99 on Amazon)

Orange peel for garnish
Chill an old-fashioned glass by filling it with ice and setting is aside while you prepare the rest of the drink.

In another glass add the ginger syrup and a few dashes of the Peychaud's bitters and stir to combine. Then add the rye and a few ice cubes to the glass with the bitters and ginger syrup, stir to combine.

Place the cherry wood chips in a fire-safe bowl. Fill a jigger with approximately 1/2 ounce of absinthe and using a match or kitchen torch, ignite the absinthe. Pour the flaming absinthe over the cherry wood chips to ignite. Empty the ice from the first glass and invert it over the burning wood chips, filling the glass with smoke.

Once it's filled with smoke, carefully turn it right side up and very slowly, strain the rye, ginger syrup and bitters mixture into it. Place the orange peel on the burning cherry wood chips for a few seconds until the edges are lightly charred, garnish the drink with it and serve.
*"GINGER SYRUP"
INGREDIENTS
INSTRUCTIONS
Heat sugar and water in a medium saucepan over medium-high heat and stir until sugar is dissolved.

Add the chopped ginger and cinnamon stick to the sugar mixture and bring to a boil, then remove from the heat and let steep for 30 minutes.

Strain mixture through a sieve into an airtight container and discard ginger and cinnamon. Syrup will keep for up to one month.
---
---