We're in the home stretch of Summer and it is H-O-T here in South Florida! Even as a native Floridian, I can't remember it ever feeling quite this hot and humid. Thankfully, the evenings have been rewarding us with a delightful coastal breeze that blows in off the ocean, offering a little respite from the scorching days. To combat the infernal temperatures, we've been opting for lighter, preferably chilled food and drink and for that reason, I really wanted to share this delicious Citrus, Honeydew, Fennel & Olive Salad that's become a Summer essential here at Chez Miskew.
This delightful salad offers a veritable symphony of Summer flavors and textures. Juicy wedges of ruby red grapefruit and orange complement the savory fennel while the plump, bright green Castelvetrano olives add a briny contrast that is ultimately refreshing. For those of you who also believe we eat with our eyes first, this salad is a sight to behold, featuring harmonious hues of pink, orange and green. In order to make this salad you'll need to know how to segment or supreme citrus. This is a super easy technique that you'll be so happy you mastered (check out this video from Saveur.com)! Before beginning, I highly recommend putting your citrus fruit in the fridge to chill for about 20-30 minutes (or even overnight) which will make it much easier to work with.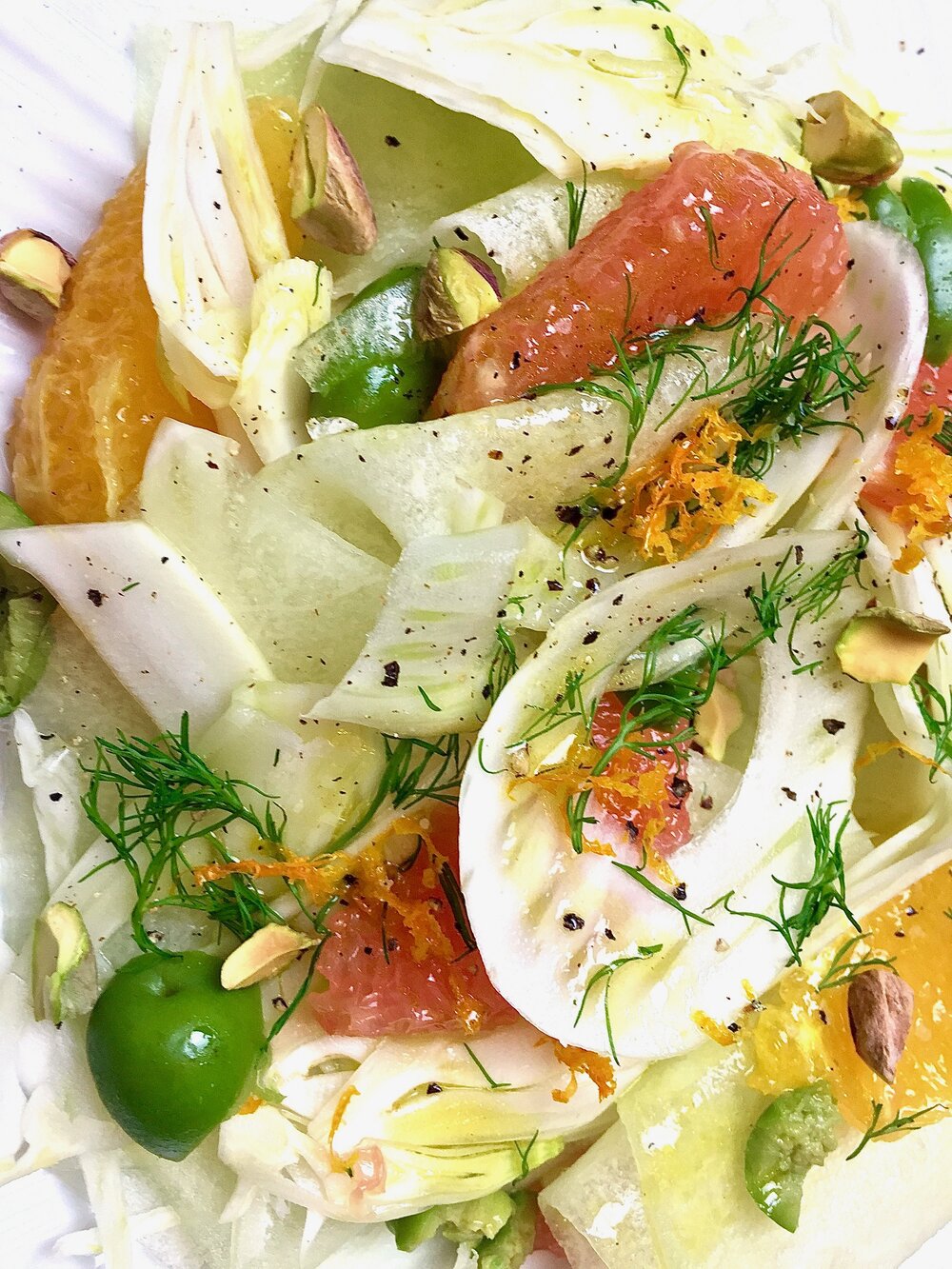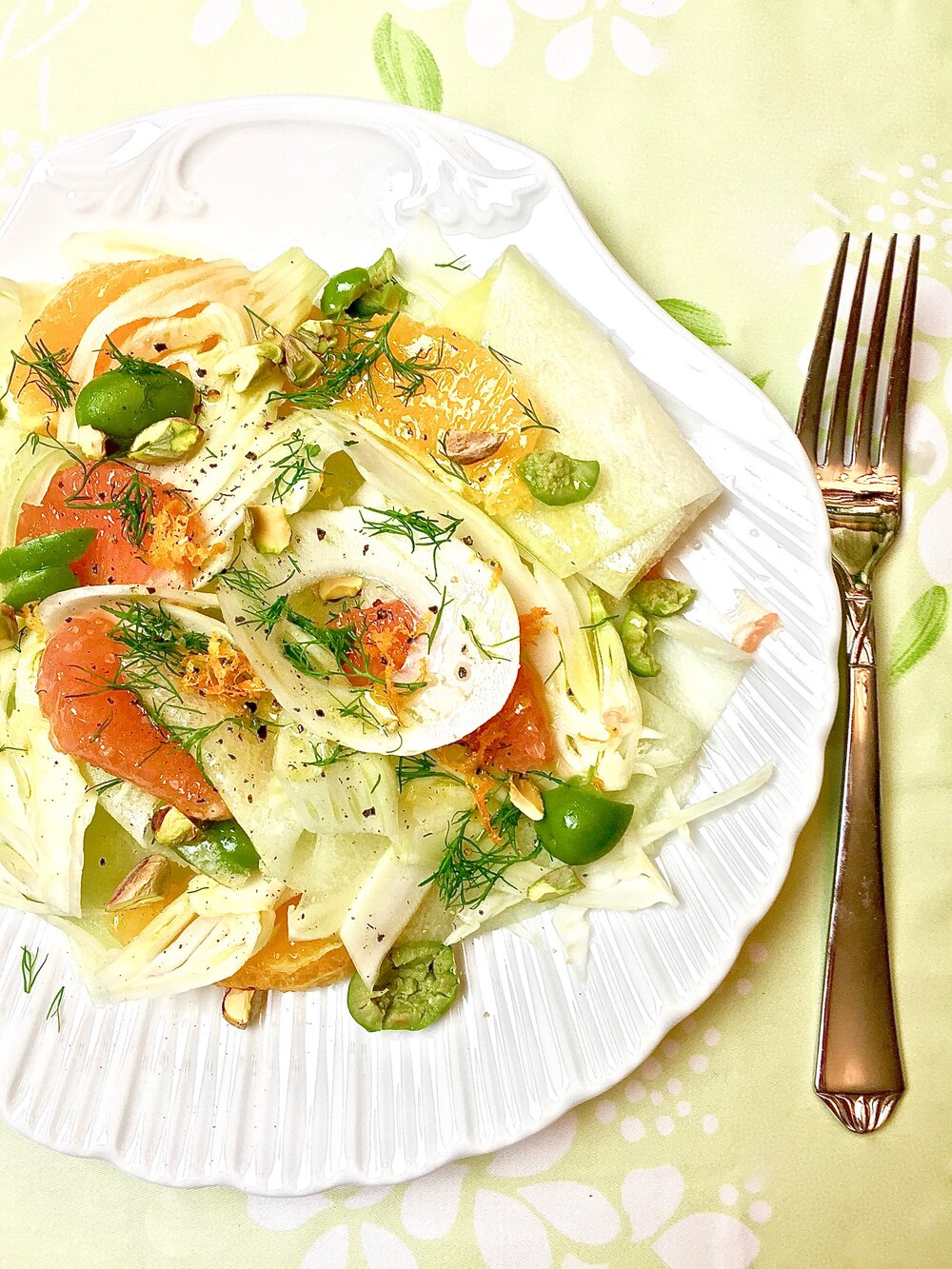 For wine lovers, a crisp, dry white or fruity, dry rosé is perfect for pairing with this Citrus, Honeydew, Fennel & Olive Salad. My recommendations include:
Minerally Sancerre or Pouilly-Fumé from France's Loire Valley

Dry, fruity Provencal rosé

Crisp Italian whites like Vermentino, Vernaccia or Verdicchio.

Fruity, citrusy California Sauvignon Blanc
Wines with crisp, citrusy notes will harmonize with the salad's flavors and you'll have a delightful pairing on your hands. This Citrus, Honeydew, Fennel & Olive Salad is so visually appealing it would make a great choice for al fresco entertaining or a romantic dinner at home a deux. No matter when you serve it, I hope you enjoy it as much as we do. What are your favorite foods to enjoy during the sweltering Summer months? Please let me know in the Comments section below!
print recipe
"CITRUS, HONEYDEW, FENNEL + OLIVE SALAD"
Author: Stephanie Miskew | The Glamorous Gourmet
Serves: 4
Serve with a bright, crisp unoaked white wine such as Sauvignon Blanc or a dry, fruity Provencal rosé.
Ingredients
1 teaspoon grated orange zest

1 Tablespoon freshly squeezed orange juice

2 teaspoons freshly squeezed lemon juice

2 Tablespoons good olive oil, plus more for drizzling

1 1/2 lb. Honeydew melon, rind and seeds removed and very thinly sliced, preferably on a mandoline

1/2 fennel bulb, thinly sliced, preferably on a mandoline

1 Ruby red grapefruit, segmented

1 Navel orange, segmented

2-3 Tablespoons chopped fennel fronds

1/2 cup brined green olives (preferably Castelvetrano), pitted & very coarsely chopped

1/3 cup pistachios, shelled & coarsely chopped

1/2 cup freshly grated Parmigiano-Reggiano cheese

Kosher salt & freshly ground black pepper
Instructions
) In a small plastic container with a tight-fitting lid add the orange juice, lemon juice and 2 Tbsp. olive oil. Shake vigorously to combine and then season with Kosher salt and pepper to taste. Set aside.

) Add sliced honeydew melon, fennel & olives to a large bowl, drizzle with a little of the vinaigrette and toss gently to coat.

) Transfer to serving bowl and top with orange zest, citrus segments and fennel fronds. Drizzle with more vinaigrette, sprinkle with grated Parmigiano-Reggiano cheese and season to taste with Kosher salt & freshly ground black pepper.

) Serve salad with any extra cheese and/or vinaigrette on the side.
---
---