I recently asked my Facebook friends to name their favorite city to visit during the Christmas/Holiday season. Although many fabulous places around the globe were mentioned (Austria, London, Park City, etc) the most popular place hands down was New York City.
Like these folks, there's no place that puts me in the Christmas spirit quite like New York. The elaborately decorated store windows, the vibrant hustle and bustle, the iconic Rockefeller Center Christmas tree - every square inch of this city transforms into a veritable Winter Wonderland. As a native Floridian who spent a few years living in Manhattan, there's also a bit of nostalgia for me as well. So when we make our annual trip to New York in December, here's the 5 spots we're sure not to miss:
1.) Radio City Christmas Spectacular: Ever since I saw this show for the first time during my junior year of high school I've been hooked! Having danced for 13 years growing up, the Rockettes were the epitome of glamour and I was completely mesmerized by them.
Since it's first production in 1933 this show has been dazzling kids of all ages with its elaborate sets, festive music, and, of course, the Rockettes. From their signature "kickline" and "falling soldier" moves to the arrival of Santa, I defy anyone to sit through this production and not find themselves in the Christmas spirit. So whether you're on a girls trip with your BFFs, bringing the kids to NYC for the first time, or it's just you and your spouse make plans to go - you won't regret it!
**The GG Tip: After the show take a leisurely stroll across the street to Rockefeller Center and visit the beautiful tree - perhaps even take a spin around the ice rink?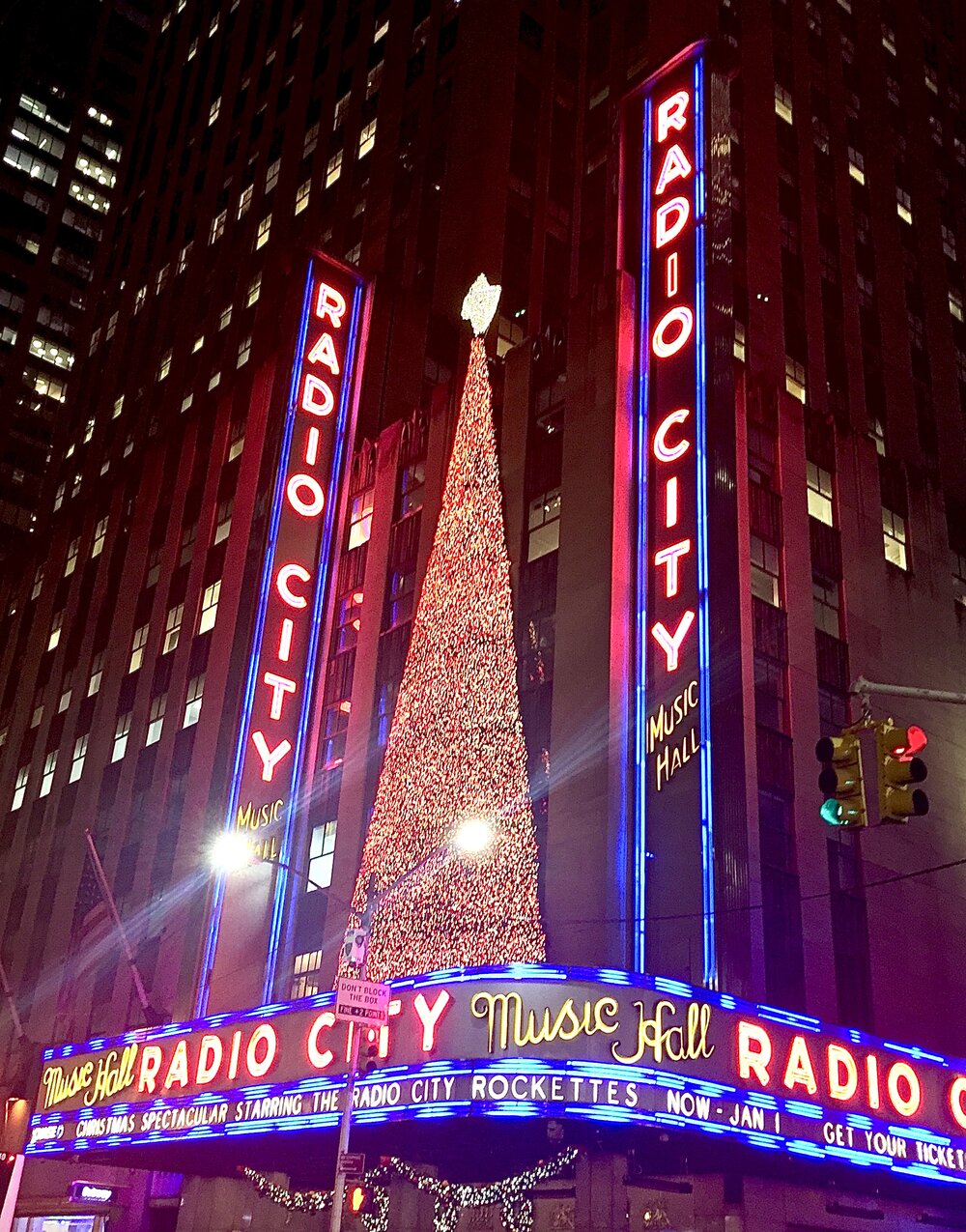 2.) The Plaza Hotel Champagne Bar: This iconic hotel opened its doors on October 1, 1907. No expense was spared in its construction and soon it was dubbed the greatest hotel in the world! Since then, it has appeared in classic films such as North by Northwest, Home Alone 2 and Sleepless in Seattle. The hotel also appeared in Sex and the City on more than one occasion: The Plaza's famous Oak Room was the site of Charlotte's first encounter with Trey's mother, Bunny MacDougal and Carrie recreated the scene from 1973's The Way We Were (which was also shot there) in front of the hotel after Big and Natasha's Engagement party.
The glamorous Champagne Bar overlooks Fifth Avenue and the Pulitzer Fountain and is the perfect spot to enjoy a glass of your favorite Champagne after taking in the store's festive holiday windows (see #5) or before heading to dinner. After soaking up all that glamour and Champagne, don't forget to get a photo in front of the beautiful Christmas tree in the lobby.
**The GG Tip: Afternoon Tea at The Plaza's legendary Palm Court is also a classic New York City experience if you're unable to visit the Champagne Bar!
3.) '21' Club: Officially opened on January 1, 1930, '21' is one of America's most famous speakeasies from the Prohibition Era. Designed with its own disappearing bar and a secret wine cellar to hide the illegal liquor from prying eyes, it's a place where celebrities and captains of industry have wined and dined for more than 80 years (they even have their favorite tables - click here to view). Over the years, '21'  has made cameo appearances in such well known TV shows and films as Sex and the City, Wall Street, and Breakfast at Tiffany's to name a few.
During the Christmas season, the restaurant is decorated to the nines and greets you with its historic jockeys and iron gate decked out in festive red bows and boughs of fir. Menu classics include the "Speakeasy" Steak Tartare, Steak Frites and Creamy Chicken Hash and for my fellow wine lovers, a tour of the cellar is a must! You'll get to see the hidden entrance, how they concealed the "secret cellar" during Prohibition, as well as bottles once stored for celebrities including Elizabeth Taylor, Frank Sinatra, Leroy Neiman, Eva Gabor, and Sammy Davis Jr.
**The GG Tip: Request a table in the legendary Bar Room and make plans to tour the wine cellar either in advance of your reservation or when you arrive.
4.) Sunday Brunch at Balthazar: I've been in love with Keith McNally's French bistro-inspired eatery ever since I lived in Manhattan in the late 1990's. Located in SoHo on the corner of Spring and Crosby, Balthazar is still thriving to this day and for good reason. Since last year's departure of founding Chefs Riad Nasr and Lee Hanson, Shane McBride, who's been at Balthazar since 2010, has taken the helm in the kitchen and the cuisine continues to be phenomenal!
Sunday brunch has become a ritual for us on recent visits and it's the perfect way to start your day before wandering the cobblestone streets of SoHo. You also never know who you'll be elbow to elbow with at the bar, Celine Dion's manager? A certain well known movie director? Just be sure to do some people watching (ok, and eavesdropping) as you enjoy a glass of Champagne (or one of Cisco's delicious Bloody Mary's) with your mouth watering Steak Frites or Eggs Benedict.
**The GG Tip: If you haven't made reservations, head straight to the bar and give your name to Cisco the bartender. The wait at the bar is much shorter than the dining room and alot more fun!
5.) Bergdorf Goodman's Christmas Windows: Of all the iconic store windows in New York City, Bergdorf's are my favorite! Located on the corner of 58th and 5th (right around the corner from The Plaza Hotel), this NYC institution (a subsidiary of Neiman Marcus - another favorite, to read more click here) always provides the most gratifying visual confections. Since it was founded in 1899 by Herman Bergdorf who soon collaborated with Edwin Goodman, this harbinger of glamour has built its reputation catering to the world's fashion elite.
The 2018 theme is "Bergdorf Goodies," and these windows are the culmination of an 11-month creative process representing 3,500 work hours and a team of 30 employees. In keeping with this year's culinary theme, each window features a different fantasy on holiday-inspired sweets. So from candy canes to gingerbread houses to antique chocolates and other assorted confections, each window is a mouthwatering feast for the eyes and a must for all foodies!
**The GG Tip: If you really want to immerse yourself in the Bergdorf Experience, enjoy lunch and a glass of Champagne at BG Restaurant located on the 7th floor of the store (reservations recommended).
If you happen to visit any of these suggestions, be sure to tag me using #TheGlamorousGourmet. And did I leave anything out? Where are your favorite place to visit in New York City this time of year?
---
---