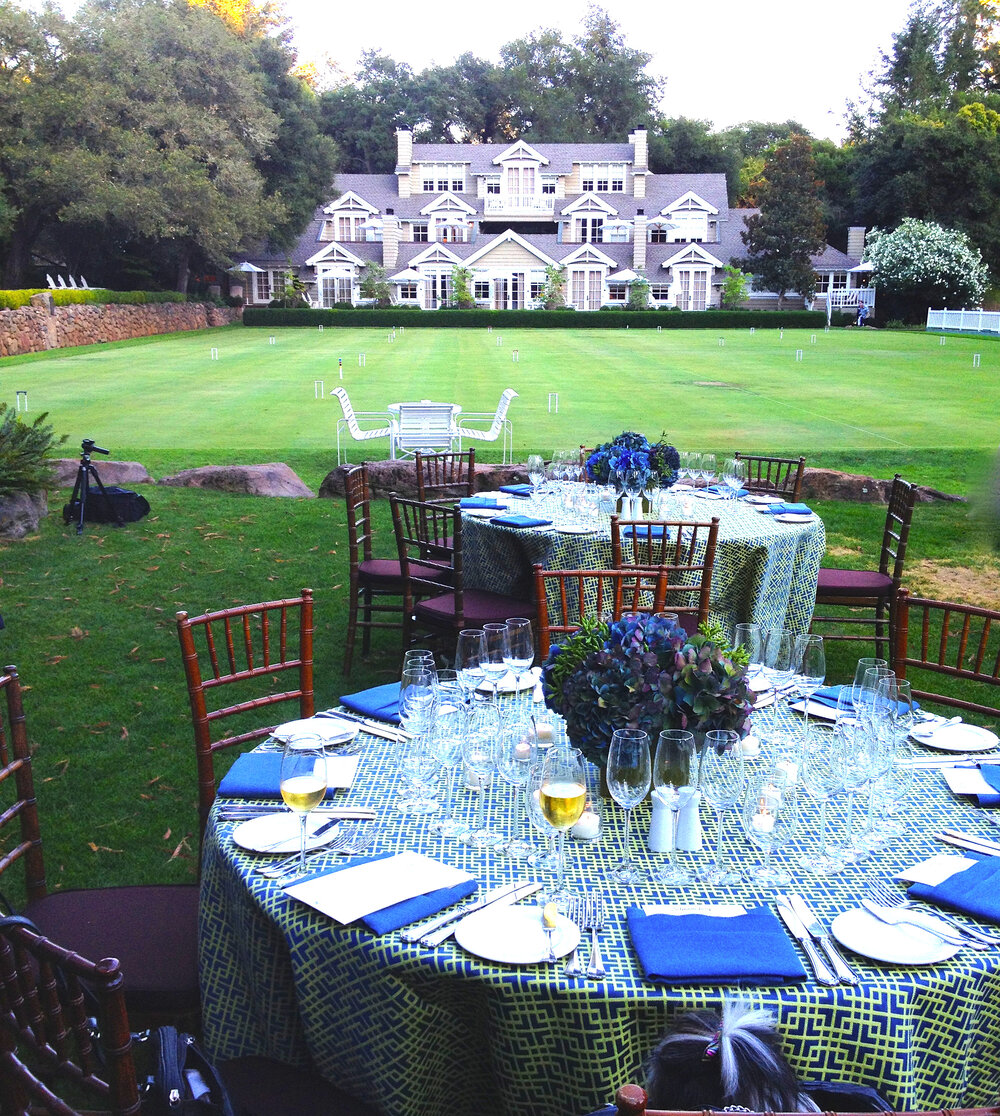 Following our first full day of Camp Schramsberg (read all about that here), Campers had the option to attend a Schramsberg Library Wine Dinner held at Meadowood Napa Valley Resort, one of the most exclusive resorts in the Napa Valley. 
The Restaurant at Meadowood has received three Michelin stars in 2011, 2012 and 2013 and Executive Chef Christopher Kostow has received much critical acclaim for his commitment to local, sustainable California cuisine. In 2013 Chef Kostow received the James Beach Award for "Best Chef: West." Needless to say, I wasn't about to pass up this opportunity to experience amazing cuisine paired with Schramsberg library wine offerings!
The Schramsberg Library Wine Dinner took place on Meadowood's verdant green croquet lawn and as we approached it looked like a foodie oasis beckoning to us on this balmy, wine country evening. The circular tables were draped in festive royal blue and green, geometrically patterned tablecloths and the main building of the resort loomed elegantly in the background.
We were greeted with flutes of 1992 Schramsberg Blanc de Blancs poured from magnum. Yep, we were definitely in the right place! Blanc de blancs literally means "white from whites" and is made from 100% Chardonnay grapes. This was the first wine Schramsberg made back in 1965 and was America's first commercially produced Chardonnay-based brut sparkling wine. In order to achieve added complexity, small lots of malolactic- and barrel-fermented wines are used in the blend with delicious results. Schramsberg's Blanc de Blancs gained international recognition in 1972 when President Nixon served the wine at the historic "Toast to Peace" in Beijing China. The '92 Blanc de Blancs tasted fresh and vibrant giving the impression of a much younger wine.
In fact, I had to try a few more glasses just to be sure! Dinner guests mixed and mingled over delicious passed hors d'oeuvres including Cucumber with Jumbo Lump Crab and Borage Flower that were a feast as much for the eyes as the palate. After some reminiscing about our busy day we gratefully took our seats and prepared for the deliciousness to come.
The first course was a beautiful Northern Pacific Halibut Wrapped in Prosciutto with Pickled Heirloom Melon, and Honeydew Consommé. The consommé was poured tableside which gave the dish extra panache. Overall, the halibut was light, flaky and succulent and the prosciutto added a delightfully salty bite and depth of flavor. Our pairing for the halibut was the 1997 J. Schram Late Disgorged, a blend of 70% Chardonnay and 30% Pinot Noir, which had a rich, toasty character with notes of citrus, baked apple and marzipan.
This special, limited edition wine was created in honor of the winery's 150th Anniversary as a tribute to Jacob and Annie Schram who founded Schramsberg, the second bonded winery in the Napa Valley. This wine spent almost fifteen years en tirage before being disgorged which resulted in lovely layers of richness, depth and complexity.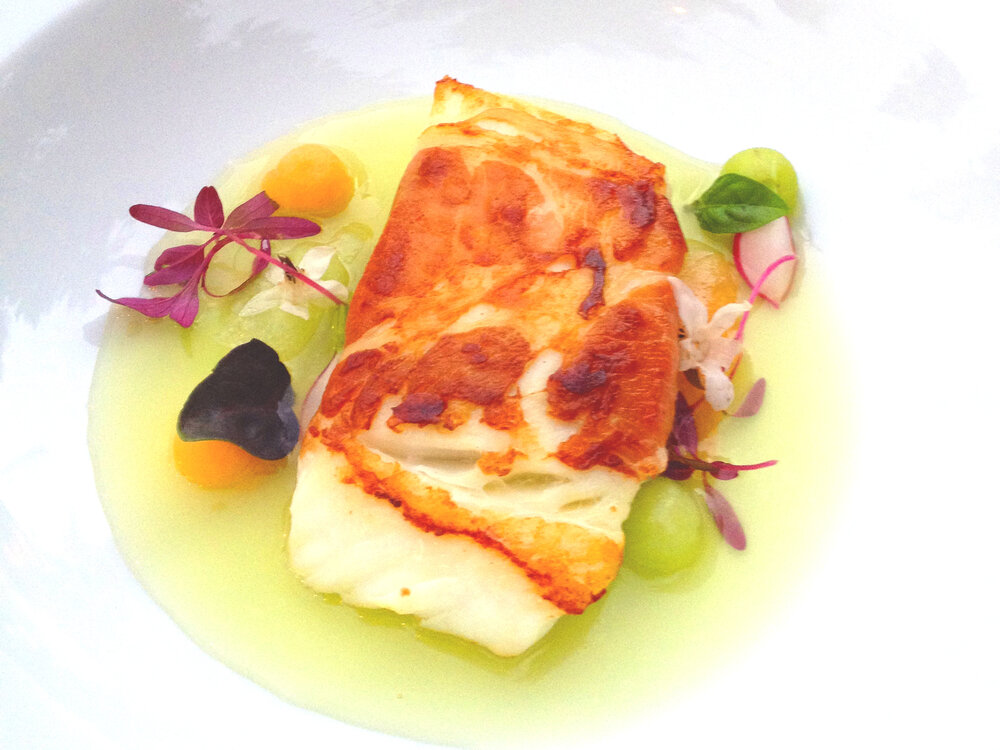 Next was Roasted Duck with Smoked Potato Mousseline, Meadowood Garden Vegetables and Peach Gastrique. My table mates and I collectively agreed this was one of the most delicious duck dishes we'd ever tasted. It was lean and flavorful yet not at all fatty. With all the delicious flavor I was wondering what sparkling wine would not only stand up to, but also complement this dish.
The answer, my wine loving friends, was the 1994 Schramsberg Reserve. Made from predominantly Pinot Noir with some barrel fermented lots included in the blend, this multi-layered, full-bodied sparkler was the perfect choice. This wine's complexity manifested in harmonious notes of baked apple, pear, cherry and vanilla with an underpinning of baked pastry dough. With almost twenty years of age, this wine also tasted remarkably lively and fresh, beautifully demonstrating along with the previous wines of the meal the capability of sparkling wines to age with grace. As far as the pairing, the flavors of the wine and the duck worked beautifully together creating a fabulous synergy. This was definitely one of the most memorable pairings of the weekend.
In lieu of dessert, we were treated to a cheese course featuring Mt. Tam Cheese with Pine Nut Crostini, Quince and Stone Fruit Compote with our final wine of the evening. Mt. Tam triple cream cheese hails from the well known Cowgirl Creamery and is named for a Northern California landmark, Mt. Tamalpais. It is made from fresh, organic milk from Strauss Family Dairy and has a decadent, creamy texture.
The wine pairing for the cheese course was the 1999 Schramsberg Crémant Demi-Sec. The delicious richness and complexity this off-dry sparkler had developed after almost fifteen years made it a dessert in and of itself. Notes of pineapple, citrus and honey accompanied alluring spice notes as well as a fresh and balanced acidity.
This unique bottling is a dessert wine crafted from a unique blend of grapes including Flora (a cross between Sémillon and Gewürztraminer developed at U.C. Davis), Gewürztraminer, Pinot Noir, and Chardonnay. This wine was California's first "crémant" when it debuted in 1972 and the word crémant, which is French for "creamy," perfectly describes this delightful wine that has less pressure and a softer effervescence and mouthfeel than other cuvées. This wine also has some historic significance as it was served at President Reagan's Second Inaugural Luncheon,  President Clinton's dinner for the Prime Minister of Canada and, most recently, at the sixtieth wedding anniversary of President and Mrs. George H.W. Bush.
Needless to say after a day of such decadence, we were all ready for bed and looking forward to Day Two of Camp Schramsberg and the adventures it would bring!
---
---