The marriage of Meghan Markle, former Hollywood actress and divorcée, and His Royal Highness Prince Henry of Wales (aka Prince Harry) has caused quite a stir both in England and abroad. And while Meghan may not be what the Royal family had in mind, there's something about the way they've embraced this unexpected, yet utterly charming American that has inspired an intense enthusiasm for this union around the globe.
The gorgeous midday wedding took place in the centuries old St. George's Chapel at Windsor Castle (yes, the Miskews got up at 4:30am to watch EVERY moment!). And while the ceremony followed a mostly traditional protocol, there were distinct nuances throughout that were unmistakably Meghan. From Bishop Michael Curry's lengthy message of love to the sheer number of Hollywood icons in attendance (hello - Oprah AND the Clooneys?!?) it was clear a new era had begun. But from a culinary perspective, the most notable difference was the wedding cake.
Since the Middle Ages, fruitcake has been the traditional cake choice at royal weddings. Period. End of Story.
This was largely due to the cake's staying power, the result of a hearty mixture of dried fruit, exotic spices and the addition of rum or brandy which acted as a natural preservative. So from the 1923 wedding of Prince Albert and Lady Elizabeth Bowes-Lyon to the 2011 marriage of Prince William to Kate Middleton, fruitcake has been an enduring royal presence and tradition...until now!
For their wedding, Meghan and Prince Harry eschewed the traditional fruitcake (YESSS!) in favor of an elegant Lemon Elderflower Cake. American-born, pastry Chef and friend of the bride Claire Ptak of London's Violet Bakery was tapped to create the Spring-inspired marital confection. And in true royal fashion, Ptak spared no expense, flying in Amalfi lemons and organic eggs from Suffolk especially for the occasion. She also incorporated elderflower cordial from the Queen's Sandringham estate in Norfolk because, well, why the heck wouldn't you?
But what the heck IS elderflower anyway and why is it so special?
Elderflower is a small, intoxicatingly fragrant white flower that blossoms throughout the U.K. and Northern Europe in the Spring and early Summer, making this royal cake very seasonally and regionally appropriate. In this recipe you'll use a combination of (1) Elderflower Cordial and (2) St. Germain. Elderflower cordial is a non-alcoholic soft drink made from a refined sugar and water solution and the flowers of the European Elderberry plant. I used Belvoir Elderflower Pressé in this recipe (see photo above), a premixed form of Elderberry cordial that is pretty widely available.
St. Germain, on the other hand, is an artisanally produced, French elderflower liqueur. It is made from hand harvested elderflowers grown in the French Alps that only bloom during a brief 4-5 week period. The delicate flowers are then macerated and their delicious essence is extracted and distilled into the fragrant pale golden liquid. St. Germain is pretty widely available now, especially since it is so delicious when mixed with Champagne! There's something about the way it enhances citrus flavors which is why the combination of lemon and elderflower is so AMAZING!
I was thrilled to discover a foodie application for St. Germain especially since I'm working on a special series of desserts which incorporate my favorite wines, spirits and liqueurs (stay tuned!) and I can't think of a better place to start than with this scrumptious cake!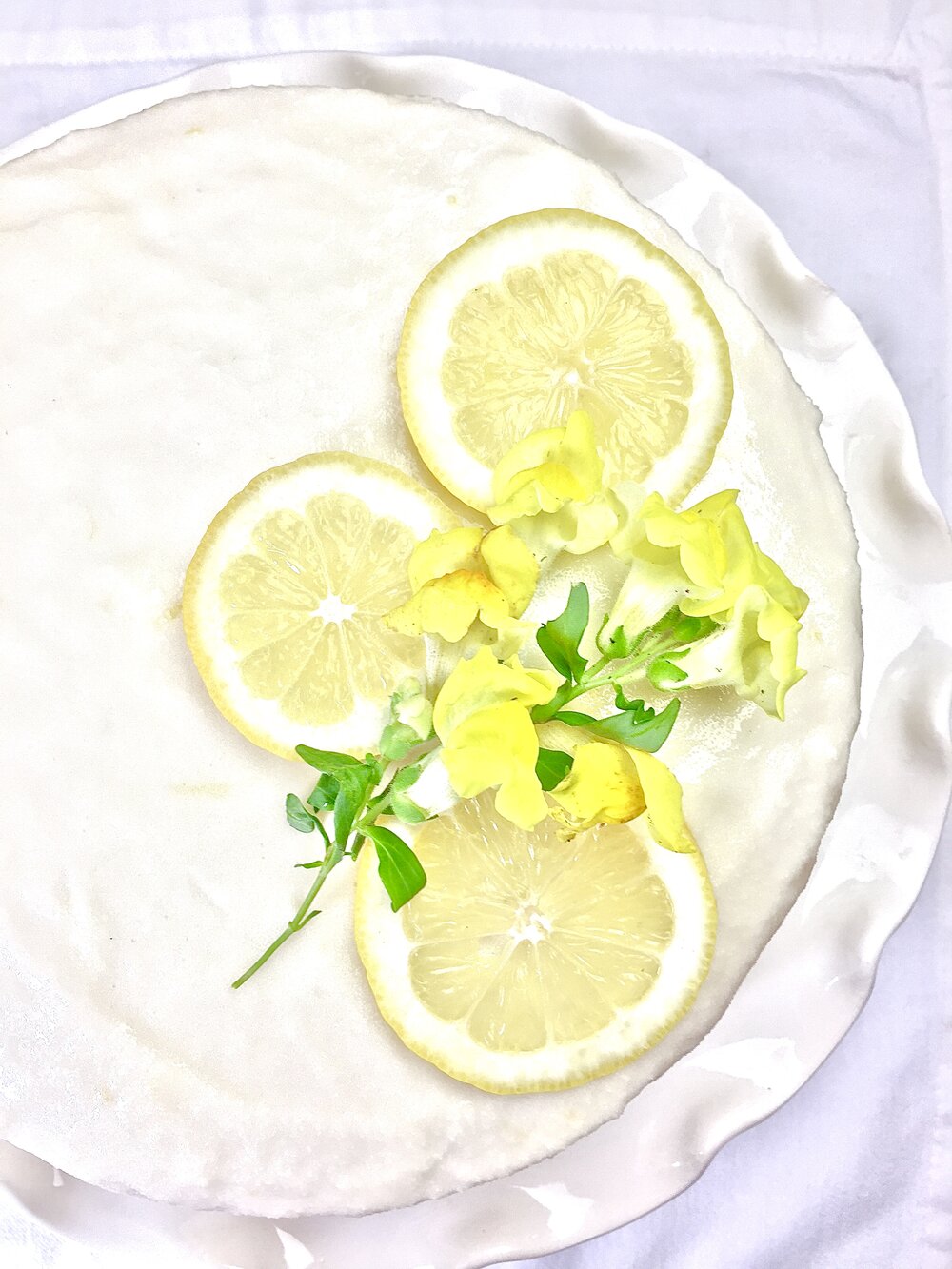 This recipe offers a very doable, make at home version of this oh so glamorous cake - and you don't even need Amalfi lemons and the Queen's elderflower cordial to make it!
To make things easier, bake the cake layers and prepare the frosting the day before assembling. A few pieces of baking equipment that'll make the process easier include: three cake pans, a kitchen or small postal scale, a standing mixer and/or handheld electric mixer, parchment paper, an offset spatula and a 12-14" cake stand. If you like to bake, you will use these essential items for years to come - I promise! Also, to decorate the cake, I stuck with a yellow theme, using some simple lemon slices and yellow snapdragons from my garden. Just remember to avoid eating any flowers not grown for culinary purposes!
I hope you enjoy conjuring royal elegance in your very own kitchen with this Lemon Elderflower Cake and a glamorous Congratulations to the newly appointed Duke and Duchess of Sussex!!!
Print Recipe
"ROYALLY DELICIOUS LEMON ELDERFLOWER CAKE"
Author: Adapted from The Violet Bakery Cookbook
Serves: 6-8 servings
Feel free to adapt this recipe to suit your tastes and strengths in the kitchen! The cooled, cordial-brushed cakes can be made a day or two in advance, simply wrap well in plastic and store in the fridge until ready to assemble. The buttercream frosting can also be made a day in advance, simply stir or use a mixer to smooth out consistency. NOTE: Belvoir Elderflower Pressé can be found at most high end grocery stores like Fresh Market and Whole Foods.
Ingredients
FOR THE CAKE:
8 Tablespoons unsalted butter (1 stick) at room temperature, plus more to grease cake pans

1 cup granulated sugar

1 Tablespoons finely grated lemon zest (from 1 lemon, reserve juice for use in frosting)

3 large eggs at room temperature

1 teaspoon vanilla extract

1/2 teaspoon Kosher salt

2 cups flour

2 teaspoons baking powder

1 teaspoon St. Germain or other elderflower liqueur

2/3 cup whole milk

1/2 cup elderflower cordial (i.e. Belvoir Elderflower Presse)

FOR THE FILLING:

1 cup chilled heavy whipping cream

1/2 cup store bought lemon curd at room temperature (can be found with the jams and jellies at your supermarket)

FOR THE FROSTING:

14 Tablespoons (1 3/4 sticks) unsalted butter at room temperature

4-6 cups confectioners sugar

7 Tablespoons whole milk

1/2 teaspoon grated lemon zest

2 Tablespoons fresh lemon juice

1 Tablespoon St. Germain elderflower liqueur

FOR ASSEMBLY:

Assortment of fresh or crystallized flowers

Lemon slices
Instructions
FOR THE CAKE: Preheat the oven to 300 degrees. Using 1-2 Tablespoons of unsalted butter, grease the three 8-9 inch cake pans and line the bottoms with parchment paper rounds. (If you only have 1-2 cake pans, cover batter and reserve at room temperature. Make sure the pans are cool before you reuse them. A simple rinse in cool water in the sink.) Place the granulated sugar in the bowl of a stand mixer or handheld electric mixer. Use your clean fingers to rub the lemon zest into the sugar until the sugar is aromatic and moist.

Add the butter and beat on med-high speed for about 3 minutes, until the mixture is fluffy and light. Meanwhile, in a liquid measuring cup lightly whisk the eggs together with the vanilla extract and Kosher salt. Reduce the mixer speed to low and gradually add to the butter-sugar mixture until fully incorporated. Stop to scrape down the bowl.

In a separate bowl, whisk together the flour and baking powder, then add half of it to the butter mixture. Beat on low speed until just combined, then add the milk and elderflower liqueur. Beat on low speed until well incorporated.

Add the remaining flour and beat on low speed until no trace of dry flour remains, stopping to scrape down bowl as needed. Divide batter equally between prepared cake pans and smooth tops with offset or silicone spatula. If you use a kitchen scale, each pan should contain 10.5 ounces (300 grams) of batter.

Bake pans on middle rack in oven for about 15-20 minutes or until the top of each cake layer springs back to the touch and the edges are lightly browned and pulling away from the sides of the pan. Cool cakes in pans for 15 minutes and then run a dull knife or offset spatula around the edges to release the layers. Invert onto a wire rack and peel off parchment paper from bottoms. Using a pastry or silicone brush, lightly brush the bottoms of the cake layers only with the elderflower cordial. Repeat 3-4 times allowing a few minutes in between applications for cakes to absorb the liquid. Stop applying the liqueur If the cakes start to break apart at all.

If you need to reuse the pans to get three layers, wash and dry the pan(s) and repeat baking and brushing with the cordial.

FOR THE FILLING: Pour the heavy cream into the bowl of a stand mixer fitted with balloon whisk attachment or use a handheld electric mixer. Beat on high speed until stiff peaks form. (To test, remove whisk attachment and invert, if the tip of cream flops over, you need to beat it longer. If if holds its shape, you're done.

Use a silicone spatula to gently fold in half of the lemon curd by lifting cream from bottom of bowl and folding it over the curd, rotating the bowl as you work. Be careful not to deflate the cream too much in the process. Fold in the remaining curd. Cover the bowl with plastic wrap and pop it into the fridge until ready to assemble the cake.

FOR THE FROSTING: Place the confectioners sugar in a large bowl and whisk to break up any lumps. Place the room temperature butter in the bowl of a stand mixer or electric handheld mixer and beat on low speed, gradually adding in 2 cups of the confectioners sugar. Increase speed to med-high until frosting is smooth and mixture is well combined, scraping down sides of bowl as needed. On med-low speed, add in the milk, beating until combined.

On med-low speed, gradually add 2 more cups of the confectioners sugar and beat at low speed for at least 3 minutes until mixture is smooth. Add the lemon zest, juice and St. Germain and beat at low speed until incorporated. Continue adding more confectioners sugar to achieve desired consistency which can vary based on temperature of kitchen and softness of butter. The frosting needs to be thin enough to spread but thick enough to not run off the cake. Chilling the frosting in the fridge for 20-30 minutes will help it set up.

TO ASSEMBLE THE CAKE: Place a dab of frosting in the center of a cardboard cake round, cake stand or plate, preferably with no rim. Place one cake layer in the center with the cordial-soaked side facing up.

Using an offset or silicone spatula, spread half of the filling evenly over the entire first layer, making sure to spread it out to the edges as well. Place the next cake layer on top and repeat with the remaining filling. Top with the third cake layer.

Place a small amount of frosting in a separate bowl for the crumb coat. This is the initial layer of frosting applied to the cake which helps to seal in the crumbs. Once the crumb coat is applied to the top and sides of the cake, place cake in fridge and allow it to set up for 20-30 minutes.

Apply the remaining frosting to the cake and decorate with flowers and sliced lemons or however you prefer. Return cake to the fridge and allow frosting to set up for an additional 20-30 minutes. Because of the soft filling and frosting, this cake is best cut and served while still very cool, right out of the fridge. By the time everyone eats the cake it will have softened up and temperature will be just right.
---
---