While our everyday wines are the vinous equivalent of a cozy blanket or comfy pair of slippers we slip into at the end of the day, at the other end of the spectrum are wines that are more akin to haute couture - think Chanel, Gucci or Dior.
These "haute" wines are so meticulously-made, terroir-driven and exquisite, they imprint themselves in your memory and make you instantly realize why people sometimes pay a LOT of money for wine! Such are the wines of Piedmont's iconic Gaja family.
Founded in 1859 by Giovanni Gaja, the estate's history and reputation are rooted in the meticulous production of wine from grape to glass. Family owned and operated since day one, Giovanni's great grandson, Angelo Gaja, is President of the winery today and much like Federico Fellini's contributions to Italian film, Angelo Gaja has had an utterly profound influence on his family's wines, as well as the culture of the Piedmont wine region. Ever the innovator, today at 78 years old Angelo continues to dream big with a focus on the future.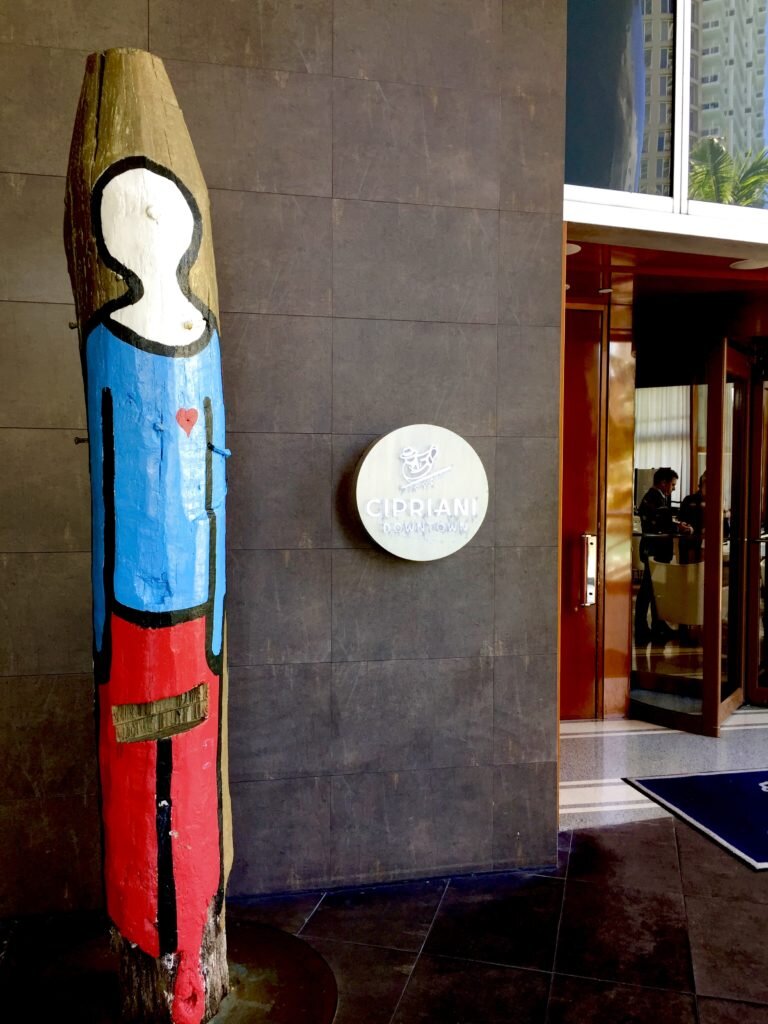 And while the entire Gaja family is involved in the day to day operations of the winery, since 2004 Angelo's eldest daughter Gaia, who represents the fifth generation of the family, has played an instrumental role in realizing the winery's goals. For the past fifteen years, she has been the international representative of the winery, traveling the world to spread the Gaja message and share her family's wines.
And on a glorious Spring day in South Florida, a distinguished and very fortunate group of wine professionals gathered for a very special tasting of the GAJA portfolio led by Gaia herself at Cipriani Miami. As we settled into our seats, it was impossible not to appreciate the gorgeous panoramic views of the Biscayne Bay and cerulean blue skies outside.
Soon Gaia proceeded to the front of the room to begin the presentation. Named for the Greek goddess of the Earth, Gaia is a striking beauty with raven black hair, luminous olive skin and sparkling blue eyes that recall the Sistine Chapel's iconic Delphic Sybil.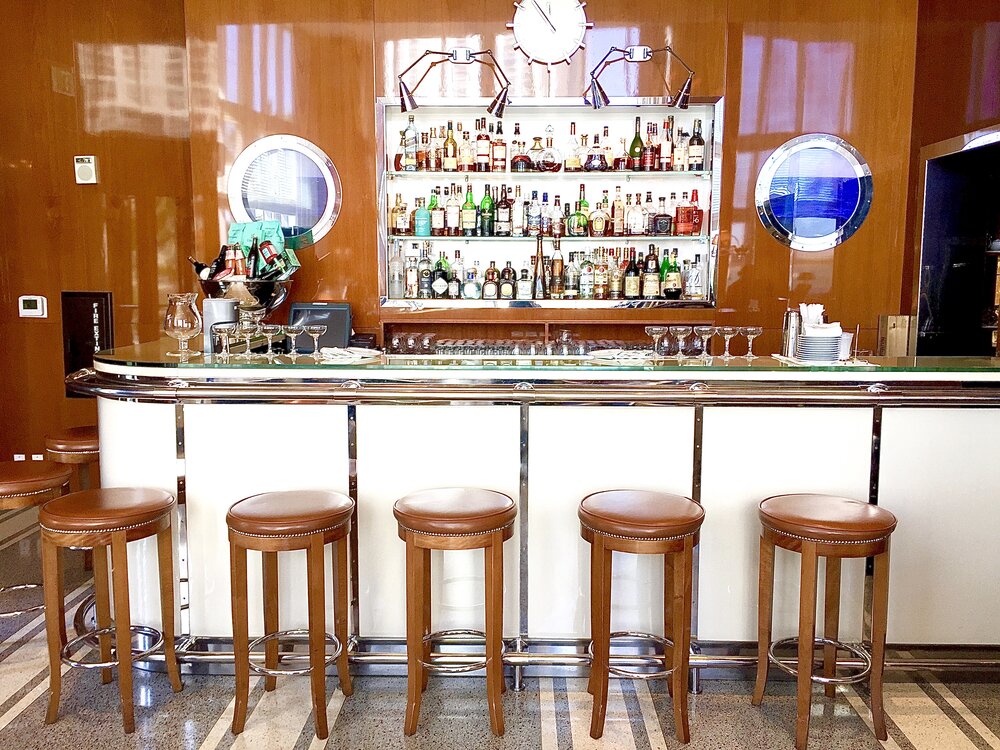 She began by quietly, yet firmly announcing, "This is one of my last trips to the United States." Needless to say, a hush fell over the room as we took a beat to process what she had just said.
Gaia continued in her melodic Italian accent, "Finally, my younger brother Giovanni is showing up at work. After university and nine months in New York working, my father said, 'Enough working, you must come back', so Monday he starts. Giovanni is twenty-five and full of energy so he will take care of whichever travel has to be done." Apparently, after handling all the promotional travel for her family's business since 2004, it's time for a well-deserved break!
"So this year is very special for me because it's the beginning of a new phase." Her declaration set the tone for the day's tasting which was one of nostalgia, exploration and celebration of her family's rich history.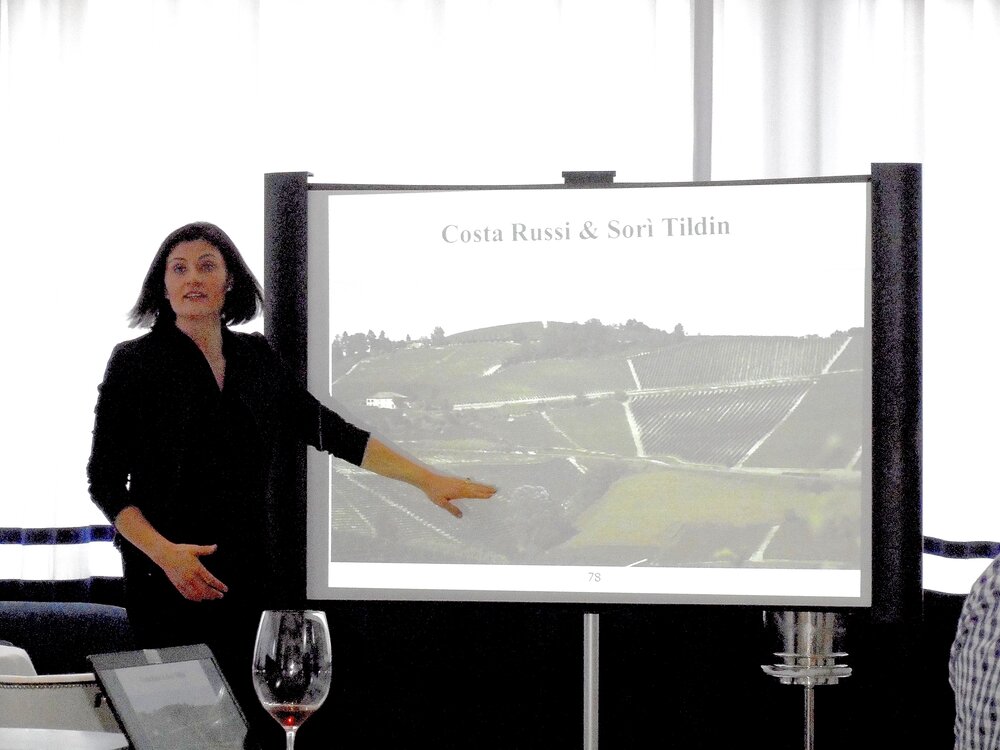 At a time when it was commonplace for farmers to sell their grapes a la négociant, Giovanni Gaja decided to keep his grapes and make wine under his own label. In the 1800's, this was a big decision that represented the first glimmer of the Gaja family's potential and entrepreneurial spirit.
The family winery was founded in 1859 in Barbaresco, which has always existed in the shadow of the more glamorous and famous neighboring Barolo region, 20 kilometers away. "Our contribution was to help Barbaresco stand up and show the beauty that it has," and for three generations, the family did just that, making wine solely in this region which helped establish the village and put it on the map.
"I think family businesses are the keepers of tradition, the keepers of a style that can go on generation after generation." ~ Gaia Gaja
The charming Gaia also provided insight into the inner workings of her family's business today. Unlike other family-run wineries or businesses in which each sibling presides over their own "domain," she and her sister, brother and Mother each do a little bit of everything. Her father always told her she was Vice President to which her Mother replied, "Of course he made you Vice President, so everyone would know he is President!"
Since the early days of Barbaresco, the family has since acquired land in Barolo and two estates in Tuscany, one in Montalcino, the other in Bolgheri. The Gajas own all of their own land and refuse to purchase any grapes or juice which was a big decision made by the family in 1961. And while this monumental decision had certain ramifications which I'll address later, it was ultimately important for the greater good of the winery and quality of the wines.
And if you've ever wondered what it's like having a living wine legend as a father, Gaia was very forthcoming about some of her favorite things about her Dad, "He is always optimistic regardless of age. Even now at 78, he's the one always projecting into the future. He's dreaming and building and working on projects that'll take 20 years from now."
Then, she addressed a recent development the wine world's been buzzing about, "Last year my father bought 20 hectares of land in Sicily [and] it's the first time we buy land with someone else. But the dream is little by little to start to produce wine on Etna."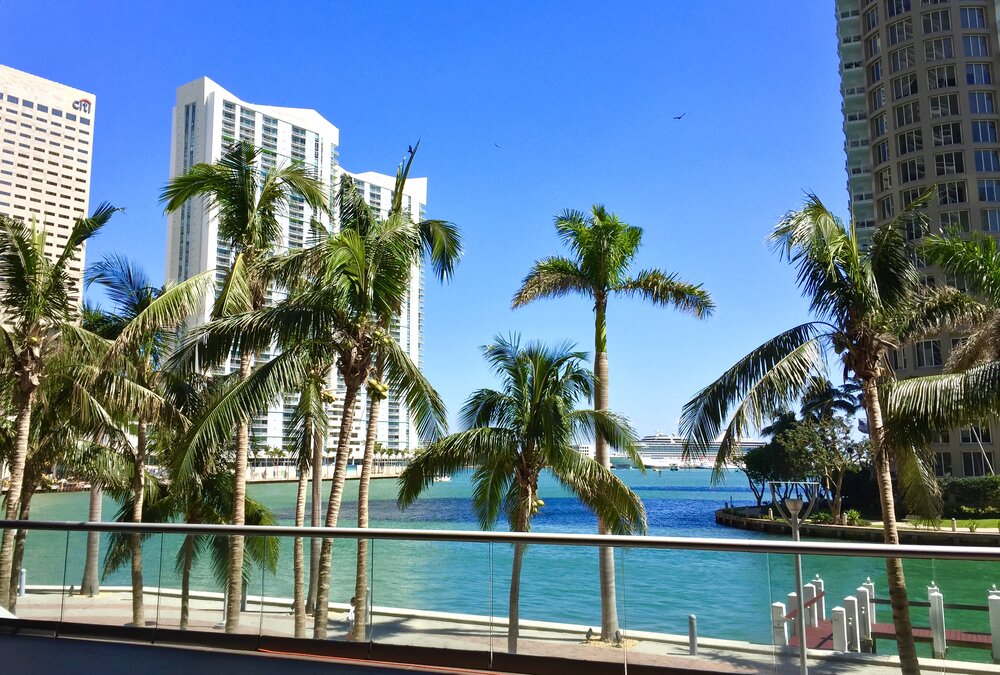 Based on Angelo's longstanding history as a maverick, this was only partly surprising. After assuming the reins from his father in 1961, Angelo Gaja implemented a plethora of controversial changes that were met with great resistance from the traditional Piedmont winemaking community, including his own father. Inspired by France and California, he began introducing techniques such as malolactic fermentation, green harvesting and using barriques to age his wines.
He also introduced international grape varieties such as Cabernet Sauvignon and Chardonnay which further drove a wedge between the two sides. Thankfully, peace eventually took hold as many of Gaja's ideas produced spectacular, critically acclaimed wines. Today, many of his innovations coexist with traditional techniques to form a very happy vinous medium.
Gaia addressed her father's perception of change, "Change often means going far away from your origins and not being authentic anymore, and is always perceived as negative. But for someone like my father...there's no improvement without change, and in his 56-year career he has touched every aspect of our winery and changed it completely."
"And this, for me, has been a big lesson in life, because usually you change things when things don't work. But when my father took over the winery of my grandfather in 1961, the winery was successful and my grandfather was a very successful man. But regardless of that, when my father came in, he started to change everything. And so the wines have been very much a self-portrait of my father for all these years. He put his personality in everything…and this is something I admire of him." ~ Gaia Gaja
Gaia also explained the many facets to running a winery and how many consultants are needed to help with issues ranging from honeybees to compost worms (it turns out California red earthworms are BETTER than Italian earthworms!). The one thing they've never needed to hire consultants for, however, is vineyard management, "We remain the expert of our vineyard."
And while you may be inclined to think of vineyard management as simply managing vines and their resulting grapes, that would be a gross understatement, "Viticulture is a big part of what I talk about because it is a big part of our job." We were thoroughly entranced listening to Gaia discuss the diverse ecosystem that makes up a vineyard and the hard work, focus and attention to detail it requires to manage. Essentially, their approach boils down to one basic essential tenet which is to cultivate life.
"There is so much life and it's beautiful to understand the intelligence in nature." ~ Gaia Gaja
She compared a piece of land to a universe where the vines are part of a community and enjoy an incredible social life. They communicate through "funguses" that attach to the roots and act like telephone lines. In this way, they are able to exchange information as well as nutrients. Whether it's how to fight a particular virus or exchange potassium, all of these individual components of life are essential."
Cultivating life makes vines more resilient and able to fight and win and be healthy without us having to do an artificial intervention." The birds, grasses, insects and fungi that coexist in the vineyard are all important to this approach and the observations of the family have led to some pretty interesting approaches to vineyard management:
Since 2004 they have not cut the grass in the vineyard because freshly cut grass drinks water from the ground, taking it away from thirsty vines.

Leaving the grass uncut not only leaves more available water, but also protects the ground from the heat of the sun.

Aerating the soil can sever roots and connections between vines and other plants so it is forbidden.

The cypress trees are like apartments for small birds that in turn eat harmful insects that threaten vines.

50 beehives in the vineyards provide great pollination bringing life and biodiversity to the vineyard.

Using the right kind of worms to compost the manure.
Their approach to labor is also unique – as if that was any surprise! While many wineries hire teams to help out during harvest, Gaja's workers are employed year round. "We don't have seasonal workers which is unusual because there are many months where there is nothing to do, but our team is full time for two reasons: (1) it's impossible to cultivate culture in people that come and go, so if they are not with us always they don't understand; and (2) we don't only take care of vines, our job is to cultivate life. Every day we have to come up with ideas to come up with ideas to cultivate life and implement them."
Our tasting consisted of seven wines from the Gaja portfolio representing their estates in Tuscany, Barbaresco and Barolo. As it turns out, the 2013 vintage was a crucial one for the Gaja family in terms of changes made to their most iconic wines. These changes were implemented by Angelo's three children, and may just represent the official ushering in of this new generation of the family. Elegant interpretations of classic Italians dishes from Cipriani's menu were sent out at strategic intervals to pair with the magnificent wines as well.
2016 Ca' Marcanda Vistamare Toscana IGP ($70) Our tasting began with a stunner from Tuscany whose name evokes the sunny Tuscan coast in Bolgheri. Our only white wine of the day was a blend of two grapes, 60% Vermentino and 40% Viognier. With such opposing elements, the grapes created one gorgeous wine with fragrant, floral aromatics of citrus and peach and lush notes of honeyed citrus, peach, ginger and spice. According to Gaia the next vintage would likely include the Fiano grape which had performed very well in the hot, dry 2017 season.
2013 Ca' Marcanda Camarcanda Rosso Bolgheri DOC ($175) Hailing from Gaja's Tuscan Bolgheri estate, our only non-Nebbiolo red wine of the day was a beautiful blend of 50% Merlot, 40% Cabernet Sauvignon and 10% Cabernet Franc which featured succulent, savory notes of plum, red currant, cherry, leather, olive and spice. This elegant offering also exhibited delightful, woodsy overtones and supple tannins which synchronized sublimely on the lengthy finish.
Gaia explained, "Toscana wines are always cheerful, juicy and round. [They are like] people who have an easy childhood, they know only cheerfulness and friendliness. Piedmont, they have more often a tough childhood, tough, tension inside and you can see the difference in intensity."
"Nebbiolo is a very challenging variety, it challenges us in the vineyard, keeps challenging us inside the winery, and then keeps challenging us in the glass." ~ Gaia Gaja
2014 GAJA Barbaresco DOCG The flagship wine of the Gaja family is crafted from 100% estate grown Nebbiolo sourced from 14 different vineyards. It proved to be a wonderful ambassador with fragrant aromas of black fruit and anise followed on the palate by lush notes of black cherry, licorice, tobacco and spice.
To demonstrate the difference between Cabernet, Merlot and Nebbiolo, Gaia encouraged us to compare this Barbaresco to the one before it, "The taste of the [Camarcanda] is everywhere basically, it's on your cheek on your palate, it's on your tongue...it is very round and the taste is in the front."
In contrast, "With the Nebbiolo the taste is not in your mouth, it's like your mouth is clean, you can almost feel the fresh air. You have this sensation for two reasons, first the taste is in your throat, that's the big difference and it's important to understand that about Nebbiolo - it has a discreet taste, it's a wine that has great texture. That's why we say Nebbiolo is a terroir variety because it's not a loudspeaker, it stays back and is a good listener so it's a variety that can really show terroir. Second, you can feel Nebbiolo is a fantastic cleanser, because the tannins act like a brush. They clean every side of your palate so the taste is in the back and the tannins they clean up in front."
2013 GAJA Barbaresco Costa Russi ($475) Costa Russi was acquired by the family in 1967. "Costa" means the side of the hill facing the sun, and "Russi" for the Russian man who previously owned the property, "He worked for Fiat and designed their two most popular cars," Gaia shared. This wine and the next two represent Gaja's three single vineyards in Barbaresco. As of the 2013 vintage, all three of these wines have been restored to 100% Nebbiolo after decades of containing small percentages of Barbera as dictated by Angelo Gaja in the 1996 vintage. This decision to return to a pure expression of Nebbiolo was ultimately instituted by Angelo's three children and, as of this vintage, these wines are now attributed the Barbaresco DOCG status they so richly deserve.
This beauty dazzled with charming aromas of red fruit, roses and spice. You could easily linger on the nose of any of the Gaja wines indefinitely, it is vinous foreplay at its finest! The Costa Russi was simply stunning on the palate, exhibiting elegant notes of wild strawberry, pomegranate, anise and spice which culminated in a unified and glorious finish. I can only imagine the complexity and nuance this wine will develop in 10 to 20 years from now!
"For me, the wines are a memory of place and a moment." ~ Gaia Gaja
2013 GAJA Barbaresco Sorì Tildìn DOCG ($475) Also acquired by the Gaja family in 1967, Gaia explained, "the Sorì Tildìn vineyard site is named for, 'Sorì' which means hilltop, and 'Tildin' for the grandmother of my father. Her name was Clotilde Rey and we wanted to name a wine after her."
This wine was quite distinct from the Costa Russi whose vineyard is located just below it. Aromatics of dark, brooding black fruit and anise wafted from the glass while on the palate, notes of dark cherry, plum, licorice, tar, leather and spice accompanied sumptuous, velvety tannins and a lush mouthfeel. Like the Costa Russi, this is also the first vintage the Sorì Tildìn has foregone the inclusion of Barbera, resulting in a more focused expression of its unique vineyard site and the conference of the coveted Barbaresco DOCG, instead of the Langhe Nebbiolo DOC.
2013 GAJA Barbaresco Sorì San Lorenzo DOCG ($475) Named for the patron saint of Alba's cathedral, the Sorì San Lorenzo vineyard was acquired from the parish of Alba in 1964. This wine made history when it became one of the earliest single-vineyard bottlings of Nebbiolo in Piedmont with the 1967 vintage. However, from 1996-2011 it also included 5% Barbera.
Much like the Costa Russi and Sorì Tildìn before it, the 2013 vintage of this wine also marks a return to 100% Nebbiolo, exhibiting the purity of this exceptional vineyard site and the classification of the Barbaresco DOCG. This offering falls squarely in between the two previous wines, boasting a combination of red and black fruit as well as notes of tar, spice and minerals. The result is a broad wine of great structure, depth and texture.
2013 GAJA Barolo Sperss ($250). As with all of the wines in the GAJA portfolio, their names and those of their respective vineyards bear historical significance to the family. In Piedmont parlance, "Sperss" is a term affectionately used to denote nostalgia for precious things lost with time and serves as an homage to the origins of the winery and the generations who built it.
Of all Gaia's familial anecdotes that day, the last was perhaps the most moving. At ninety-four years old, her grandfather, Giovanni Gaja, was in excellent physical shape, however, in the last 4-5 years of his life, he had developed Alzheimer's disease. And while he could no longer remember Gaia or her father, there were two things he never forgot, "The first was my grandmother, even though he thought he himself was 27 years old, that old lady with the white hair was his wife. He never mistook her for anyone else."
The second was the village of Serralunga, "[My grandfather] had a very tough mother and every year when he was a kid he was allowed to go help family and friends in Serralunga to pick their grapes. So for 10 days he was allowed to stay far from his mother in this little village and pick grapes, make some pocket money and stay out as late as he wanted and be free."
This meant so much to him that even when he spoke about it in his waning years, "a light was turning on in his eyes and he started to talk precisely about Serralunga. Those ten days a year were some of the best years of his life. And so this sentiment, this nostalgia he always had is the reason why we call the wine Sperss, or nostalgia. Even though he couldn't understand anymore how important it was that we built a vineyard there in Serralunga."
And it was indeed very important and historic for the family to finally acquire a vineyard in Serralunga. Once the Gajas decided to stop purchasing grapes and only use estate grown fruit to make their wines in 1961, it marked the first time in history Gaja no longer made a Barolo. In fact, it was nearly three decades until the family purchases the thirty acre plot in Serralunga d'Alba and renamed it Sperss. It was truly the realization of a multigenerational goal.
As if there weren't enough new developments happening with the Gaja's, the 2013 vintage also marks the return of the Sperss Barolo to full appellation status as well. The 2013 Sperss was impressive in its intensity, exhibiting aromas of dark fruit, anise and earth. Mighty tannins provided handsome, broad shoulders to support classic notes of black cherry, rose, tar, licorice and truffle. This wine is sheer powerful perfection and while thoroughly enjoyable now, will surely reward after years in the cellar as well.
The end of the tasting was bittersweet indeed. We were so grateful for our amazing afternoon with Gaia and thoroughly appreciated her taking the time to share her family's remarkable history and wines with us, yet, we were sad that it marked the end of a time after which we would not be seeing her as much. And while we look forward to one day meeting her brother Giovanni and welcoming him to South Florida, this was surely the time for another sip of the exquisite Sperss Barolo.
What wine has made an indelible impression on your life? Is there a wine you're excited to try? I'd really love to know so please let me know in the Comments section below. xo
---
---