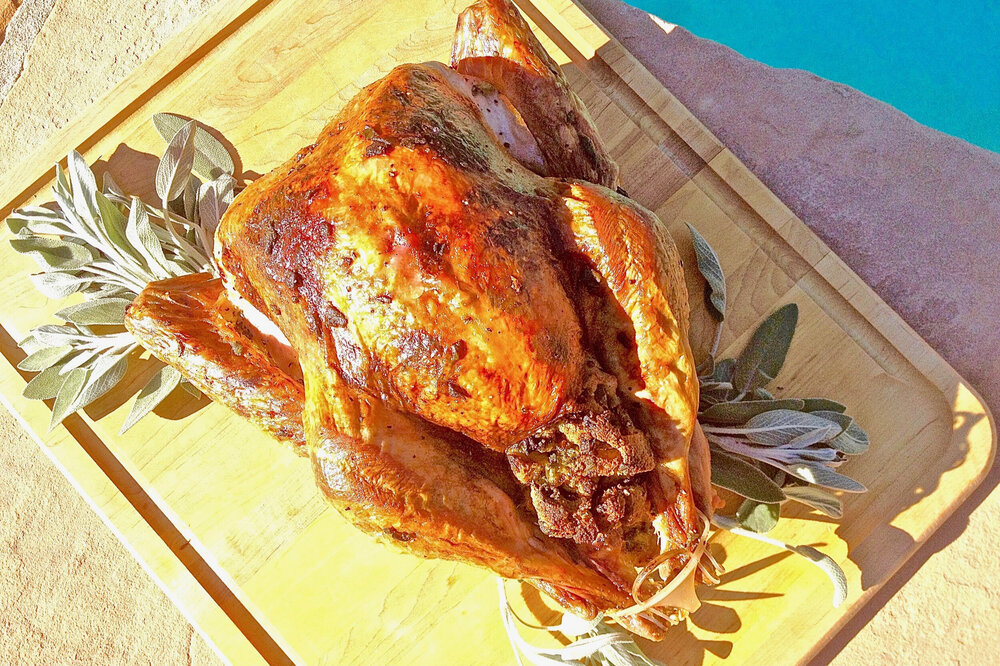 Thanksgiving is less than a week away - do you have your turkey recipe and wines all picked out? If not, never fear! The Glamorous Gourmet is here to help you out of your culinary quandary with some stellar Thanksgiving wine pairing recommendations and mouth watering turkey recipes.
So first, let's talk wine:Trying to find a wine to pair with such an extensive and diverse group of flavors can cause a common vinous affliction known as WPP aka Wine Pairing Paralysis. With the cacophony of flavors and textures involved in a meal designed to stuff you until bursting, what wine could possibly: (1) complement the meal, (2) appeal to a variety of palates and (3) not break the bank?
Here are a few tips and recommendations to help make the process of discovering a stellar Thanksgiving wine pairing a little easier:
When presented with dishes such as roasted turkey, caramelized onion and cornbread stuffing, cranberry compote, sweet potato casserole and Brussels sprouts that are all being served at the same meal, the best wines to select (and guests too I might add) are those that "play nicely with others." Choose wines that are fruit-forward with a food-friendly acidity that will not only stimulate your taste buds but also "do no harm" to your already flavor filled meal. Hold off on tannic Cabernet Sauvignons or heavily oaked Chardonnays and opt instead for wines that are lighter in style, like the Badenhorst Secateurs Chenin Blanc ($14) from South Africa or, for reds, the King Estate Acrobat Pinot Noir ($18) from Oregon's Willamette Valley is a fabulous choice.

The same principles apply when trying to satisfy a variety of palates at your holiday gathering. Avoiding wines with harsh tannins and heavy oak influence is usually a good game plan. Select a fruity, approachable white wine or crisp, sparkling wine to appease your guests. While universally appealing, these wines will also complement the flavors in your meal. For whites, the Patient Cottat Sancerre Vielles Vignes ($22) from the Loire Valley is delightfully crisp and refreshing. For sparklers, the Schramsberg Blanc de Blancs ($34) from California's North Coast is an excellent choice or for Champagne we especially like Taittinger's Brut La Francaise ($44). If you do happen to have Cabernet lovers at your dinner, opt for one that's very fruit forward like the Round Pond Kith & Kin Cabernet Sauvignon ($30) from the Napa Valley.

We all know holidays like Thanksgiving can involve feeding a small army of family and friends; however, finding an appropriate wine to serve doesn't have to break the bank. Choose wines from regions known for producing great values at reasonable prices and save your Classified Growth Bordeaux and California cult collectibles for another occasion! Stock up on your favorite value wines and have them on hand when guests drop by for some "holiday cheer." Some of our favorites include Gruet's Brut Sparkling Wine ($14) from New Mexico, Charles Smith's Kung Fu Girl Riesling ($12) from Washington's Columbia Valley and Michele Chiarlo's Barbera d'Asti Le Orme ($15) from Italy's Piedmont region.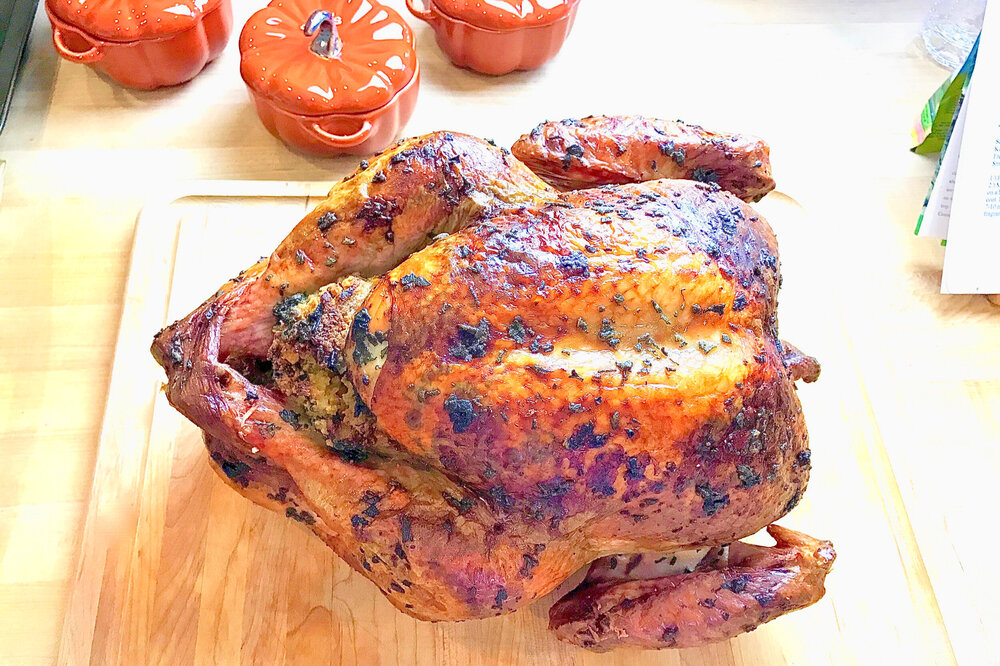 Also, if you're still not sure which turkey recipe to try, I'm happy to share two of my all time favorites that are sure to please a crowd. The first is a classic recipe from Chef Tyler Florence for Oven Roasted Turkey with Sage Butter. The sage butter is slathered over the bird and under the skin and makes this turkey the most beautiful shade of mahogany you have ever seen! Have your camera ready because you will be snapping photos right and left for the 'Gram.
After years of going through the trouble of brining my bird (what a mess!), I made this recipe one year and was hooked. In addition to creating beautiful color, the copious amount of butter also keeps the bird from drying out so you can bid brining buh-BYE! You can also still make gravy from the drippings, please see below for a wonderful gravy recipe.
If you do decide to make this turkey recipe, the Caramelized Onion and Cornbread Stuffing that pairs with it is also exceptional. I highly recommend cooking the stuffing inside the bird, there is just no substitute for the flavor that is infused by the magical turkey juices. In case all the delicious stuffing doesn't fit, be sure to have a buttered casserole dish on hand to bake the excess.
If you're looking for a bird that's a little different from the classic preparation, the Barefoot Contessa's Roast Turkey with Truffle Butter is simply out of this world! The white truffle butter enhances the flavor of the turkey so beautifully yet the bird never seems overly "truffled." My husband Steve is not the biggest truffle fan yet he loved this recipe. If you choose to make this turkey you also have to make Ina's delicious Homemade Gravy which includes Cognac in addition to white wine, heavy cream and the drippings from the bird which all synergize to create pure and utter deliciousness! This gravy also works well with the aforementioned Oven Roasted Turkey with Sage Butter.
I hope you enjoy these Thanksgiving wine pairing recommendations and turkey recipes and Steve and I would also like to wish you a wonderful and blessed holiday.
---
---